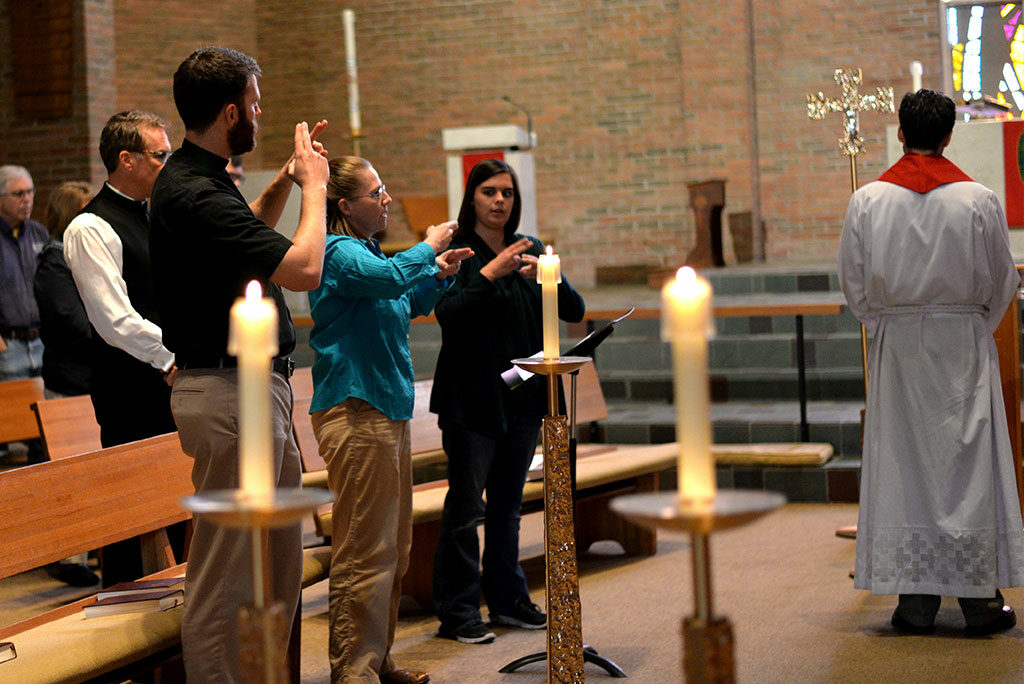 Concordia Theological Seminary, Fort Wayne, Ind., will host a nine-day intensive workshop this summer that's designed to improve the skills of deaf-ministry interpreters in church settings.
The Church Interpreter Training Institute — set for June 25 to July 3 — is a partnership of the seminary and Lutheran Friends of the Deaf, founder of the Mill Neck Family of Organizations and an LCMS Recognized Service Organization.
Begun more than 25 years ago, the institute has equipped hundreds of "signing" interpreters to serve Christian churches. Its focus is on biblical studies, American Sign Language instruction, religious vocabulary, deaf culture, and interpreting liturgies, Scripture lessons, church music and sermons.
Students also will have opportunities to practice signing during the seminary's daily worship services.
Teaching staff for the institute includes the Rev. Thomas Dunseth and Deaconess Heidi Sias — who have each been involved in LCMS deaf ministry for 20-plus years — and two nationally certified interpreters, also with deaf-ministry experience, from the Registry of Interpreters for the Deaf Inc.
According to studies, some 95 percent of deaf people do not attend church services, so making worship more enjoyable for the deaf by providing interpreters is one way to make congregations more welcoming for this demographic.
Dunseth, director of Deaf Ministry Programs for Lutheran Friends of the Deaf, says effective sign-language interpreters for congregations need two things: fluency in American Sign Language and a "good understanding of the Word of God and the Lutheran Confessions."
The Church Interpreter Training Institute (CITI) "seeks to hone these skills in our program and places them in the context of the church's services," he adds. "Our students get hands-on training with teachers to guide and instruct them. Pastors who send their interpreters to CITI can feel confident that the Word of God is read, preached and sung in the weekly Divine Service and is correctly and reverently delivered to deaf members."
Anyone involved in deaf ministry or planning to begin one is welcome to attend the upcoming workshop. Students should have a basic knowledge of American Sign Language, but fluency isn't necessary.
Registration is $1,000 for commuters and $1,500 for residential students (includes lodging and all meals).
The deadline for registrations is June 1.
For more information or to register online, visit millneck.org/citi-2017. For deaf-ministry news and upcoming events, click here.
Questions may be directed to the CITI office at Concordia Theological Seminary at citi@ctsfw.edu or 260-452-2283.
Posted May 18, 2017