By Paula Schlueter Ross (paula.ross@lcms.org)
A week after they started, some of California's wildfires were still burning, making it difficult — if not impossible — for LCMS leaders and disaster responders to know exactly how the wind-spread flames have affected churches, schools and members.
The numerous wildfires led to 42 deaths; left behind 8,400 charred homes and businesses; and caused some 75,000 residents to evacuate.
As far as Synod-related damages, here's what has been learned:
No LCMS congregation members died or were injured in the fires.
No LCMS church buildings — two are located in the hard-hit Santa Rosa, Calif., area — were damaged.
Twenty-eight families — including one staff member — at St. Mark Lutheran Church, Santa Rosa, lost their homes and most of their possessions.
Eight families — including two staff members — at St. John's Lutheran Church, Napa, Calif., lost their homes.
Six families — including one staff member — at St. Luke Lutheran Church, Santa Rosa, lost homes.
The families of two students and one former student at Orange Lutheran High School, Orange, Calif., lost their homes.
At Salem Lutheran Church, Orange, one family reported severe fire damage and another had smoke damage.
One family at Good Shepherd Lutheran Church, Healdsburg, Calif., lost their home.
One family at Grace Lutheran Church, Grass Valley, lost their home.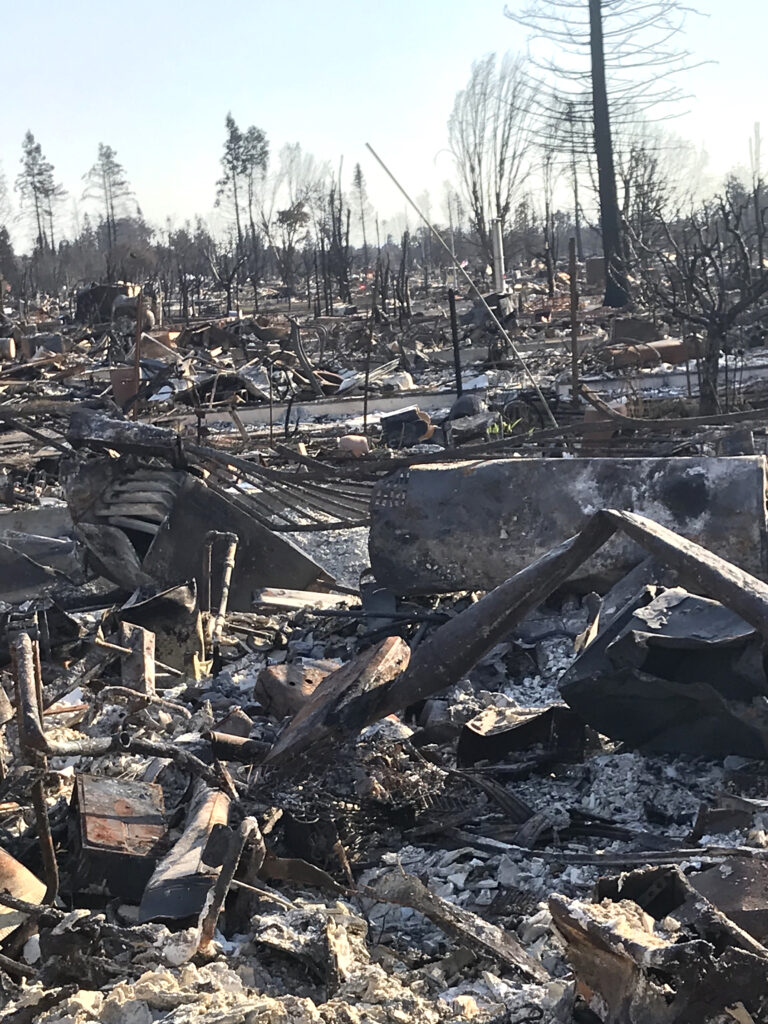 A reminder: God cares
Visiting some of the soot-and-debris-covered neighborhoods — even as the fires were still burning in others — were the Rev. Philip W. Zabell, disaster-response coordinator for the LCMS California-Nevada-Hawaii District, and LCMS Disaster Response staffers Rev. Dr. Ross Johnson, director, and Rev. Michael Meyer, manager.
The three began a several-day visit to northern California on Monday, Oct. 16, to get a firsthand look at the devastation and "to walk alongside the congregations whose members have been affected," according to Johnson.
In addition to praying with and listening to those who were hurting, the trio provided "immediate relief" by distributing a total of $5,000 in gift cards that could be used to replace some lost items as well as devotional booklets designed to offer spiritual comfort in times of tragedy.
Those resources, Johnson says, "will be a reminder that God is with them and cares about them, even in the midst of their loss and their trials and tragedies."
In an Oct. 17 phone interview, as the Synod delegation was driving from Napa to Santa Rosa amid bits of ash floating in the air — the product of fires still burning miles away — Johnson said they had met with staff and board members from St. John's, Napa, and discussed ways to reach out into the community, particularly through the congregation's school.
Copies of I Will Not Be Afraid — a children's book available from Concordia Publishing House that addresses common fears — are among spiritual-care items the congregation is distributing to St. John's students and others in the community.
Opportunity for healing
The Rev. Jim Beyer, pastor of St. Mark, Santa Rosa, said the church reached out to evacuees, offering — in addition to water, electricity and internet access — its "couches, comfy chairs and a place to be safe and pray."
Before its Oct. 15 worship service, members and others from the community spent time sharing their fire experiences.
Even those who lost everything showed up: "They wanted to be with their fellow church family members who they know love them and care about them," Beyer said, adding, "a hug and expression of Christian love will always provide opportunity for healing to begin."
To give to LCMS wildfire-relief efforts, visit lcms.org/givenow/wildfires or text LCMSWILDFIRES to 41444.
To give to the California-Nevada-Hawaii District disaster-response fund, visit cnh-lcms.org (click on "Donate to Fire Relief Fund").
Donate Online
Posted Nov. 8, 2017