For many, the word "missionary" conjures up images of safari hats, khaki pants and leafy jungles. But the newest issue of the Journal of Lutheran Mission paints a different picture. While LCMS mission work is active in some 90 countries, it's also growing in significant ways in the United States.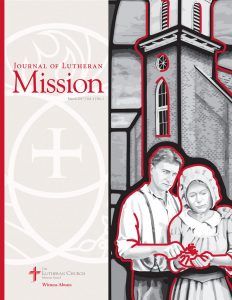 The March issue of the journal outlines the way that LCMS domestic missionaries and others are responding to the need for the comfort and forgiveness offered in the Word of God — especially in light of huge demographic shifts, massive immigration influx, fewer people in the pews and the number of people who have never heard of Jesus growing exponentially.
Individual articles on church planting; revitalization; black and Hispanic ministries; work among college students; and the state of rural, urban and suburban areas explain how the Synod is acting on these opportunities.
Ultimately, "This is a watershed moment in a new frontier: to reach into the heart of the city, to have a pivotal role in racial reconciliation in America, to welcome those coming into our nation, while reaching back into an era of witnessing amidst the skeptical and even persecutors," explains the Rev. Steven Schave, director of LCMS Urban & Inner-City Mission. "As we turn the chapter, it will be all hands on deck to support our missions and our missionaries who will be pioneers of global mission work right here in our own backyard. This is not institutional preservation. It is being faithful to our call to reach the least and the lost!"
The March edition of the Journal of Lutheran Mission will be available soon at lcms.org/journal-of-lutheran-mission.
Posted March 3, 2017