A new weekly program called "Let's Talk! The Pastor Is In" debuted March 3 on Worldwide KFUO to answer listeners' questions about doctrine and faith.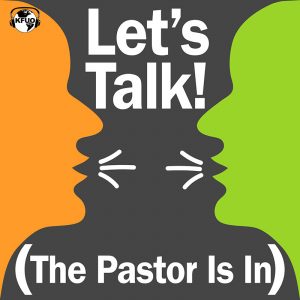 During the program, host Kip Allen sits down with a guest pastor to answer questions on a variety of topics, from the nature of original sin to how a Christian can cope with having a gay child.
"KFUO has a long history of listener call-in programs," said Director of Christian Education Andy Bates, KFUO program director. "We've received many requests from listeners to offer a program to discuss their personal questions concerning the Bible, faith and matters of doctrine.
"There are some questions that are best addressed by your pastor who knows you well. We'll leave those questions to him," Bates continued. "Yet, many questions are beneficial to others as we seek answers in the Word together. Our guest pastors will be ready to point us to the answer in the truth."
Listeners are invited to submit their questions via email to letstalk@kfuo.org.
"I believe, but often don't understand," said Allen, a layman with his own questions on these issues. " 'Let's Talk' will answer those questions in language a layperson can understand."
"Let's Talk! The Pastor Is In" airs from 2-3 p.m. every Friday on Worldwide KFUO. It also streams online at kfuo.org.
Posted March 8, 2017