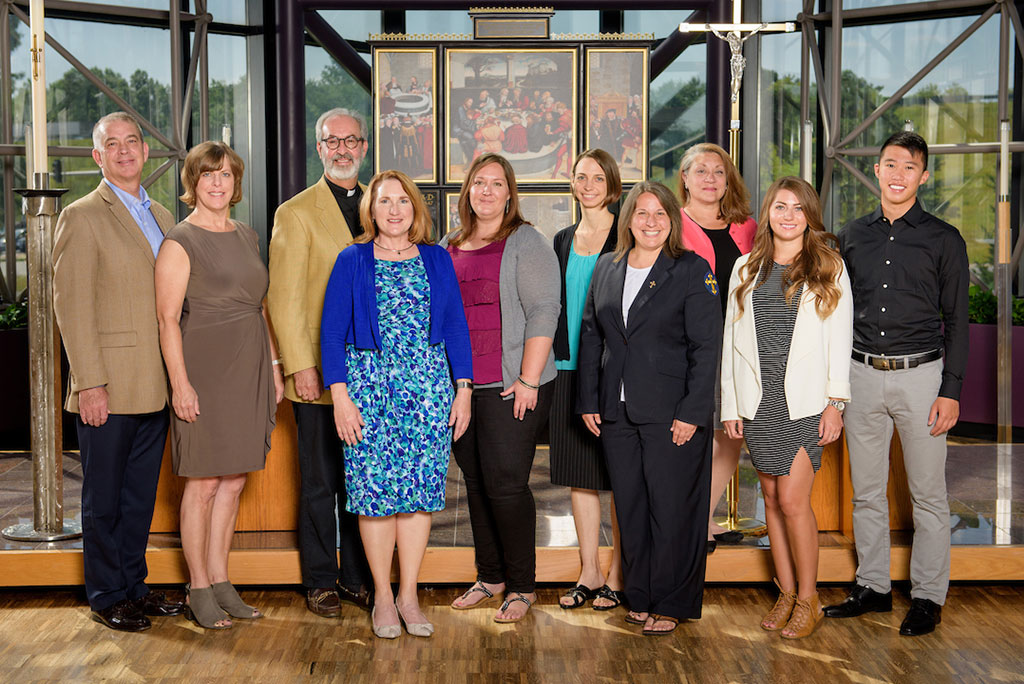 By Paula Schlueter Ross (paula.ross@lcms.org)
Deaconess Kim Bueltmann believes in keeping an open mind when she receives a call to serve a different ministry because she doesn't want to "shut doors," on her own, "before I've given it a chance to see how God might work through it."
After that consideration — and more than a little prayer — Bueltmann, 38, said yes to her latest call. Which means she's leaving a position she loves, in Wisconsin, to start a new one, in Germany, that she is certain God has arranged.
As one of 10 new Lutheran Church—Missouri Synod missionaries who attended a July 3-14 orientation in St. Louis, Bueltmann learned about the theology of mission work, developing a network of prayer and financial support, communicating with supporters, adapting to another culture, and other topics related to living and working as an overseas missionary.
Besides Germany, the new missionaries will serve in the Czech Republic, the Dominican Republic, Hong Kong, Peru, Spain and Uganda.
The orientation provided a lot of "good and helpful" information, Bueltmann said, adding that the group "could have spent another whole week," since there was so much to absorb.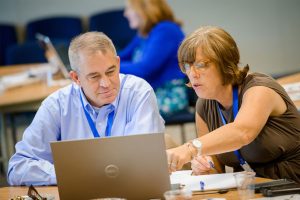 The deaconess recently left Concordia University Wisconsin, Mequon — where she was director of campus ministry for seven years — to become a career missionary in Germany, where she will work with the SELK (the German acronym for the Independent Evangelical-Lutheran Church, an LCMS partner church) as it reaches out to refugees from Afghanistan, Iran, Syria and other Middle Eastern countries.
"God's hands are in all of this," she told Reporter, and she ticked off the life experiences that led up to her missionary call:
Her grandparents were from Germany and spoke German to her when she was growing up.
She studied German in high school and "loved the language."
By the time she was a senior, she was taking her third trip to her grandparents' now-familiar homeland and realized, "There's a huge mission field here." Back then, few Germans were attending church services or seemed to have heard the Gospel, she said, and nothing much has changed.
Her deaconess internship was in — you guessed it — Germany, and was arranged when the SELK requested someone who could speak German and wanted to work with youth and music. Bueltmann sings and plays several instruments. She and two of her brothers — Kevin and Kurtis, both now LCMS pastors — later performed in their own band, "Sibling Harmony," for some 10 years.
Bueltmann says she's "very excited about the ministry" in Germany.
Even though the Synod can't send missionaries to the home countries of the refugees, "here they are, in a place where we can share the Gospel with them," she notes.
"Here, they're seeking refuge in another country, and I get to tell them, 'Hey, there's an even greater refuge in Christ.' "
Dr. Arthur A. Just Jr., longtime professor at Concordia Theological Seminary in Fort Wayne, Ind., says he's "very excited" about his part-time call to serve as a professor at a Lutheran seminary in the Dominican Republic and as a pastor, professor and missionary in Spain. He also expects to serve, as needed, in Mexico and Uruguay.
Among his duties will be teaching, writing curriculum, administering programs, visiting congregation members, preaching, celebrating the Lord's Supper, pastoral counseling and mentoring — many of the same tasks he has performed overseas, throughout the years, as a professor.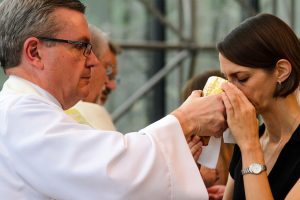 "But it is a great encouragement for me to do it in an official way as a career missionary" with the Synod's Office of International Mission, he told Reporter.
Just, who will continue in his position at Concordia Theological Seminary, says his new missionary call is his "swan song." Being asked to serve at the new seminary in the Dominican Republic, he says, "is a great honor and privilege and one of the most exciting ventures I have been a part of, along with helping to start a seminary in Siberia in 1996."
Rachel Meyer, who has taught primary students at Concordia Middle School in Taiwan for the past three years, will serve at least two years as a missionary in Uganda, East Africa, where "there is a need for teachers."
With back-to-back overseas service, Meyer says her family "is a big support network" for her. And, "they're supportive of God's work. When God calls, then you listen, you follow, right?"
Meyer says "God calls us all to trust in Him, but to also share [His Word] with others." Whether that's in your own backyard or on the other side of the globe, "He calls us all to share," she said.
The Rev. John A. Fale, executive director of the LCMS Office of International Mission, considers it "a blessing to be with new missionaries during orientation. There is a high level of excitement, anticipation and even a bit of anxiety as they are about to enter an unfamiliar culture and ministry context.
"Yet through it all, they know that they have been called by Jesus through His church, that they go with His blessing, and that He will provide," Fale said.
In a July 14 "Service of Sending" for the new missionaries at the LCMS International Center chapel, LCMS First Vice-President Rev. Dr. Herbert C. Mueller Jr. preached on Luke 6:36-42, encouraging them to "be merciful, even as your Father is merciful" and to "be like" their "teacher," Jesus Christ.
"No one," Mueller said, "has given more for the world — or for you — than Jesus," who can "take a crooked stick," a sinner, and "draw a straight line," finding and calling "sinners to serve Him."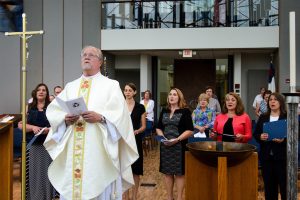 He urged the missionaries to "remember that the power and the grace do not flow from you, but flow from Jesus," who is "always the giver."
And, like the 2 Kings account of the four beggars who find a feast and share it with others, "that's exactly what you and I are sent to be and to do," said Mueller — "to live and serve as His baptized people, to say: Here's the good stuff! Here's the mercy that cannot be exhausted. Here is grace upon grace. Here's the good food that brings you home to eternal life — the body and blood of Jesus, the everlasting love of God. Here's forgiveness for all your sins.
"Here's Jesus, who gave Himself for you. Who will always give you good measure, pressed down, shaken together, overflowing. Who will make you His disciples."
In the "Rite of Sending," Fale asked God to "guide and bless" the missionaries, His "servants sent forth to be witnesses," and "grant them confidence and great boldness, uphold and sustain them in hardship and grant them faithfulness in all their labors, so that through the speaking of Your Word the nations may come to worship before Your throne in spirit and in truth."
Said Fale: "Go in the name of the Lord. Be steadfast, immovable, always abounding in the work of the Lord, knowing that in the Lord your labor is not in vain."
For more information about LCMS missionary opportunities, visit lcms.org/missionaries.
Posted July 20, 2017