Concordia Publishing House has added three new 16-page books to its long-running children's series of Arch® Books.
Each volume in the 50-year-old series — designed for children ages 5 to 9 — retells a Bible story using rhyme and colorful illustrations.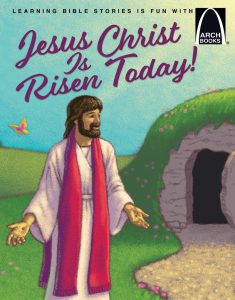 New to the series are:
Joshua and the Fall of Jericho ($2.49, item no. 592290WEB), about the battle of Jericho from Numbers and Joshua. Despite the wall around Jericho, God's people defeat the city without using shovels or axes to get inside. This story teaches children that God will punish the unrighteous, but He will keep His promise to deliver those whom His Son has redeemed.
Peter Surprises Rhoda ($2.49, item no. 592289WEB), the Acts 12:1-19 story of Peter miraculously being released from Herod's prison and being led out by God's angel. Afterward, when Peter arrives at the house of Mary and Mark, where friends had gathered to pray, Rhoda hears his voice and is so surprised she forgets to let him in! This book reminds children that God does, indeed, listen to us and answer our prayers.
Jesus Christ Is Risen Today! ($2.49, item no. 592291WEB), for Easter 2017, which is based on the popular hymn with the same title. Using language from all four Gospel accounts, this book retells the story of Jesus' resurrection and shows how it fulfills God's promise in Genesis to save His people.
Also available is the two-year Family Arch Book Club which provides, four times per year, 10 of the newest and best-selling Arch Books for $18.68, plus shipping — a 25-percent discount over the cost of buying the books individually.
For more information or to subscribe, contact Lindsey Martie at 314-268-1303 or lindsey.martie@cph.org.
For more information on Arch Books, visit cph.org/archbooks.
Posted January 18, 2017