Portals of Prayer — the flagship daily devotion of Concordia Publishing House that has provided Scripture-based comfort and encouragement to readers since 1937 — is now available as an app for Apple and Android phones and tablets.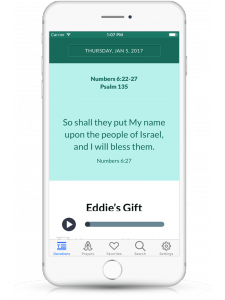 The app includes a free preview with seven days (Jan. 1-7) of devotions, audio and prayers.
Current subscribers of the print Portals of Prayer with digital access and digital-only subscribers may gain full access by logging in with their cph.org credentials.
Others may purchase a one-year subscription for $9.99 through the app or online at cph.org/portalsapp.
In addition to new daily devotions, subscribers have access to seven years of past devotions — more than 2,500 meditations and prayers that are "searchable" using a keyword. Users also may save favorite readings and share prayers.
"We are so excited about the Portals of Prayer app," said Holli Rolfes, CPH senior manager. "It's a huge milestone in the history of Portals. The beautiful interface is easy to navigate, and it honors the longstanding tradition of the devotional.
"With the app, everyone can read or listen to these timeless devotions wherever God may take them."
To learn more about the Portals of Prayer app, click here.
To download, search Portals of Prayer at the App Store or Google Play.
Posted June 29, 2017