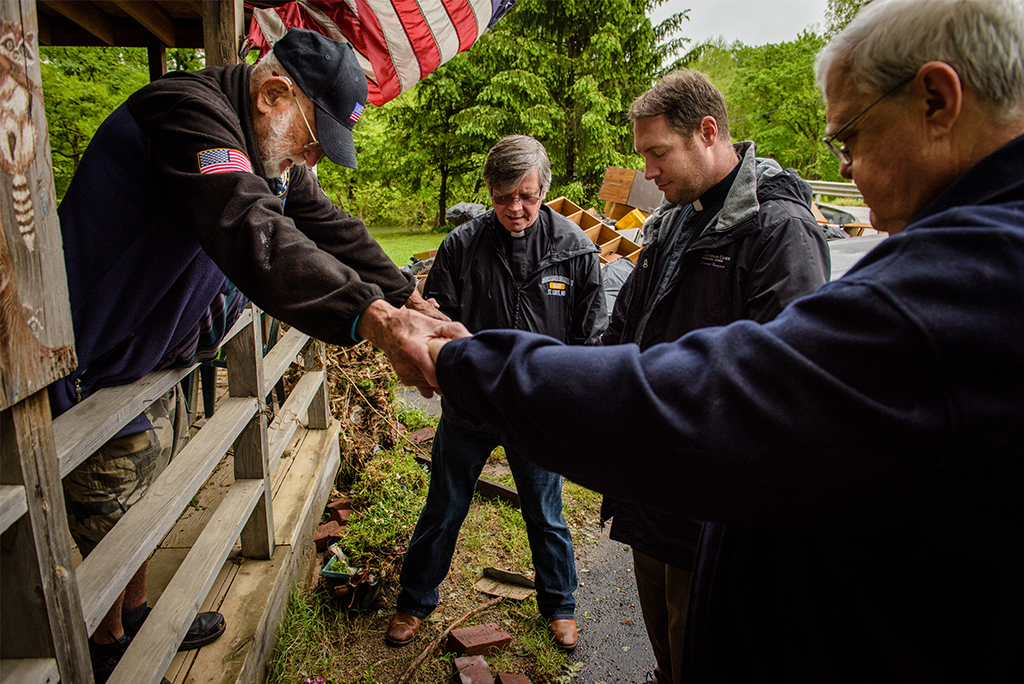 By Roger Drinnon
Spring 2017's severe storms have affected Lutheran Church—Missouri Synod congregations and their communities in the Midwest and Texas; and once again, prayers and continued generosity from people across the Synod have equipped congregations to share Christ's mercy in the aftermath.
During torrents of heavy rain, Missouri Gov. Eric Greitens declared a state of emergency April 29, after flooding began in several parts of the state. More flooding occurred in the following days as rivers and waterways crested, resulting in two reported deaths and the closure of major roadways going into and out of affected areas.
Just two days earlier, four tornadoes had touched down in East Texas, killing four and injuring dozens, according to news reports.
The most recent storms are only part of a string of destructive calamities putting pressure on available disaster-response resources. These resources are provided by generous contributions from people who make a difference in the lives of those facing fear and uncertainty.
Donate to help
A constant barrage
In late December 2015, similar floods in the Midwest and tornadoes in Texas together caused an estimated $1 billion in damages. From the 2015 floods and tornadoes to now, a barrage of other disasters has included Hurricane Matthew; flooding in Baton Rouge, La.; California wildfires; and a string of tornadoes striking southeast Missouri, central Illinois, New Orleans and Texas.
If this trend is any indication, disaster-relief work will not be letting up any time soon.
Responders note how charitable gifts for disaster response not only help share Christ's mercy in the aftermath of a catastrophe, but they also enable and equip congregations for responding to the next disaster, whatever that may be.
Hands and feet of Christ
LCMS congregations like St. Mark's Lutheran Church, Eureka; New Beginnings Lutheran Church, Pacific; St. John's Lutheran Church, Arnold; and Immanuel Lutheran Church, Joplin, are serving as volunteer hubs for flood-recovery efforts in affected areas of Missouri.
Other affected towns in the Show-Me State include West Plains, Branson, Cassville, Kimberling City and Neosho. Early on, Synod congregations began actively assisting with sandbagging, evacuations, volunteer coordination and immediate recovery efforts.
"We have a disaster-relief trailer that was [made possible] by a grant from [LCMS Disaster Response], and that trailer has been rolling constantly," said Denise Kasten, vice-chairman of disaster response for Eureka who attends St. Mark's. "We have evacuated 18 homes — we're trying to find housing for some of the people. Some of them are staying with friends and neighbors, and so what we are doing right now is reacting to save what we can."
Kasten said St. Mark's members and other residents were better prepared to respond this time, compared with the flooding in 2015.
"We just recently went through LERT [Lutheran Early Response Training] — my husband Chris, myself and [our] Pastor Bob [Liebmann]," Kasten said. "[Missouri District Disaster Response Coordinator] Pastor [Charles] Schultz led the training [at St. John's]. We also had [LCMS Disaster Response Director] Pastor Ross Johnson come to our church a few months ago. He spoke to us, we had a Bible study, and that's how we learned about LERT.
"We're encouraged in how to better assist [those affected by disaster] spiritually, physically and emotionally, so that we can help them in all aspects," Kasten continued. "We've developed relationships and friendships [with other residents], and we're trying to teach them about Jesus. And that's what we're doing — just being the hands and feet of Christ."
"We have 10-12 people from our church [working in my home]," said Dick Keezer, a member of First Lutheran Church in Neosho. "I mean, it really gets to you — the love that poured out."
"There's loss of material goods, and some have lost their homes beyond repair. Glory be to God that we didn't have loss of life," said the Rev. Steve Gillmore, pastor of the church. "There are 31 families [in Neosho alone] who still are without homes; they're going to have long-term needs [including] having a place to live."
Gillmore said some residents are surprised to learn of a Lutheran church in their midst with people willing to assist others — no matter if they are not church members. "[Some unchurched people] are so astonished that someone of faith would stop and offer help [as if to say], 'Why are you helping me? I don't go to church?' Well, God loves you still anyway, and we're here to help."
Watch video    View photo gallery  
Texas recovering from tornadoes
Members of Holy Cross Lutheran Church in Canton, Texas, are coordinating with other area congregations to help the community clear rubble and rebuild in the aftermath of the multiple tornadoes that ripped through the area.
The Rev. Mark Huston, pastor at Holy Cross, said no one in the congregation lost a home, but efforts continue in partnering with other LCMS churches to help community residents who were affected.
"LERT groups from Beautiful Savior, Arlington, and Trinity, Tyler, have been working in the Canton area. Trinity has also been focusing on Fruitvale, a small community north of Canton that took the brunt of one of the tornadoes from that storm," said the Rev. Steven Misch, Texas District disaster-response coordinator. "The team from Tyler was on-site before any other volunteer organization to offer assistance."
Misch said 54 people from various congregations in the Dallas-Fort Worth area also assisted residents during a May 6 volunteer workday. He said more volunteer workdays are being planned.
The long haul
Synod and district disaster responders note that recovery from multiple natural disasters is a long process. Long after the headlines disappear and the TV news crews go home, the work continues to help affected people get back to some semblance of a normal life through compassionate pastoral care and by providing them the basic comforts of food, shelter and clothing.
"With the support of so many kind people who allow us to deliver mercy in His name and who we also consider true disaster responders, we remain committed to longer-term recovery in so many places that have experienced flooding and other devastation," said LCMS Disaster Response Manager Rev. Michael Meyer.
Synod leaders offer the assurance that in keeping with the precedence of LCMS World Relief and Human Care, gifts provided in the wake of disasters bring compassion to those who are hurting, grieving, fearful and worried about what tomorrow will bring.
"Our LCMS congregations in the area are strong outposts of Christ-centered mercy and proclamation to those affected," said LCMS President Rev. Dr. Matthew C. Harrison. "Drawing upon God's richness, we will equip and support them to the very best of our ability."
You can help
Pray — Join the LCMS in prayer for all who suffer from disasters.
Volunteer — Locations are assessing needs and planning relief work. For information, please call the LCMS Church Information Center at 888-843-5267.
Give — Support disaster relief and recovery:
To make a credit-card gift by phone, call the LCMS toll-free gift line at 888-930-4438 between 8 a.m. and 4:10 p.m. Central time.
To give by mail, make a check payable to "The Lutheran Church—Missouri Synod" or "LCMS." Write the gift designation on the memo line of your check (e.g., Disaster Response) and send to:
The Lutheran Church—Missouri Synod
Mission Advancement
P.O. Box 66861
St. Louis, MO 63166-6861
Roger Drinnon (roger.drinnon@lcms.org) is director of Editorial Services and Media Relations for LCMS Communications.
Posted May 10, 2017
---
Related LCMS Disaster Response articles