British writer C.S. Lewis is widely known as one of the world's most famous Christians. What is less commonly known is that before he was a Christian, Lewis was a passionate atheist.
New from Concordia Publishing House, From Atheism to Christianity: The Story of C.S. Lewis relates Lewis' journey from atheist to Christian.
"Many other atheists of the 20th century are well-known for being atheist," says the book's author, the Rev. Dr. Joel Heck. "But none of them has captured the minds and imaginations of people like C.S. Lewis, whose influence far surpasses any of these individuals, and perhaps even all of them combined."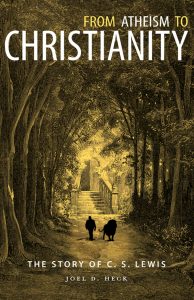 Heck, the author or editor of 14 books and dozens of articles — several of which are about C.S. Lewis — teaches courses on C.S. Lewis, the Old and New Testaments, and Reformation history at Concordia University Texas, Austin.
Drawing from Lewis' own writings as well as the insights of others he sought out during his quest for spiritual understanding, From Atheism to Christianity explores the desire, reluctance, searching and surrender that defined some 15 years of the writer's life.
Among questions the book addresses are:
What attracted Lewis to atheism and eventually Christianity?
How did he leave atheism behind?
Why did his journey take 15 years?
What authors did he read, and who did he interact with and confide in?
"Perhaps no life story communicates the path from doubt to faith better than that of C.S. Lewis" and "Dr. Heck has written a masterpiece about Lewis' journey," notes the Rev. Jim Mueller, senior pastor at Peace Lutheran Church in Hurst, Texas. "Not only does this work reference the best scholarship on the life and work of Lewis, it also shares the heart of the author — that no one should live and die without hope for salvation.
"In my pastoral ministry, I have watched many struggle with faith and doubt," Mueller adds. "Dr. Heck embraces that tension and uses the story of Lewis to weave the reader to a God of love. There are far too many Christian books that shame atheists for their lack of faith. Finally, we have a book that is a safe and intelligent read that you can offer friends and family whom you love."
For more information about From Atheism to Christianity: The Story of C.S. Lewis or to order ($14.99, plus shipping, item no. 124513WEB), visit cph.org/fromatheismtochristianity or call CPH at 800-325-3040.
Posted May 9, 2017