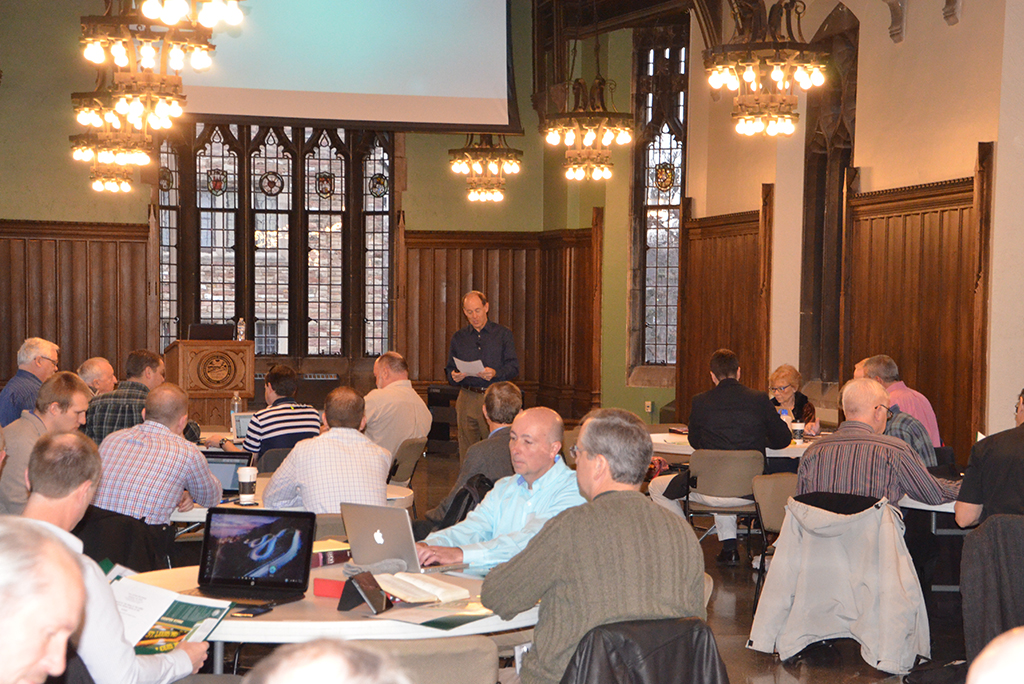 A variety of events are scheduled for the month of January at the two LCMS seminaries.
Concordia Theological Seminary, Fort Wayne, Ind. (CTSFW)
CTSFW will host a Lenten preaching workshop on Monday, Jan. 15, 2018, from 8:30 a.m. to 4:00 p.m. The theme of the workshop is "A Return from Exile: A Lenten Journey," with the Rev. Jeffrey H. Pulse, associate professor of Exegetical Theology at CTSFW, presenting on the connection between the 40 days of Lent and the 40 years the Israelites wandered in the wilderness before entering the Promised Land.
Cost for the workshop is $40 and includes lunch. Click here to register online. For more information, go to ctsfw.edu/Lenten-workshops or contact LeeAnna Rondot at LeeAnna.Rondot@ctsfw.edu or 260-452-2204.
In addition to the preaching workshop, CTSFW is planning its 33rd Annual Symposium on Exegetical Theology and its 41st Annual Symposium on the Lutheran Confessions.
The Exegetical Theology Symposium will take place on January 16–17 with the theme "The Communion of Saints: Called Into Fellowship."
The Lutheran Confessions Symposium will take place on Jan. 17-19 with the theme, "Confessional Lutheran Reflections on the Moral Life."
For more information on the speakers, topics, schedule and accommodations, visit ctsfw.edu/Symposia. Online registration is also available.
Also in January at CTSFW are two special music services as well as a free public lecture. Epiphany Evening Prayer will take place on Sunday, Jan. 14, at 4:00 p.m., and Symposia Choral Vespers on Wednesday, Jan. 17 at 5:00 p.m. Both services will be held in Kramer Chapel and will also be livestreamed at ctsfw.edu/Daily-Chapel and facebook.com/CTSFW.
The free lecture, open to the public, is set for Sunday, Jan. 21, at 4:00 p.m. Lecturer Dr. Timo Laato, professor of New Testament at the Lutheran School of Theology in Gothenburg, Sweden, will address "The Current State of Lutheran Churches in Scandinavian Countries." This presentation will not be broadcast live, so those interested will need to attend in person at Sihler Auditorium.
Concordia Seminary, St. Louis (CSL)
CSL's Lenten preaching workshop, "The Gospel in Seven Words," will be held Friday, Jan. 19, 2018, 9 a.m. – 4 p.m., with presenter Rev. Dr. Peter Nafzger, CSL assistant professor of Practical Theology.
This workshop for pastors will explore the ways in which the Scriptures proclaim the Good News of Jesus Christ. In addition to offering a traditional series of midweek sermons, the workshop will include an interactive option designed to help pastors work with their members to form a brief confession of the Gospel using their own words. Peter's encouragement in 1 Peter 3:15 provides the biblical orientation for this series, as it calls all Christians to be prepared to give the reason for our hope in Christ.
Registration for the CSL preaching workshop is $50 and includes lunch. Online registration is available. For more information, click here or contact CSL Continuing Education at 314-505-7286 or ce@csl.edu.
Posted Nov. 29, 2017