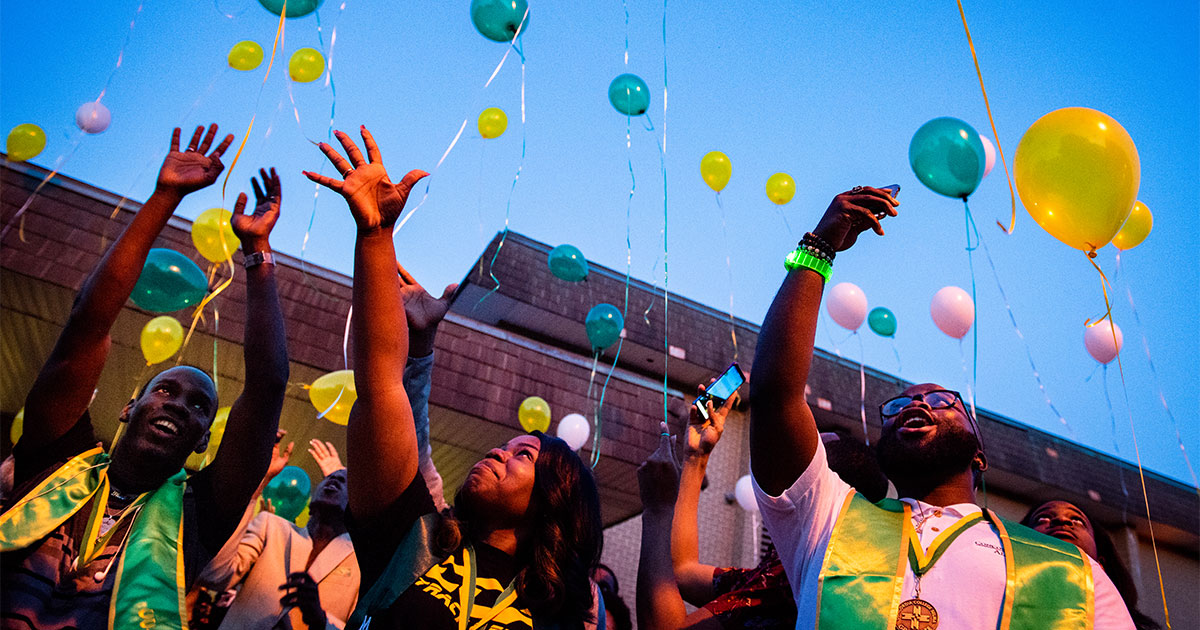 SELMA, Ala. — Following three days of celebration and remembrance, students, families, faculty and regents gathered on the campus of Concordia College Alabama (CCA) on April 28 for the school's 92nd and final commencement.
Founded in 1922, the historically black Lutheran college closed its doors for good following the ceremony after a multi-year effort to stay open.
"When it was started, there were 30-plus Lutheran schools teaching the black population across this area of Alabama at a time when a black child had no opportunity to learn to read and write," said Roderick Olson, a member of the CCA Board of Regents, recalling how The Lutheran Church—Missouri Synod (LCMS) stepped in at the request of the unstoppable black education pioneer, Dr. Rosa J. Young.
View Photo Gallery
Founded as a preparatory school to train teachers for the elementary schools established by Young, the school frequently adapted to the changing times and needs of the church.
What began as Alabama Junior Academy ultimately became a four-year institution for African-American students in the Deep South who would go on to become teachers or Lutheran pastors.
"Through Young's work, the Gospel has been brought to many people throughout this area of Alabama," commented Board of Regents Vice-Chairman Dr. Lawrence Sohn.
"Many of the African-American pastors [in the LCMS] are a result of this institution," noted the Rev. Dr. McNair Ramsey, former CCA student and administrator.
"Most of the pastors went through here, and many of them had Rosa Young place her hand on their heads as she said, 'You are going to be a pastor,' or 'You are going to be a Lutheran school teacher.'
"And it came true," recalled Ramsey, who shared his own experience of working in Young's garden in his "one and only best suit" when she said to him, "McNair, you're going to be a pastor."
"I never forgot that," said Ramsey. "Those who had gone on before me and became pastors … would not allow me to forget what I had promised."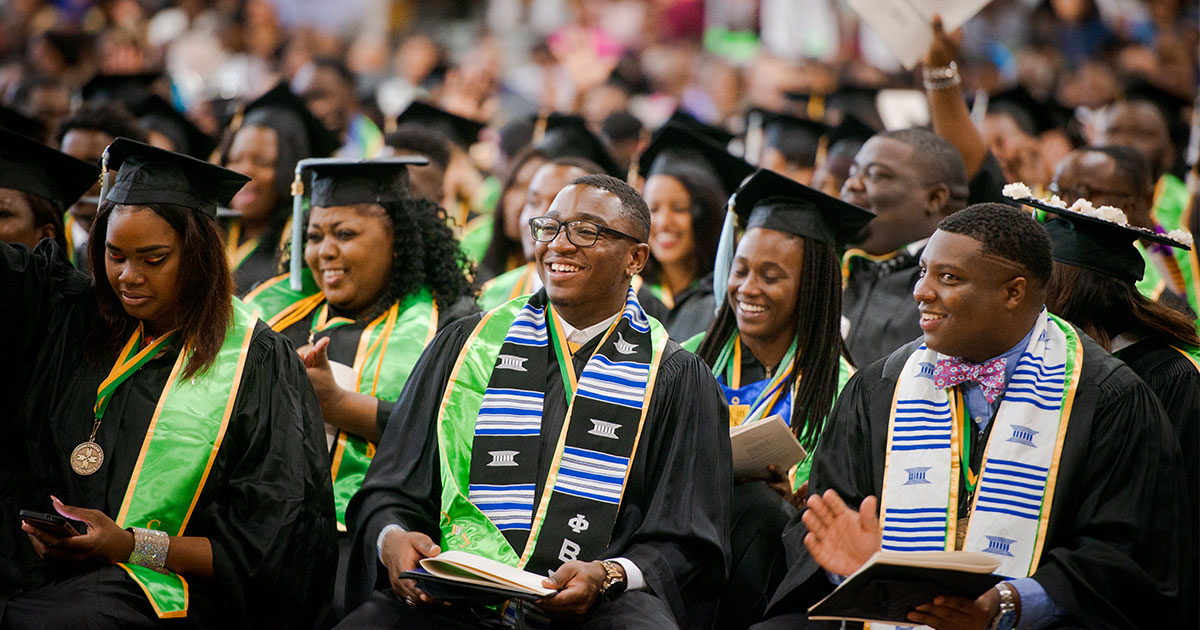 Class of 2018
This year's 147 graduates received undergraduate degrees in business, behavioral sciences, nursing, computer science, education and other disciplines.
Among those receiving diplomas were a 70-year-old woman, students from African countries, and students who have overcome significant personal challenges in achieving their educational pursuits.
When asked about the impact and legacy of Young, several graduates eagerly shared how she inspired them.
"I think the inspiration behind Rosa J. Young should still be the inspiration in the situation that we are in," said Ashley Milhouse McMillan. "With Rosa J. Young, it didn't matter the obstacles that they were going through. She fought, she fought, she fought, so that education could be for everyone here in this area."
"What I got from Rosa Young was 'keep going,' because on her first try, she didn't get it," said Richardson Fodoasse, referring to Young's early efforts to start schools for black children in Alabama.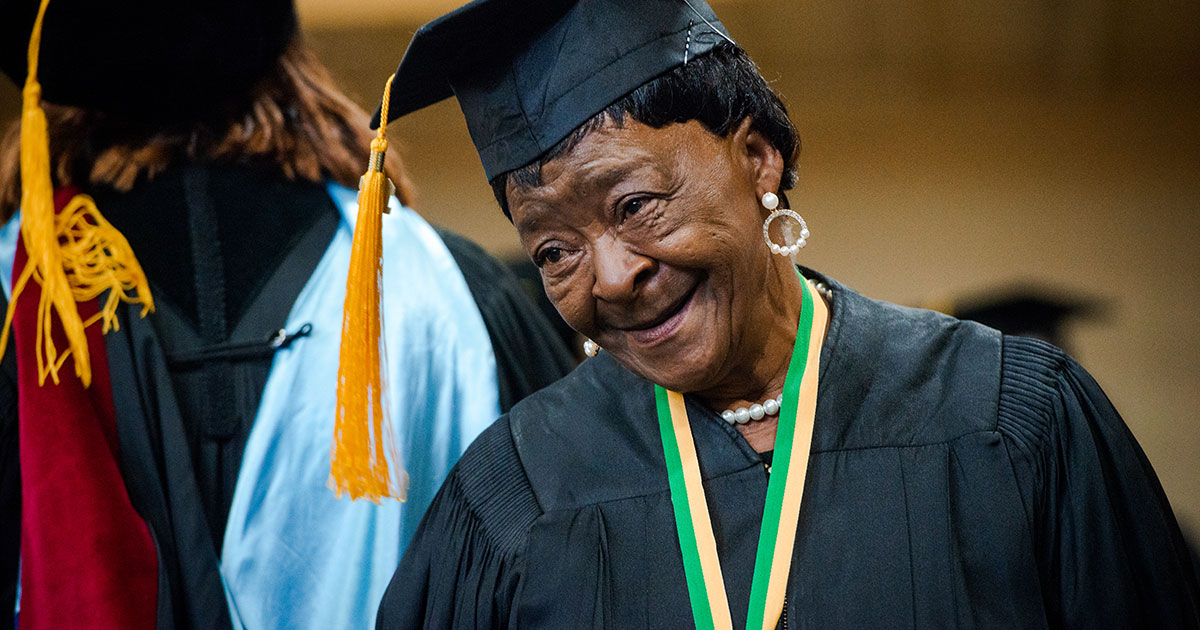 'Nevertheless'
Even as the Class of 2018 reveled in their accomplishments and looked forward to their future, faculty, staff, regents and alumni struggled with the finality of the weekend's events.
"It's not just an educational institution," emphasized Board of Regents Chairman Lloyd Probasco. "It's a mission … and a jewel that unfortunately the church is losing, and I am sad about that."
Ramsey invited those assembled at a candlelight vigil the night before the commencement ceremony to "trust in the Lord, because He knows what He is doing and will bring all things to fruition.
"It is a joy to stand before you and to declare that the Lord is good," Ramsey preached. "He is indeed good all the time, even when His will does not connect with my will or your will."
In searching the Scriptures to understand God's will regarding the decision to close CCA, Ramsey was drawn to the word "nevertheless."
Ramsey directed listeners to Luke 22:42, where Jesus speaks about His coming death: "Father, if thou be willing, remove this cup from me: nevertheless, not my will, but thine, be done."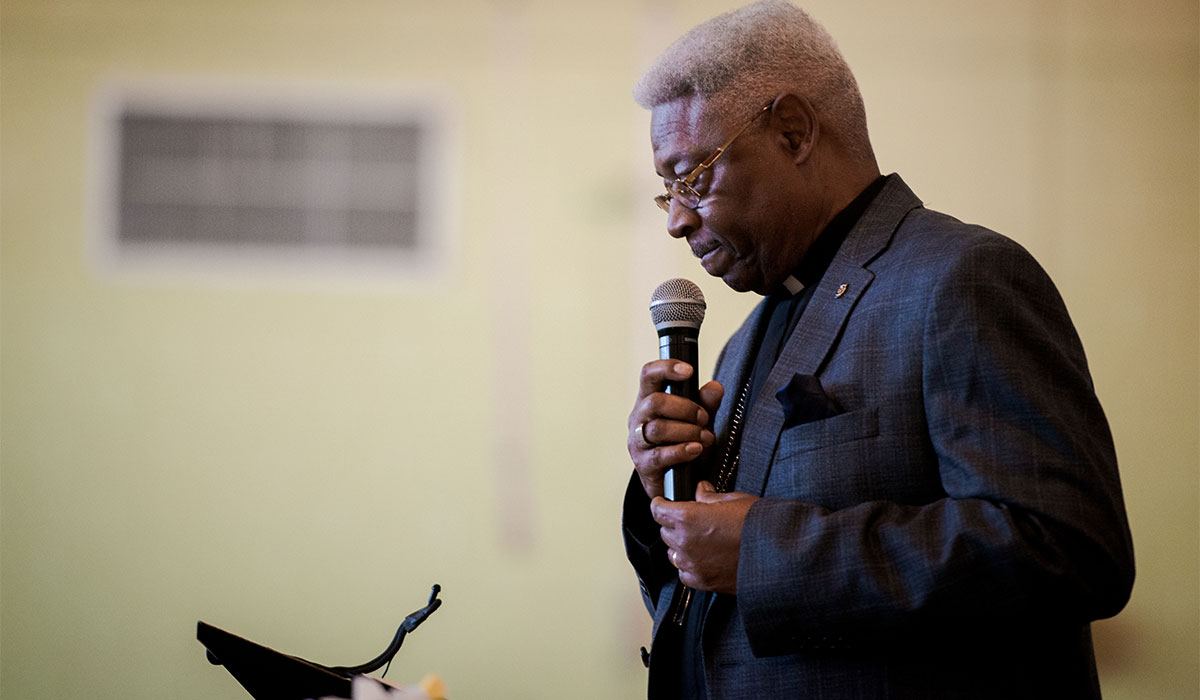 Challenging times in higher education
"I think it's sad because it had 96 years of history here … but institutions don't necessarily last forever," said Olson. "Circumstances change. As time moved on, black children had access to public schools, and there are multiple opportunities [for higher education] now, so we are competing for a pool of students [alongside] state-sponsored schools, and we didn't have that base of Lutheran primary schools [that we once had feeding the college]."
Olson and his fellow regents described efforts undertaken to keep the institution afloat over nearly a decade in the face of multiple obstacles — among them, significant defaults on student loans and ongoing financial challenges.
CCA is not the first Synod college to close its doors for various reasons. Preceding the CCA closing were colleges in New Orleans (early 1900s); Conover, N.C. (1935); Oakland, Calif. (1973); Fort Wayne, Ind. (1977); Concordia, Mo. (1986); and Winfield, Kan. (1986).
The school also joins a growing list of colleges and universities, both public and private, that have closed or are likely to close their doors due to declining student enrollment, budget woes and other insurmountable challenges.
Referring to the efforts of the Board of Regents, Chief Transition Officer Dr. James Lyons Sr. told students and faculty, "I can lie down [at night] feeling very comfortable that this group of individuals did everything possible to keep this school afloat."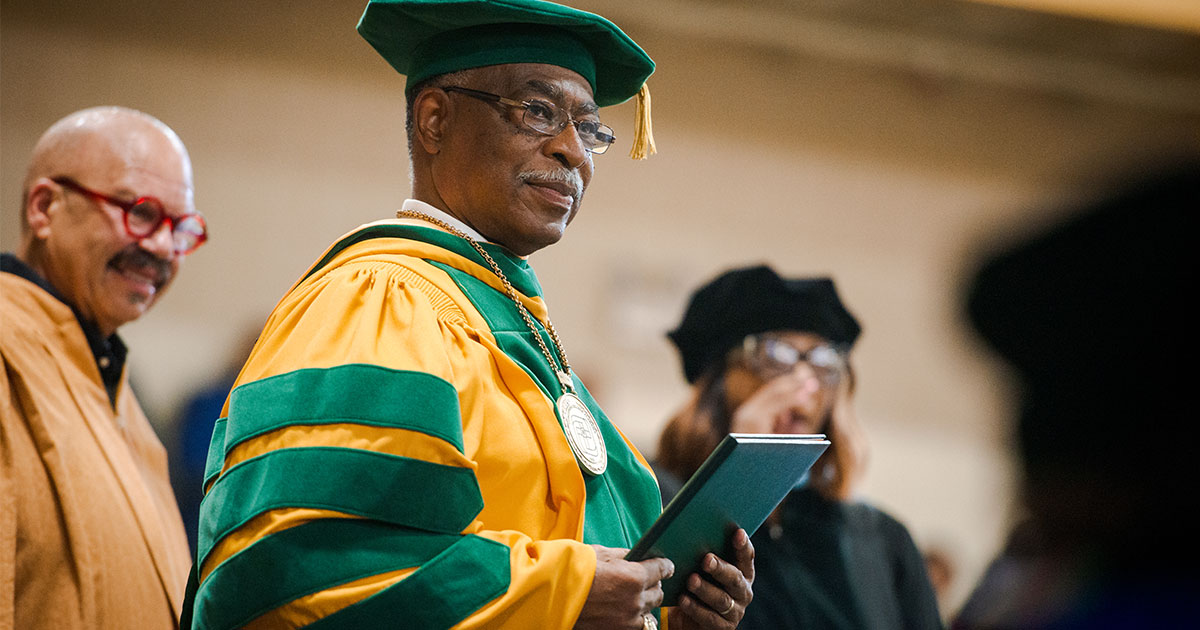 A joyous legacy
In his remarks to graduates and faculty on the eve of the commencement, Lyons reflected on what he had experienced in the 11 months since being asked to lend his considerable experience in higher education by serving as the campus transition officer.
"I met some of the most dedicated and committed faculty and staff that I've worked with in higher education over the last 50 years. I know these folks have gone into their own pockets when they've needed to," said Lyons. "They've taken in students and worked with them as their own children."
Praising the students at CCA, Lyons reflected, "I can tell the world that I've met students here who had other choices, who could've gone to college anywhere they wanted to go, but they chose to come to CCA."
Lyons said the faculty, staff and administration worked this spring to enable any student who was "ready, willing and able" to go on to another institution, organizing a transfer fair at which 41 colleges and universities were represented. Three Concordia University System schools were in that number — Ann Arbor, Chicago and Texas.
"On that day, half of the schools came prepared to admit students on the spot if they had a transcript," said Lyons.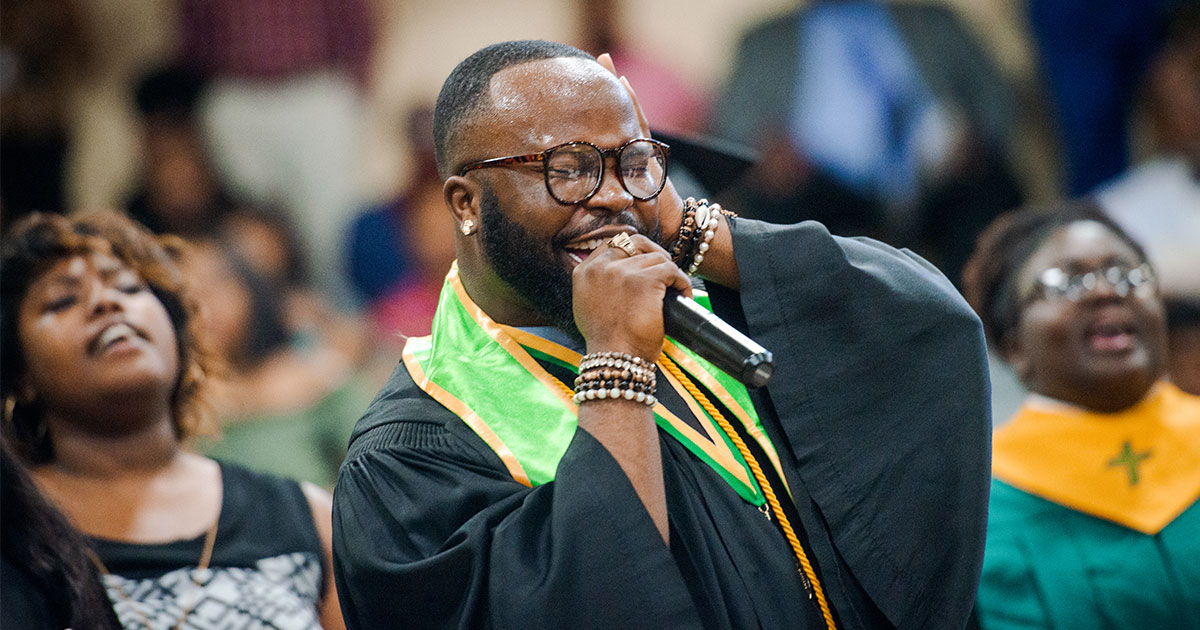 There were 166 undergraduates in attendance at the transfer fair, with some schools admitting as many as 15–20 CCA students.
"I don't think we could have done anything with more of an impact than that transfer fair," said Lyons.
Lyons continued, "And I'm telling you I've met some students at Concordia, Alabama, who are as sharp as any students I have met anywhere I have worked." He promised to "testify to that every time I have the opportunity, to let people know the work that has been done at this institution."
"I see hope. I see future leaders," offered Dr. Glenn King Jr., CCA alumnus and dean of the Division of Business and Computer Information Systems.
King is convinced Young's legacy will live on.
"It is sad, but it is also a joyous opportunity to know that after 96 years, this institution has helped so many people, and her legacy can continue throughout the world," said King.
"I am honored that God chose me to attend this university. Wherever I will go, I will tell the world that Concordia College Alabama made a tremendous difference and a huge impact in my life."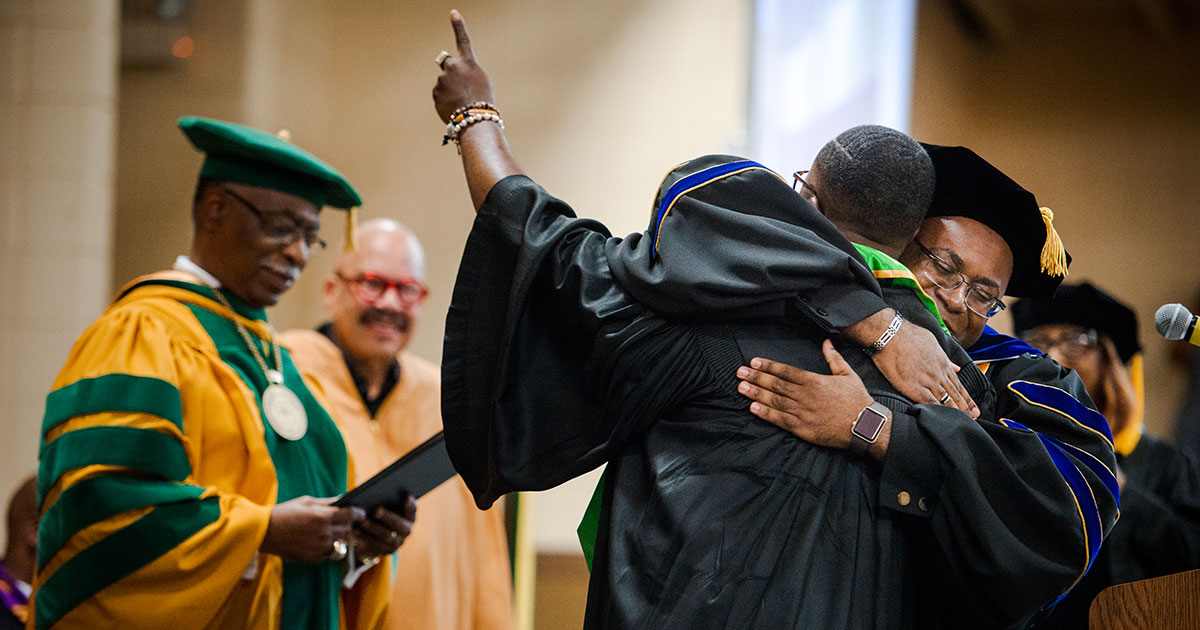 Posted May 16, 2018