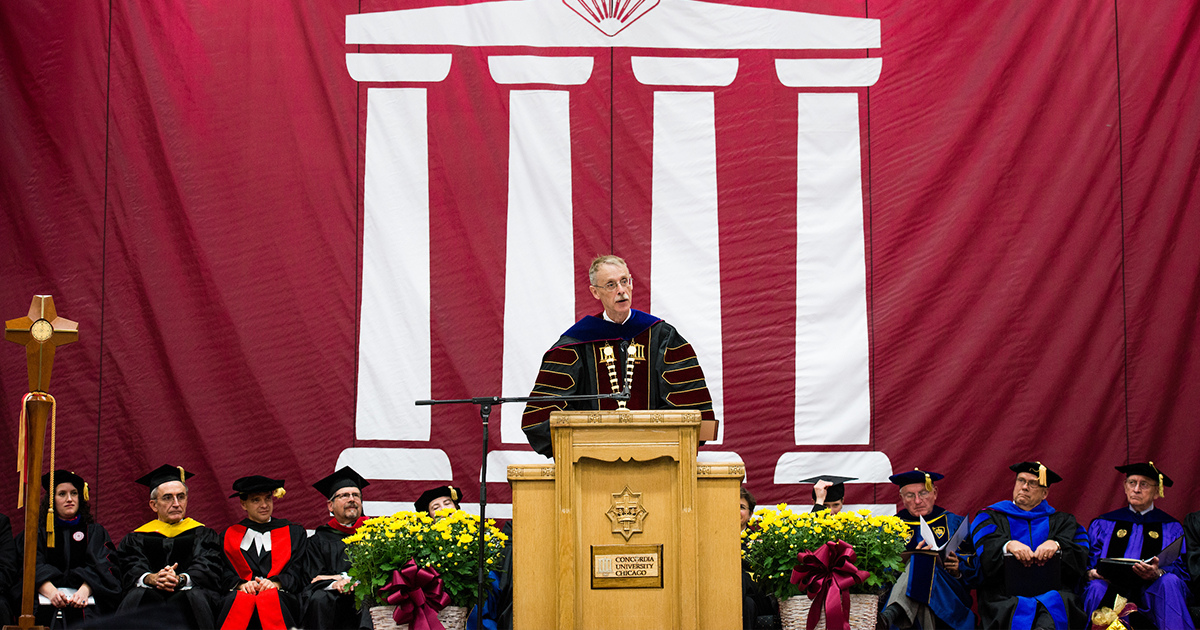 The Rev. Dr. Daniel L. Gard, retired rear admiral for the Navy and president of Concordia University Chicago (CUC), River Forest, Ill., has announced his intention to retire as president of CUC after the 2018–19 academic year.
Gard is the 11th person to have served the university as president since its founding in 1864. He became president in 2014, the same year CUC celebrated its 150th anniversary.
A 2014 Reporter story about Gard noted that he "seems to have done it all. He's taught future LCMS pastors how to read Hebrew, won meritorious service medals in his extended military career and comforted grieving families at the Pentagon on 9/11 in his role as chaplain.
"He's ministered to military and civilian personnel at Guantanamo Bay, served as pastor in a Midwestern parish and … [been] nominated by President Barack Obama to be the 18th deputy chief of Navy chaplains for Reserve Matters."
Gard also served as professor of Exegetical Theology at Concordia Theological Seminary, Fort Wayne, Ind.
Dr. Dominic Salvino, chairman of the CUC Board of Regents, said that the board had voted at its September meeting to renew Gard's contract and request that he continue his service to the university.
"We regret that he will be leaving," Salvino stated, "but we pray for God's blessings to President Gard, his wife Annette and his family in retirement, as we give thanks for all that God has accomplished through him during his time at Concordia, Chicago."
In announcing his retirement, Gard quoted the Book of Ecclesiastes: "To everything there is a season, and a time to every purpose under the heaven" (Eccl. 3:1).
Gard said, "I told the board during our meeting that serving at Concordia University Chicago has been the greatest honor of my life. I truly love this school and the mission it has been given by our Synod. …
"I am humbled that the board chose to offer a five-year extension of my current contract. … I have prayerfully considered what that extension might mean for the good of Concordia, Chicago, and for my family. God has blessed this university in so many ways in the past and the present. He will continue to do so into the future.
"It is with sadness that I submit to you my decision to retire at the end of my current contract. But it is also with joy in that [CUC] will move into a future that belongs to our Lord."
On behalf of the Board of Regents, Salvino outlined the milestones CUC has achieved under Gard's leadership in just four years:
The design, construction and occupancy of Concordia Hall, a state-of-the-art facility that is the first new residence hall constructed on campus in the last 50 years.
Major renovations of the Trusheim and Mary-Martha residence halls.
The creation and dedication of the Kreft Center for Student Success, a complete renovation of a century-old space that now serves as a 21st-century hub for key student services.
"All of this flows from President Gard's vision of putting students first — witnessed by his daily personal engagement around campus — and by God's grace, it has resulted in record enrollment now exceeding 6,000 students, an increase of approximately 20 percent during his tenure," Salvino noted.
CUC will work with representatives from the Concordia University System and The Lutheran Church—Missouri Synod to conduct a nationwide search for a successor.
Posted Oct. 9, 2018