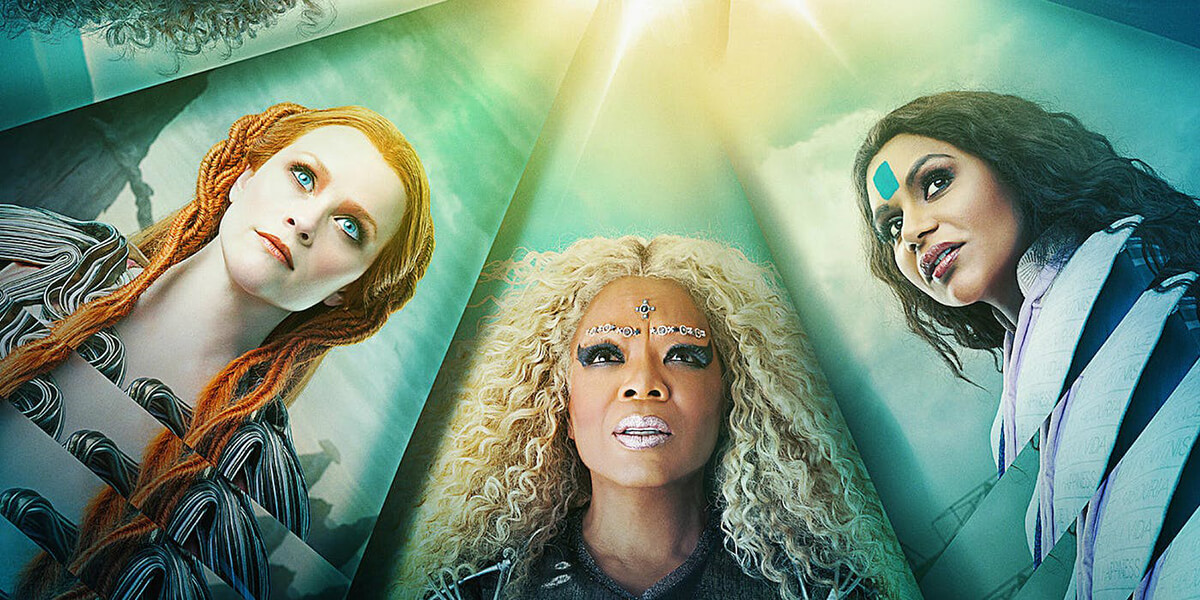 (Rated: G/PG [Canada], PG [MPAA] for thematic elements and some peril; directed by Ava DuVernay; stars Storm Reid, Oprah Winfrey, Reese Witherspoon, Mindy Kaling, Levi Miller, Deric McCabe, Chris Pine, Gugu Mbatha-Raw, Zach Galifianakis and Michael Peña; run time: 109 min.)
A badly wrinkled adaptation
By Ted Giese
"A Wrinkle in Time," directed by Ava DuVernay ("Selma," 2014), and adapted for the screen by Jennifer Lee ("Frozen," 2013) and Jeff Stockwell ("Bridge to Terabithia," 2007), is loosely based on the 1962 children's novel of the same name by Madeleine L'Engle.
The film centers on an awkward teen girl, Meg Murry (Storm Reid), and her younger, extraordinarily intelligent brother, Charles Wallace (Deric McCabe). Together with Calvin (Levi Miller), another teen from Meg's school, they go on an intergalactic adventure to rescue Meg's and Charles' missing scientist father, Mr. Murry (Chris Pine).
Three otherworldly beings — Mrs. Whatsit (Reese Witherspoon), Mrs. Who (Mindy Kaling) and Mrs. Which (Oprah Winfrey) — reveal to the children that Mr. Murry, who was studying the possibility of using mind power to physically travel through time and space, has been trapped by an evil entity called "IT" on the dark and shadowy world of Camazotz. Meg embarks on a journey to find her father against the backdrop of a story about love, courage and evil.
DuVernay and her writers work hard to modernize the 1962 novel. One obvious change is the racial diversity of the cast — even among the extras and background actors. Although the book is not concerned with diversity, this change does not upset the telling of L'Engle's story.
Christian elements removed

A change of greater impact is the removal of all references to Jesus and Scripture. (While L'Engle includes Jesus in her book, she places Him on a list of humans who have "fought as warriors" against the evil of darkness in the universe; the film version removes Jesus and adds people like Nelson Mandela, Oskar Schindler and Maya Angelou.) For decades many Christians have enjoyed these elements in the book, even as they are not faithful to historic Christian teachings about salvation in Christ Jesus alone.
Casting Oprah Winfrey to play Mrs. Which may also add a complication to the film for Christians, as Oprah brings her own baggage and personal branding to the role. Most adults know Oprah is revered by many of her fans as a guru of the new-age, self-help "religion" of the "spiritual but not religious" crowd. Her casting as Mrs. Which, the head divine being of the book's triumvirate, further "deifies" her.
DuVernay's film also significantly changes other well-known elements in the book, such as the removal of a side trip Meg, Calvin and Mr. Murry take to the neighboring world of Ixchel. It is on Ixchel that Meg interacts with the alien "Aunt Beast" and develops her relationship with her father, both of which help prepare her for the final battle with IT.
There is one brief moment where "Aunt Beast" appears in the film — a cameo that is an abject failure, since those who haven't read the book won't know the reference, and those who have will feel as though they've been robbed.
In addition, Lee and Stockwell's adaptation and DuVernay's direction remove any sense of mystery or wonder from the story, in that characters don't consistently respond to the fantastical story elements in a believable way. For example, few people would act as nonchalantly to seeing a two-and-a-half-story tall Oprah in their backyard as Meg does in the film.
The adaptation also proves unkind to men. The characters of Mr. Murry and Calvin are given less to say and do than in the book.
A failed adaptation
Oddly, the adaptation also throws science under the bus. Many readers have enjoyed the frequent and important role of science in the book's unfolding narrative. The film downplays this by excluding scenes involving or referring to Meg and Charles Wallace's mother's laboratory, where Mrs. Murry works as a scientist.
The film is also technically below par. Some scenes are visually interesting and well-executed, such as a field of animated talking flowers; others are extraordinarily boring, such as the scenes involving IT.
"A Wrinkle in Time" has a lot in common with "The Golden Compass" (2007), another failed adaptation of a young adult/children's novel. Both films, while attempting to reach a larger audience, jettison their larger ideas to appeal to more viewers, leaving the core fans in the lurch.
One possible benefit of the film is that it may assist readers of L'Engle's books to reconsider her theological ideas in the light of Scriptural and historic Christian teaching on the person and nature of Jesus and His work of salvation. But for a film about love and bravery, "A Wrinkle in Time" turns out to neither love its source material nor demonstrate courage in its execution.
However well-meaning Disney and DuVernay may have been in their desire to bring "A Wrinkle in Time" to the big screen, the final product is B-grade, mostly glitter and no substance, with acting that is uneven and lacking in chemistry. Perhaps this is all for the best, as a lackluster film is unlikely to inspire further adaptations that lack fidelity to the original text.
Listen to "Issues, Etc." host Rev. Todd Wilken interview the Rev. Ted Giese about a Christian viewer's perspective on "A Wrinkle in Time" and other contemporary motion pictures.
The Rev. Ted Giese (pastorted@sasktel.net) is lead pastor of Mount Olive Lutheran Church, Regina, Saskatchewan, Canada; a contributor to The Canadian Lutheran and Reporter Online; and movie reviewer for the "Issues, Etc." radio program. Follow Pastor Giese on Twitter @RevTedGiese.
Posted March 20, 2018