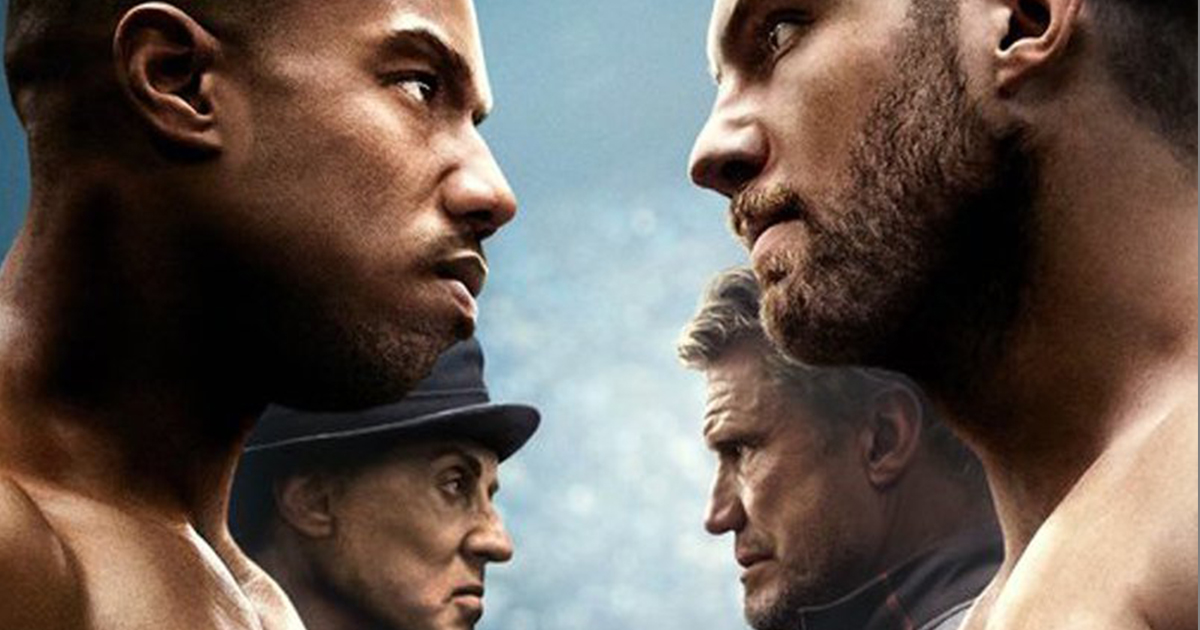 (Rated: PG [Canada] and PG-13 [MPAA] for sports-action violence, language and a scene of sensuality; directed by Steven Caple Jr.; stars Michael B. Jordan, Sylvester Stallone, Tessa Thompson, Phylicia Rashad, Dolph Lundgren, Florian Munteanu, Russell Hornsby, Milo Ventimiglia, Brigitte Nielsen, Andre Ward; run time:130 min.)
Fatherhood rings true
Reaching a goal, even when it's becoming boxing's world heavyweight champion, isn't always enough. This is the message of "Creed II" (2018), which continues the story of Adonis Johnson (Michael B. Jordan) begun in "Creed" (2015).
Adonis is the son of Apollo Creed (Carl Weathers) — the result of an adulterous relationship — who, with the help of Rocky Balboa (Sylvester Stallone), Apollo's boxing rival and eventual trainer and friend, gains notoriety in the ring without using his father's name. He eventually accepts the Creed name and legacy and fights as Adonis Creed.
One of the strongest elements of "Creed" was Adonis Creed's internal battle with himself. This struggle is further refined in "Creed II" as ghosts from his father's past appear to challenge Adonis' newly achieved world heavyweight champion title.
Adonis' struggle centers around his reasons for stepping into the ring: Is he fighting Viktor Drago (Florian Munteanu) to defend the honor of his father, who died at the hands of Drago's father, Ivan Drago (Dolph Lundgren), in "Rocky IV" (1985), or does Adonis have reasons for fighting beyond vengeance and maintaining a family legacy?
A satisfying continuation
In a world of reboots of classic films, it's satisfying to enjoy the continuation of a story. While the central focus has shifted to Apollo Creed's son, the genius of both "Creed" (directed by Ryan Coogler) and "Creed II" (directed by Steven Caple Jr.) is their success at continuing the Rocky film franchise not by milking past achievements but by elevating a secondary character's family while still including Rocky Balboa in a supporting role. This allows Rocky to grow old gracefully while further developing his character without requiring him to box.
(Viewers who want to see an older Rocky coming out of retirement to get back in the ring should check out "Rocky Balboa" [2006], the film that bridges the Rocky with the current Creed films).
In "Creed" and "Creed II," Rocky steps into the shoes of his old trainer, Mickey Goldmill (Burgess Meredith), acting as mentor to Adonis. But more than that, Rocky acts as a father, taking on the sage quality of Mickey as he finds a reason to go on in life because of his relationship with Adonis.  
While fatherhood was a key theme in "Creed," in "Creed II," it's the central theme. As in "Rocky II" (1979), where Rocky dealt with life as a new father, in "Creed II" Adonis and his fiancée, Bianca (Tessa Thompson), face an unexpected pregnancy. A child conceived out of wedlock might raise the question of abortion, but before it is even mentioned, Adonis provides the best possible support to his fiancée.
When Bianca, a musician who has just signed a recording contract, says, "I don't know if I'm ready … if we're ready," Adonis takes her hand and says, "Then we'd better get ready." This scene may be one of the best moments in the film.
The film includes many broken depictions of fatherhood, yet each father/child relationship has moments of redemption and repentance. Men swallow their pride, quell their fears and rise up to be good fathers.
Rocky is estranged from his son, Robert (Milo Ventimiglia), and hasn't met his own grandson. Adonis still struggles with his relationship to his father, Apollo, and needs to tackle fatherhood with a daughter who may have a congenital hearing disability like her mother, Bianca.
And Ivan Drago, who was tossed aside by Russian boxing after his defeat to Rocky in "Rocky IV," has a domineering relationship with his son, Viktor.
All these broken and damaged relationships are given fitting resolutions — not necessarily happy endings, but endings that offer possibilities for forgiveness, redemption and happiness.
In this way, both "Creed" and "Creed II" stand in contrast to the way fatherhood is generally depicted in film and other media. Even though they aren't explicitly Christian, these films show flawed characters struggling amid life's circumstances to keep the Fourth Commandment, "Honor your father and your mother."
The film also highlights the importance of self-discipline and sends the worthwhile message that there are more important things in life than a boxing title.
Not a knockout punch
Is "Creed II" as good as "Creed"? No, not quite. Viewers who want to see more boxing will get it, along with the return of much-enjoyed past characters, some of whom receive a lot more development than in previous Rocky films.
But the film is not a knockout like "Rocky" and "Creed." Instead, it's more of a "standing eight-count," which means it's safe to say that the referee will let the franchise keep fighting.
The strength of these films is their ability to do what some other franchises have failed to do: honor the past while bringing something new to the story with surprising complexity and likability.
Rev. Ted Giese (pastorted@sasktel.net) is lead pastor of Mount Olive Lutheran Church, Regina, Saskatchewan, Canada; a contributor to The Canadian Lutheran and Reporter; and movie reviewer for the "Issues, Etc." radio program. Follow Pastor Giese on Twitter @RevTedGiese.
Posted Dec. 20, 2018