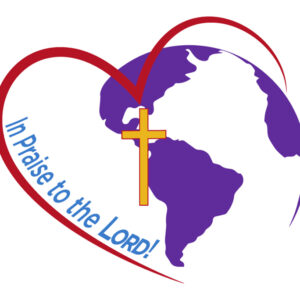 The Lutheran Women's Missionary League has unveiled a logo and other resources as it plans for its 38th Biennial Convention June 20–23, 2019, in Mobile, Ala.
The logo — designed by LWML Graphics Team Chairman Stephanie Kollbaum of Pocatello, Idaho — depicts the convention theme "In Praise to the LORD!" The theme is based on Scripture verses from 1 Chron. 16:23–24a: "Sing to the Lord, all the earth! Tell of his salvation from day to day. Declare his glory among the nations."
Introducing the convention logo, a press release from the women's auxiliary notes that "to declare His glory among the nations is the heart of who we are as Lutheran Women in Mission. Guided by the Holy Spirit and God's marvelous works, we will be equipped in 2019 at Mobile, Alabama, to tell of His salvation from day to day. The cross and the heart mark the work of Christ Jesus to all the earth and lead us in praise to the Lord."
Available on the convention website are several free items LWML groups and congregations can use to let their members know about the convention:
a two-sided flyer,
"Save the Date" cards, and
 a promotional sketch, "Alabama Bound!"
At the biennial conventions, LWML members adopt a mission goal and choose grants to fund with their mite offerings; elect officers; hear presentations on mission work; and take part in Bible studies, worship services, servant events and other activities.
At last summer's convention in Albuquerque, N.M., delegates adopted a record $2.075 million mission goal and selected 22 mission grants.
LWML President Patti Ross encourages Lutheran women — and their husbands, children and other family members — to attend the 2019 convention in Mobile.
"Come enjoy Southern hospitality at its best as we celebrate and praise the Lord for His work among the nations," Ross said. "Our lineup of mission speakers and program offerings will leave you enthused and excited about mission work at home and abroad."
Convention registration will open early next year. Upcoming issues of Lutheran Woman's Quarterly magazine and the LWML website will carry more information.
Posted Feb. 20, 2018