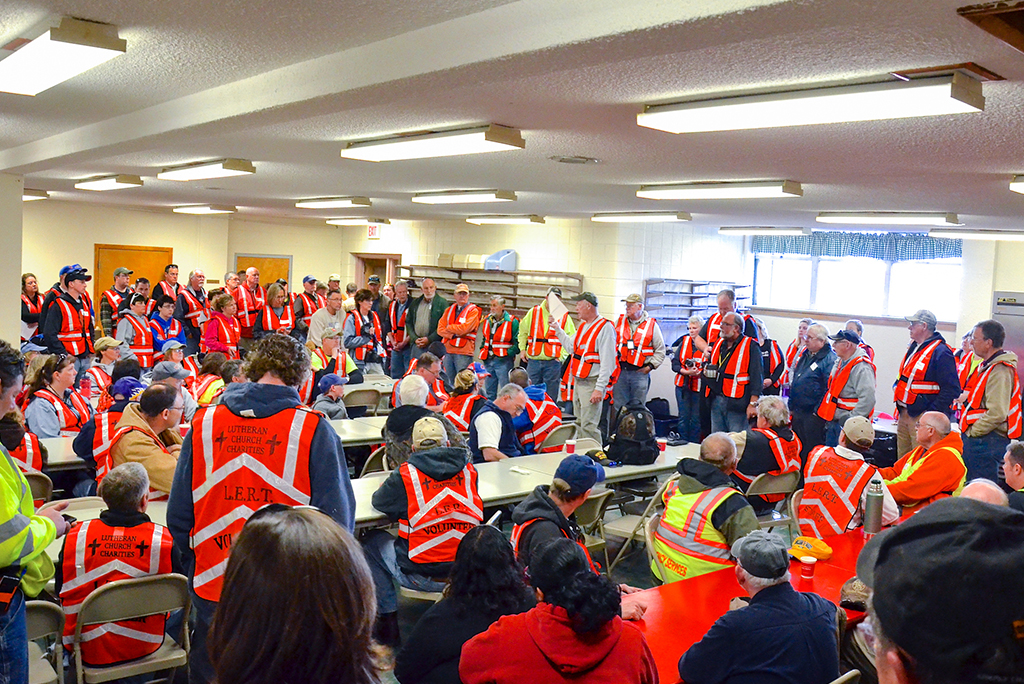 By Pamela Nielsen
In August of 2005, Hurricane Katrina ravaged the Gulf Coast — one of the deadliest and most destructive hurricanes in United States history.
LCMS Disaster Response was among the myriad public and private organizations responding to a crisis beyond anything they could have imagined.
As a major U.S. city remained flooded for weeks and some 1 million people were ultimately displaced, everyone involved learned much about effective disaster response.
Writing for the October 2005 issue of The Lutheran Witness, Rev. Matthew C. Harrison, executive director of Lutheran World Relief and Human Care at the time, said he was "frankly in awe of what Christ is accomplishing amidst the chaos and pain of Katrina."
Speaking to Reporter also in 2005, Harrison noted that "without bringing … and developing LCMS capacity to handle issues such as … hurricanes like this, we would never have a response that was anything close to what it could be — what it is in this case of response to Hurricane Katrina."
More than a decade later, the lessons of Katrina continue to propel both public- and private-sector disaster-planning and response efforts, including those of LCMS Disaster Response.
In 2017, in the wake of Hurricane Harvey, now-LCMS-President Harrison wrote to rostered LCMS workers: "A truly effective response demands that the people of the Church walk and work in a coordinated way, because no one entity can handle something like this apart from the capacity others can bring to bear."
That same year, Christianity Today named the LCMS one of several organizations the online magazine recommended as "reputable, well-established . . . on the ground at the site of the disaster and ready to work."
Volunteer to help in Texas
District Disaster Response Coordinators
One of the keys to more efficient and effective LCMS disaster response is the presence of a District Disaster Response Coordinator (DDRC) in each of the Synod's 35 districts.
The DDRC serves as the front line of the Synod's response when disaster strikes. Working under the direction of the district president, a DDRC can immediately reach out to every congregation and pastor within a disaster zone.
This early assessment helps the district to determine the most pressing needs of workers and members and begin to mobilize trained disaster responders in the district.
A DDRC knows how to request funds through LCMS Disaster Response's grant process and is also plugged in to a network of Lutheran agencies and disaster experts to call upon as needs arise.
In addition, a DDRC can reach out to other DDRCs and to disaster leaders at the Synod office for guidance, information and help finding needed resources.
Lutheran Early Response Team Training
Another key element of LCMS Disaster Response is Lutheran Early Response Team (LERT) training, which prepares adult men and women to respond to a disaster situation at a moment's notice.
LERT was established in the wake of Hurricane Katrina, and since 2009, has trained thousands of disaster responders in 41 states and in countries from Mexico to Madagascar.
The Rev. Dr. Ross Johnson, director of LCMS Disaster Response, and the Rev. Michael Meyer, manager, serve as primary LERT instructors and are frequently on the road providing LERT workshops to groups of all sizes.
DDRCs are also taught to provide LERT training and are helping to rapidly expand the number of ready volunteers.
The LERT manual, Mercy in Action, was written and compiled by Johnson, Meyer and former LCMS Disaster Response Director Rev. Glenn Merritt.
It provides the curriculum for a six-hour workshop that centers on congregational preparedness and the formation of LERT teams who are equipped to deploy and work alongside local state and federal agencies and nonprofit groups.
This organized approach helps congregations identify victims of natural disasters that have been overlooked or who have unmet needs and helps avoid duplicating services within a disaster zone.
Additional LERT course work includes safety and technique-training in chainsaw skills, debris clean-up, flood/storm surge clean-up, mucking out flooded homes and tarping and patching damaged roofs.
Approximately 2,000 Lutheran men and women worldwide receive LERT training every year, training that is vital to effective disaster response.
One study reported that for each dollar spent on volunteer preparedness training, a responding organization saves between $4 and $11 in actual relief and recovery costs in the days and months following a disaster.
Tools and trailers              
A growing number of LERT teams have applied for LCMS Disaster grant funds to purchase and equip disaster trailers filled with tools and safety equipment. These trailers, often flanked by a cadre of volunteers clad in neon vests, are a welcome and frequent sight when disaster strikes.
Additionally, mobile office buildings (for project management), bunk houses and portable shower units located across the country are ready to deploy as needed.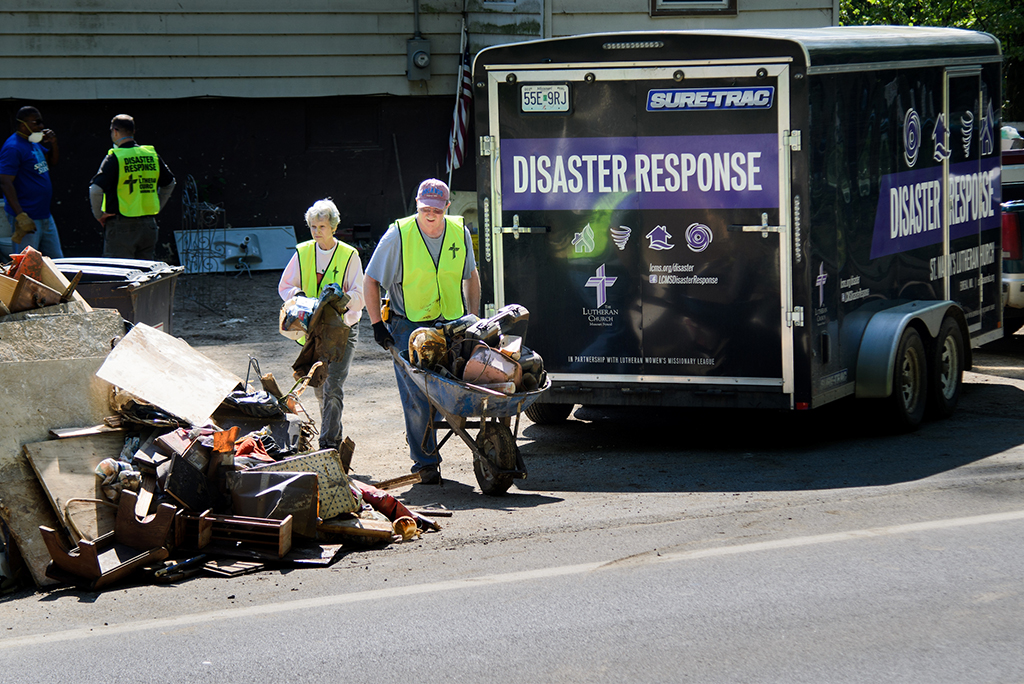 In the almost 15 years since Hurricane Katrina, LCMS Disaster Response has continued to refine and build on the lessons of the past as it responds to national and international disasters large and small.
The grants disbursed by LCMS Disaster Response are possible only because of the gifts given by God through His people, both in the LCMS and outside of it.
"Without contributors who desire to see this kind of coordinated response by the LCMS, a response that gives witness to the love and mercy we receive in Christ Jesus, there would be no LCMS Disaster Response," says Mark Hofman, executive director of LCMS Mission Advancement.
Bringing it all together
When an LCMS congregation or district is faced with disaster, the Synod's goal is to come alongside and support those in the disaster zone as they develop the most effective possible response.
A significant part of that response is the help congregations and districts receive from LCMS Disaster Response in assessing a community's physical and spiritual needs and formulating a plan to address those needs.
By bringing Synodwide partners to the table — districts, Recognized Service Organizations and others who have resources and expertise to share — LCMS Disaster Response helps expand local capacity to provide a robust, coordinated response.
Local leaders are coached on how to develop a strategic plan and access the LCMS disaster grant process to ensure that they receive needed funds.
Johnson and Meyer stay in touch with congregation leaders to provide ongoing support and consultation, sometimes for as much as three years following a major disaster.
For the sake of the Gospel
In his work with LCMS Disaster Response, Johnson consistently emphasizes the church's role of bringing comfort through the Gospel. "When someone loses all their earthly goods, they often experience a spiritual crisis.
The church is there to bring comfort through the Gospel. Congregations that engage in disaster response have access to people who would have never stepped foot in a church, yet they welcome our LERT teams into their lives and homes and express gratitude for the church's mercy."
Prepared and equipped across a growing national network, LCMS Disaster Response is working with district presidents and DDRCs to steward contributions, those who provide them, and all the knowledge and experience gained since Katrina for the most effective response each time a disaster strikes.
Aiding them are trained LERT teams ready to help the local parish bear Christ in word and deed in times of disaster.
Long after other disaster relief organizations and the news crews have moved on, the local LCMS congregation remains as a center of recovery and restoration assistance to those whose lives have been permanently altered by a disaster event.
Contact LCMS Disaster Response at 888-843-5267 for more information. LCMS Disaster Response also offers many online resources, including information on LERT training.
Explore Disaster Response resources
Volunteer to help in Texas
Deaconess Pamela Nielsen (pamela.nielsen@lcms.org) is associate executive director of LCMS Communications.
Posted March 14, 2018