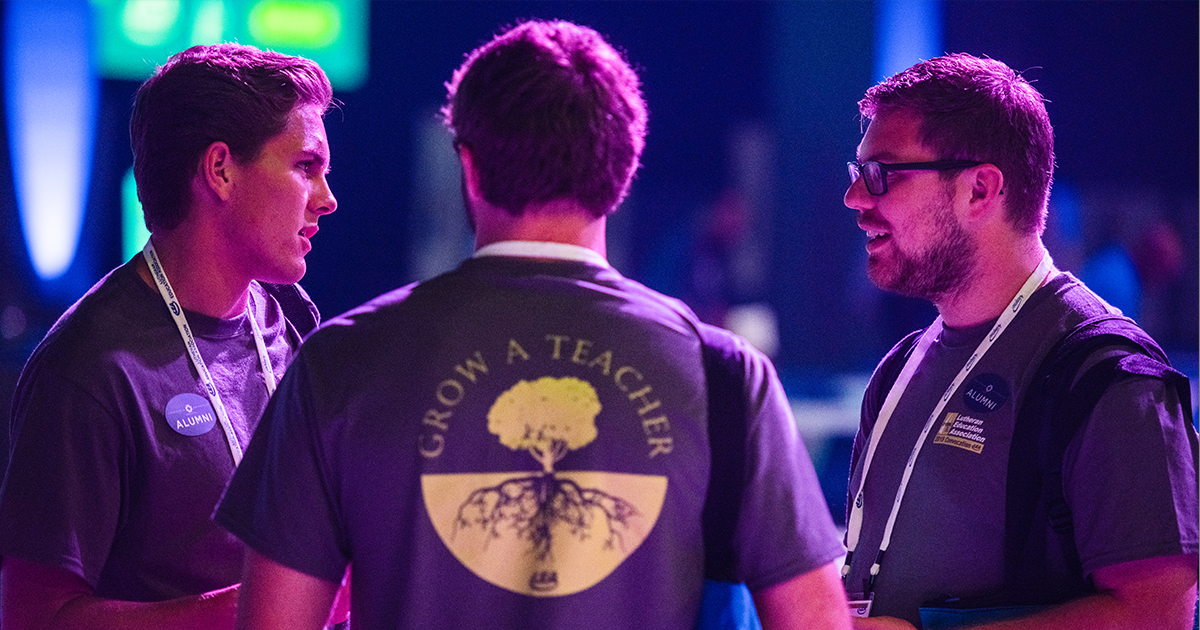 By Stacey Egger
At the Lutheran Education Association (LEA) Convocation Oct. 10–12 at the America's Center in St. Louis, more than 2,700 educators came together, united in their mission and identity as Lutheran teachers.
"Lutheran education is grace-filled. It's Christ-filled," said Joel Klammer, teacher at Concordia International School Shanghai in China. "We can share Christ's love, and His forgiveness, and that's an incredibly powerful idea."
"It's really important to come together physically, in person," said Dr. Jonathan Laabs, executive director of LEA. "When we come together here, we understand that we're a system that's much bigger than just the place that we serve locally."
Nourishing a Christian worldview
Over three days, the convocation featured 208 sectionals as well as keynote addresses from Dr. Jeff Myers, president of the Christian apologetics organization Summit Ministries, and Sally Lloyd-Jones, children's book author.
The sectionals focused on various areas of educational pedagogy and content, as well as administration and cultural issues related to education — all of these, according to LEA Communications Director Dr. Ed Grube, presented through the lens of a "Christian worldview."
"Lutheran education is not just the teaching of religion in religion class. That's important. But it's how you teach kids that God still works in the world, and how you blend that into your teaching, whether it's in math, or geography, or anything else," said Grube.
In her sectional "Opening with Inquiry and Experiences," Stacy Lung described how the study of science can point students to their Creator through the experience of wonder: "Every time I go out to 'the edge' and touch the limits of what I can imagine and understand, and I'm willing to inquire there and wrestle there, I understand a little bit more about the nature and character of God."
Brad Alles, in his sectional "The ABCs of Defending the Faith," spoke of the increasing opportunity and challenge of classrooms that include non-Christian students: "We get students who are not coming from a Lutheran background or a Christian background. Don't assume anything; explain everything."
"It's been inspiring to hear from other teachers who have been here a lot longer and are veterans at their craft," said Rachel James, a first-year teacher at Calvary Lutheran High School, Jefferson City, Mo. "I got a lot of lesson ideas today, and it makes you excited to go back and share them with your students."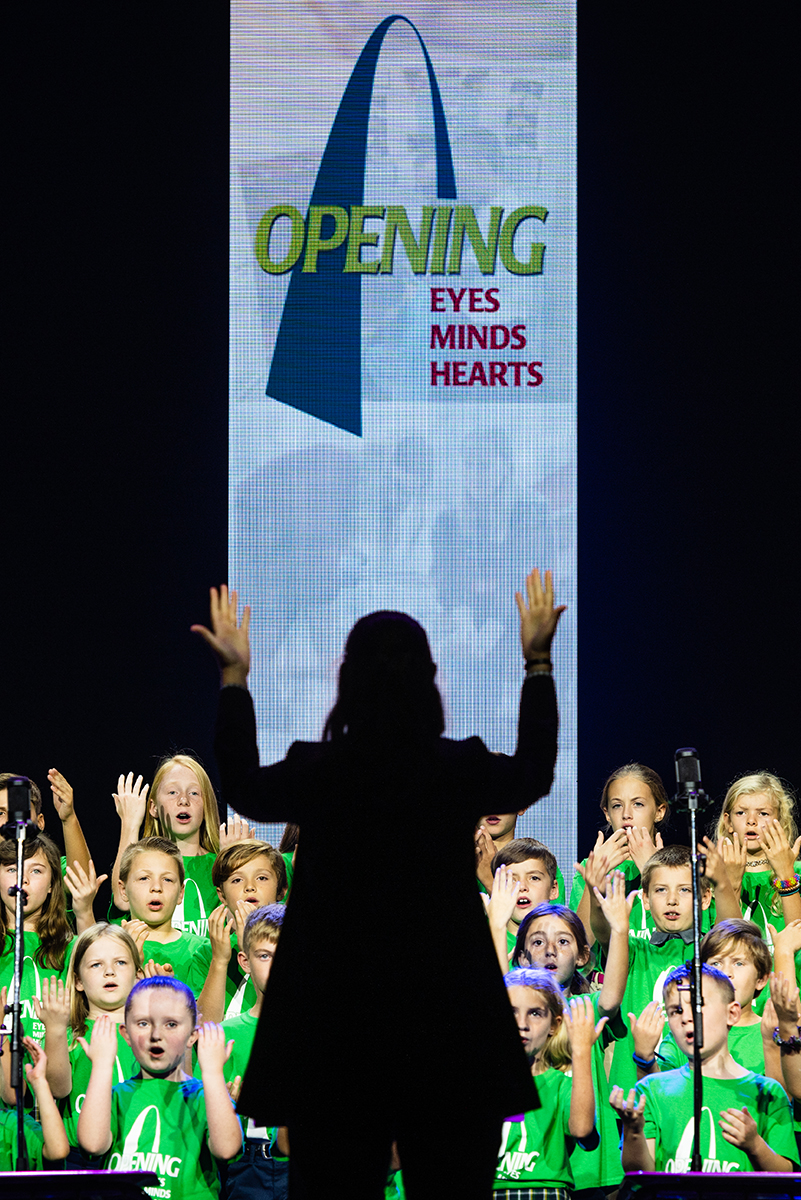 Grow-a-Teacher
Prior to the convocation, LEA hosted its second "Grow-a-Teacher" event, welcoming 62 education students from the Concordia universities and Valparaiso University for an extra day of learning, discussion and fellowship.
"We wanted the students at all of our campuses to have the opportunity to participate fully in LEA and get engaged with the wider community of educators in the field," said Laabs.
LEA funded registration for the convocation, as well as lodging in St. Louis, for these students.
LEA's Grow-a-Teacher initiative includes a mentorship program, which pairs education students with retired Lutheran teachers. During a luncheon held before the convocation, some of the students were able to meet their mentors in person for the first time.
"We've been emailing these retired teachers but now we get to actually meet them and sit down with them. That's a connection we'll be able to really feed off of, especially in our first year of teaching, when it gets a little crazy," said Sarah Warneke, student at Concordia University, Nebraska, Seward, Neb. (CUNE).
Warneke was one of 14 students from CUNE who helped, over the past year, to plan and organize the Grow-a-Teacher event.
"It's been very neat for us," said Warneke. "I've not ever had classes with some of the people we've been planning with, so it's been an opportunity to network with people from other Concordias and Valpo, but also to make those deeper connections with people from our own school."
Fellowship across campuses among these education students is as much a part of the Grow-a-Teacher initiative as is mentorship, said Laabs.
"We could be meeting our future colleagues right now," said Lauren Chumbley, student at CUNE.
After these pre-convocation events, the students participated in the convocation, attending lectures and meeting Lutheran teachers.
"We're learning from people who have already had so many years of experience, and who have gone before us and are able to provide us with insights and wisdom as we prepare for those similar experiences," said Callie Firminhac, another CUNE student.
Global Symposium
In her sectional on "The Zimbabwean Experience," Dr. Doreen Tarirai Moyo, a professor who was born and previously taught in Zimbabwe, told her audience: "Lutheranism opens eyes, minds and hearts — nationwide, here in the states, and across the nations. Zimbabwe is one such nation where Lutheran education, the Lutheran faith, is really growing against all odds: political, cultural and everything else."
One of the purposes of the LEA convocation, Laabs said, is to "emphasize the global nature" of Lutheran education.
"We want people to be exposed to something much bigger," he said.
In addition to participants from 35 U.S. states, the convocation welcomed participants from 10 other countries. The day before the convocation, LEA hosted a day-long "Global Symposium," which featured guests from nine of these countries, as well as the U.S.
Klammer, who has taught at Concordia Shanghai for 16 years and is an alumnus of Concordia University, Ann Arbor, Mich., said that the symposium was beneficial to both American and international teachers.
"I wish more of our teachers who are domestic could hear some of our stories," he said. "Sometimes when we're within Lutheran education we don't even see it. We don't even recognize how different and how excellent we are … what a difference Lutheran education makes."
The symposium offered opportunities for Lutheran teachers from different countries to share their stories and needs, and to problem-solve with the other teachers and organizations represented there.
"Because so many of us work in congregations that are so far flung — in our case, really far flung, in Asia, where there is not another Lutheran congregation anywhere nearby for a thousand miles — to get back here and to network with all the other people, and find out what they're doing, and to share what you're doing, and just to build on that is pretty remarkable," said Klammer.
Lutheran fellowship
In addition to the opportunities for professional development through sectionals and events, the LEA convocation was an opportunity for Lutheran teachers to come together in fellowship.
"It has been wonderful to see my previous mentors and professors again, to see my peers and former classmates … and to be rejuvenated in why we do what we do: teach our children in the faith," said Ruth Temme, teacher at Calvary Lutheran High School in Jefferson City, Mo.
"It's cool to see 2,700 other Lutheran school teachers, and that we can all come together to spend time together, relax together, pray together. That's what keeps us coming back," said Becky Hansen of Trinity Lutheran School, Burr Ridge, Ill.
As these Lutheran educators come together, they celebrate what they can learn from each other, but also what they share.
"For a lot of us," said Sam Moore, Grow-a-Teacher participant and CUNE student, "We don't necessarily view it as 'we're going to teach math' or 'we're going to teach this or that.' … This is our role to help the church, and our vocation. We are called to teach kids, but also to teach them and their families about Jesus and what He's done for us."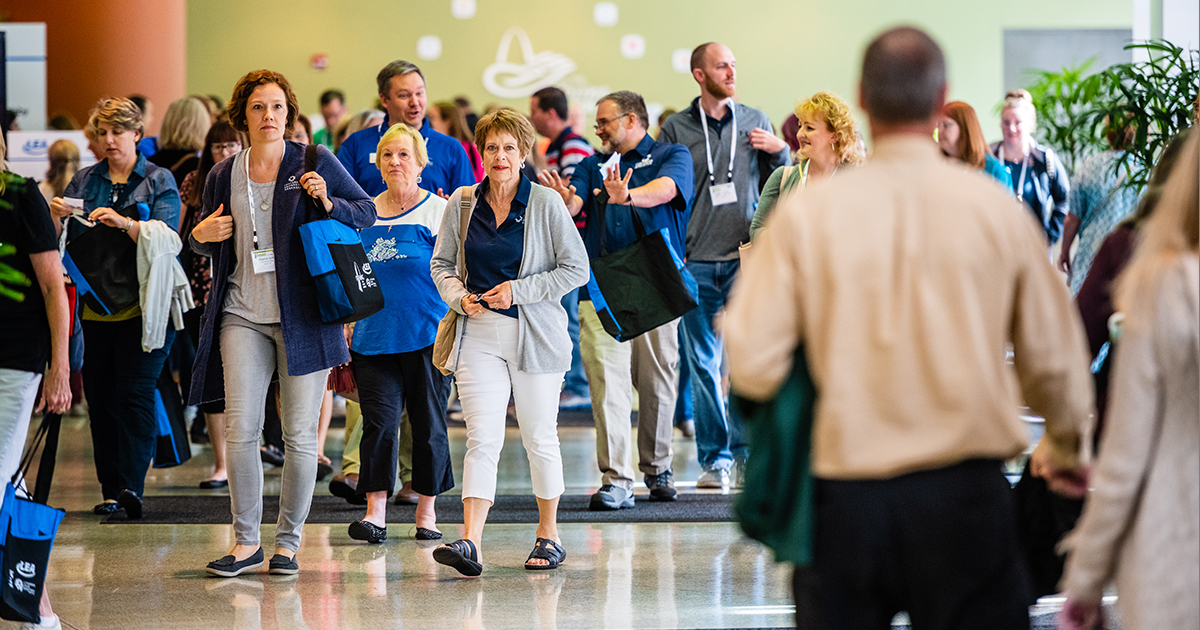 Posted Oct. 18, 2019