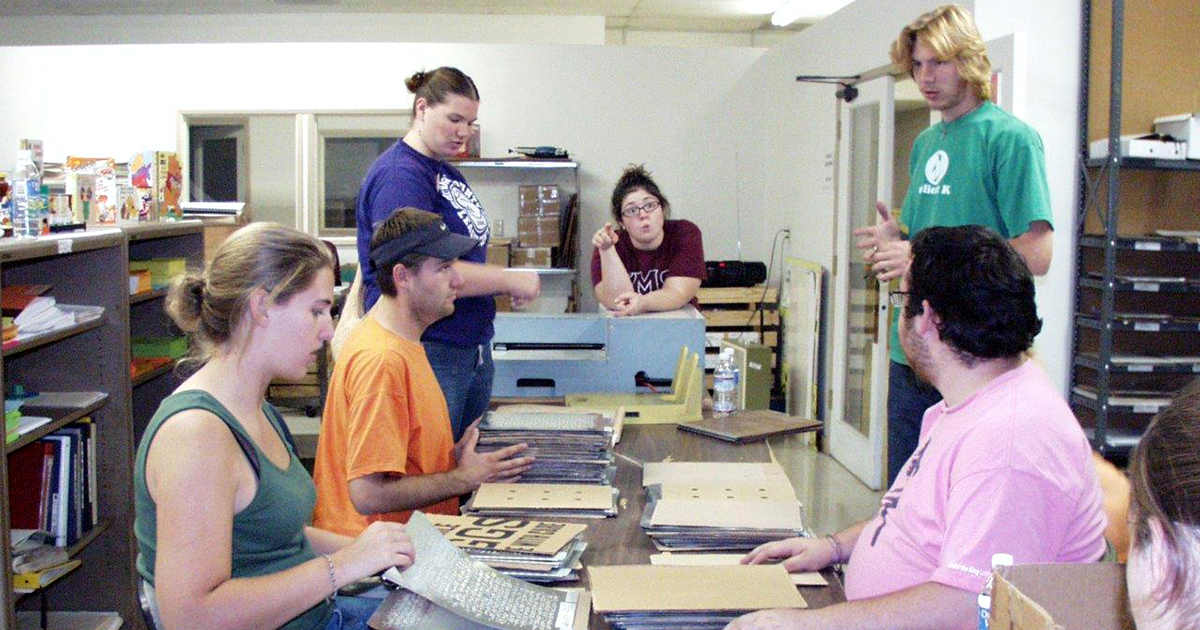 Now 75 years old, Lutheran Braille Workers (LBW) of Yucaipa, Calif., has relied on volunteers to produce more than 14 million volumes of Braille, Specialized Large Print and audio materials that have been distributed free to people who are blind or visually impaired worldwide.
Last year, LBW's longest-serving volunteer, Norman Loeber, celebrated 74 years with the LCMS Recognized Service Organization.
As an historical footnote, Loeber is the brother of the late Helene Koehler, LBW's founder. Koehler got involved when she answered an ad in The Lutheran Witness seeking people to help produce Braille Bibles in German during World War II.
Now more than 3,000 volunteers strong, LBW still seeks help from anyone who is "interested in serving the Lord and helping people throughout the world who are blind or visually impaired learn about Jesus Christ," notes Daniel Jenkins, LBW's vice-president of Ministry Advancement.
Volunteers at some 160 ministry centers across the United States produce Christian materials in multiple languages for distribution in more than 130 countries, or provide direct ministry to people who are visually impaired. Among materials produced by LBW are Braille Bibles in Amharic, French, Kiswahili, Russian, Spanish and English.
But the goal is always to add more languages, Jenkins says, in light of the more than 39 million people worldwide who are blind, and another 246 million who are severely visually impaired.
The organization exists, he adds, "to ensure all people in the world who are blind or visually impaired will have free access to the Good News of Jesus Christ as Savior."
Besides Braille Bibles, LBW provides the Bible, Lutheran Service Book, Luther's Small Catechism and other materials in Specialized Large Print — an internationally recognized standard, with specific margins, spacing, fonts, etc. — as well as audio Bible studies, devotionals and periodicals on cassettes, CDs and NLS (National Library Service) cartridges.
Congregations and other groups can host Ministry Production Centers, which produce LBW materials, or Ministry Outreach Centers (formerly known as Lutheran Blind Missions), which offer meals, programs, resources and other assistance to people who are blind and visually impaired in their communities.                                                           
Jenkins says volunteer tasks are available for almost anyone, regardless of age or ability. Typical duties include preparing the paper, assembling materials, shipping finished volumes directly to recipients and providing hands-on outreach.
Martha, a 93-year-old volunteer in Austin, Texas, says she "can't do much, but at least I feel like I'm still serving the Lord by helping blind people know about Jesus."
Jenkins says volunteer groups often "form a tight bond and fellowship with each other" and "care for each other," even on those days when they're not serving LBW.
"Many people believe LBW is just as much a ministry for the volunteers as it is to individuals who receive the materials," he said.
For more information about Lutheran Braille Workers — including sites of Ministry Outreach and Production Centers — visit lbwinc.org or call 800-925-6092.
Posted Jan. 31, 2019