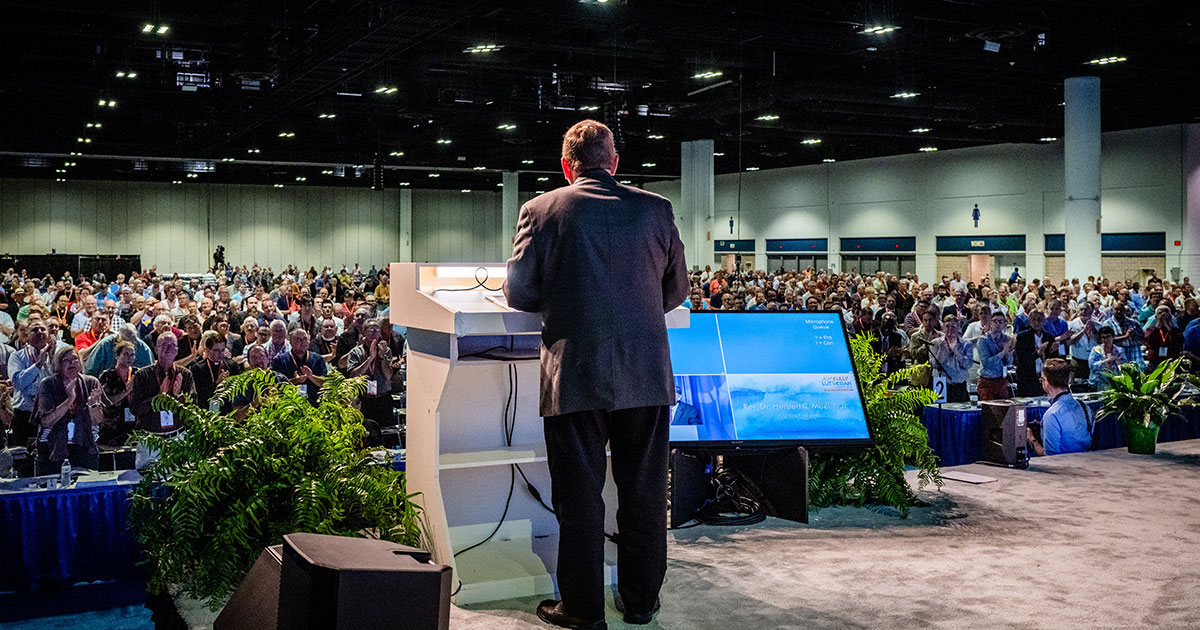 By Roy S. Askins
TAMPA, Fla. — On July 21, the Rev. Dr. Herbert C. Mueller Jr., first vice-president of The Lutheran Church—Missouri Synod (LCMS), gave the first convention essay at the 67th Regular Convention of the LCMS. He spoke on the theme "Joy:fully Lutheran: Rejoice, Pray, Give Thanks."
Mueller has served as first vice-president of the LCMS since 2010, and he's been on the LCMS Council of Presidents for almost 20 years. He will retire in September.
Before and after Mueller delivered his paper, convention delegates honored him with a standing ovation. Afterward, his wife joined him at the podium, and together they embraced LCMS President Rev. Dr. Matthew C. Harrison.
Harrison again thanked Mueller for his many years of service.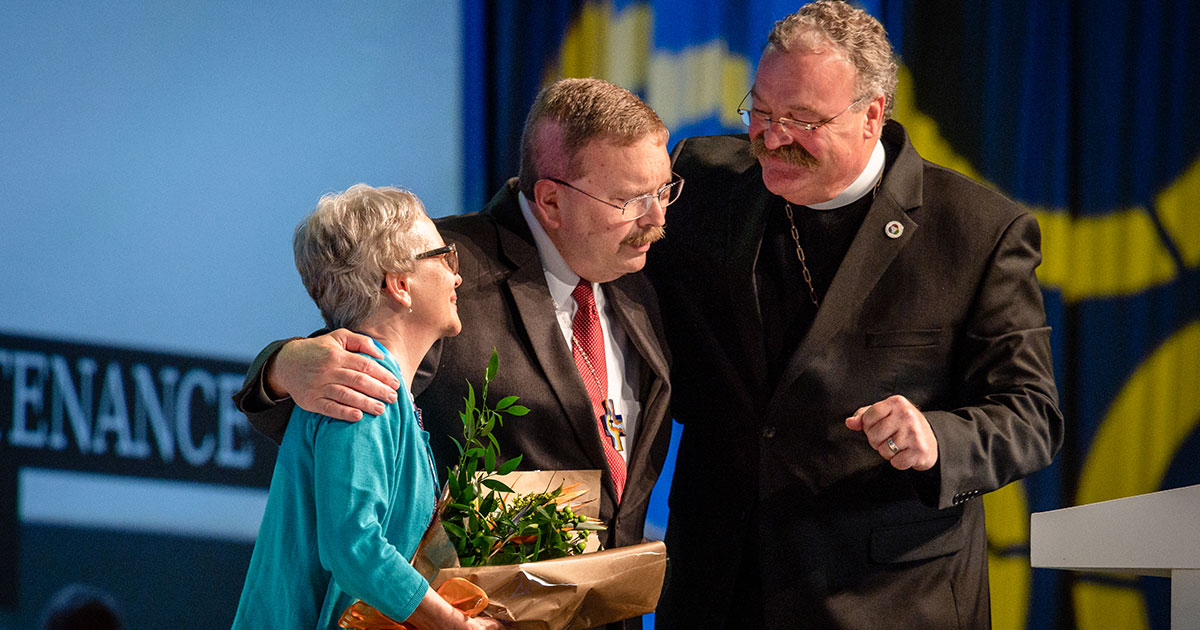 Mueller's paper introduced the convention theme, "Joy:fully Lutheran." The remaining three essays will build on "Rejoice," "Pray" and "Give Thanks."
"We are 'Joy:fully Lutheran' because our teaching from the Bible brings the greatest possible comfort for penitent sinners, for hurting and broken people," Mueller said. "Lutheran theology is biblical theology."
From that starting point, Mueller offered a "quick dash of Lutheran theology" for the convention delegates. He proclaimed the joy that results from God's work for all people in the cross and resurrection of Jesus Christ. "Christ for us is why we are 'Joy:fully Lutheran.'"
This joy begins at the baptismal font when God places His name upon the baptized. He continues to give this joy as the Word of God is proclaimed among His people. Even suffering cannot extinguish a Christian's joy.
"It's a sobering thing to read your own pathology report," said Mueller, referencing his own recent illness. He continued, reflecting on Rom. 6:23: "When I read it, I thought, 'Well, God has a different report. The wages of sin is death, but the free gift of God is eternal life in Jesus Christ our Lord.'"
The joy of knowing that Christ died for sinners and continues to care for them cannot be diminished.
"That's what we have in Christ for us: God Himself showing up to suffer with us and for us, and to conquer even death by His resurrection."
Watch Mueller's presentation on the convention livestream. The subsequent three essays will also be livestreamed throughout the week.
Posted July 21, 2019
---
The 67th Regular Convention of The Lutheran Church—Missouri Synod met July 20–25 in Tampa, Fla., at the Tampa Convention Center under the theme "Joy:fully Lutheran." For more convention news:
Watch archives
• lcms.org/convention/livestream
Read
Listen
• kfuo.org
Receive email updates