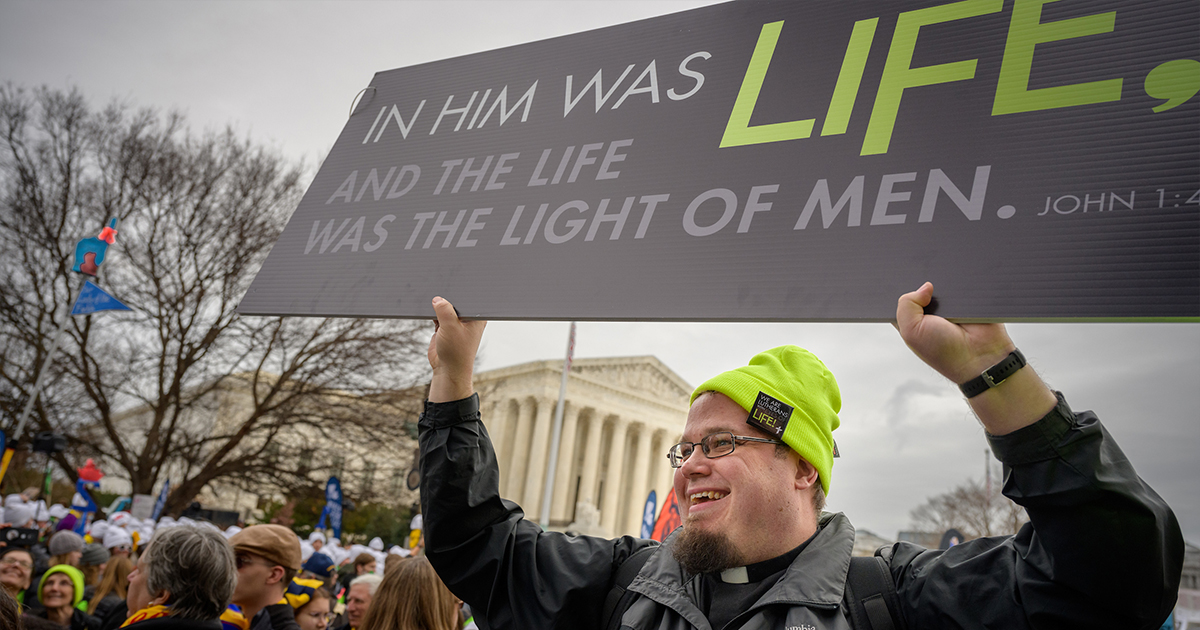 By Stacey Egger
On Jan. 23, the eve of the 47th Annual National March for Life, about 100 members of The Lutheran Church—Missouri Synod (LCMS) gathered at the Renaissance Washington D.C. Downtown Hotel for a pre-march rally. They received information and instructions about the march; picked up gear such as hats, socks and signs; and prayed and sang hymns together. LCMS President Rev. Dr. Matthew C. Harrison addressed the group, emphasizing the need for repentance.
"We're all sinners, all of us," Harrison said. "We don't march because we're so good and other people do bad things. Not at all. We march because we know God. … We march knowing we are sinners forgiven, and we've got a message of forgiveness for all."
'Culture of death'
On Jan. 24, the morning of the march, LCMS members from across the country took part in a Divine Service, followed by brunch, at Immanuel Lutheran Church in Alexandria, Va.
The Rev. Christopher Esget, Immanuel's senior pastor, preached at the service, echoing Harrison's sentiments from the night before.
"Abortion is the symptom of the problem that you and I have," Esget said. "We have lost God as maker. And with that loss, we have forgotten that we are made, that we stand as recipients of His life, under His ordering and stewards of His gifts. The culture of death infects us all."
Later that morning, as the march got underway, Immanuel member Mollie Hemingway spoke with LCMS social media manager Peter Slayton. Hemingway, a senior editor at the web magazine The Federalist, said, "We begin with Divine Service, which I think is important. We hear about our sin, we confess our sin, we receive forgiveness, and then we go out and march. …
"It is a wonderful experience to be here with fellow Lutherans, to be singing our hymns, to be going through the liturgy, and remembering why we do this, and why we care about women and their children, and what we hope for." 
Slayton's interviews with Hemingway and other marchers can be viewed at facebook.com/TheLCMS/videos.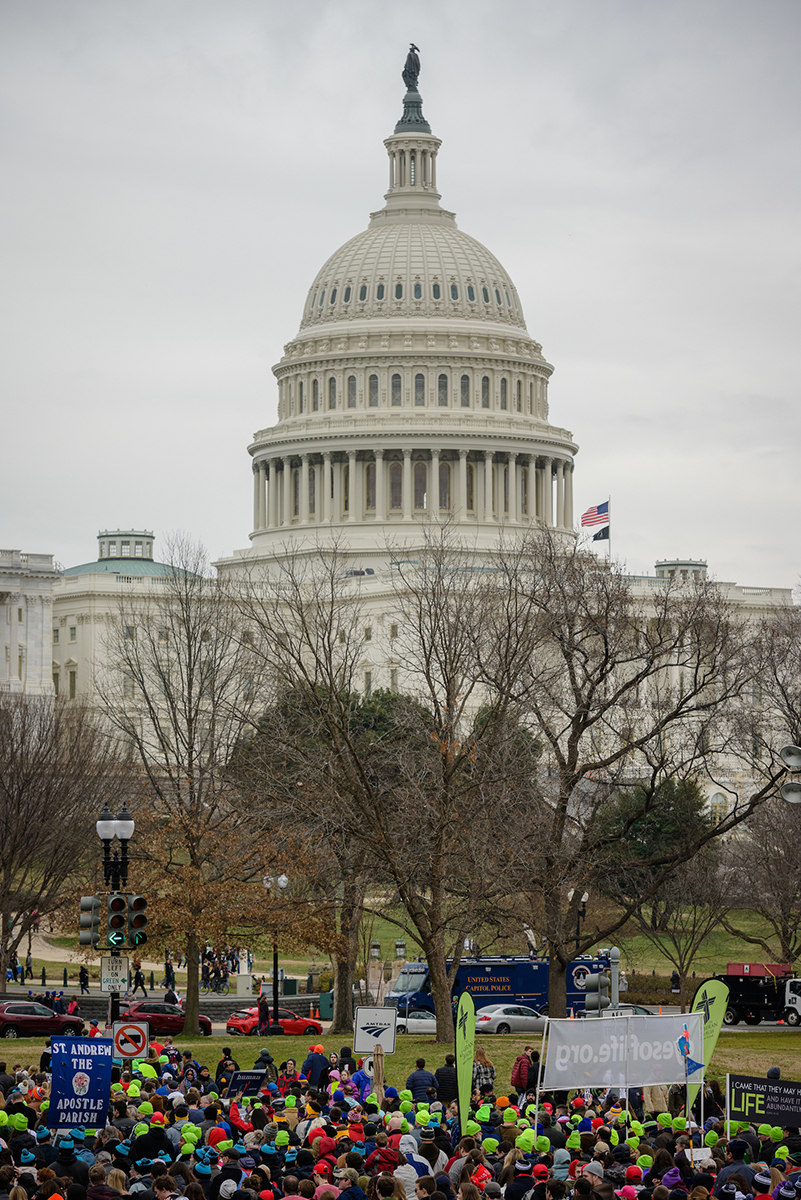 Marching for life
The 2020 National March for Life theme was "Life Empowers: Pro-life is Pro-woman." The LCMS theme was "Show up. Confess Christ. Be Lutheran."
As in previous years, LCMS marchers wore neon-green Eyes of Life hats, carried Eyes of Life signs and sang hymns — printed on the backs of the signs — as they marched. (Read more about Eyes of Life, an initiative devoted to sharing true stories that affirm the sanctity of life, at eyesoflife.org.)  
"Our group sings hymns," said Hilarie Nigro, a sophomore at Concordia University Wisconsin (CUW), Mequon, Wis. This was Nigro's first time to attend the D.C. march. "That was an amazing experience, all singing together, with President Harrison leading us as if we were an army."
The LCMS group included marchers of all ages: college students, seminarians, young adults, parents, children and senior citizens. Student groups from several Concordia universities attended, as well as over 90 students from Concordia Lutheran High School (CLHS) in Fort Wayne, Ind.
Three Lutheran students were able to accompany Harrison backstage at the rally held on the National Mall prior to the march: Caroline Hagan of CUW; Nicole Chappell of Concordia University Chicago, River Forest, Ill.; and Callie Hoover of CLHS. President Donald J. Trump attended the rally in person, the first U.S. president in history to do so.
"It [being backstage] was a little bit surreal … being able to meet the different types of people," said Chappell. "We talked to the Greek Orthodox bishop who led the prayer … [and] to an attorney from Louisiana."
It was Chappell's fourth time at the March for Life.
"We're not going to stop until we have what we want," she said. "And what we want is life for everyone."
"The media … tries to make it seem like everybody is pro-choice," said Hagan. "It's really cool to be here, to see how many people … are pro-life, and to stand together. Every life is a gift from God. Every life has value, no matter what stage — even in the womb."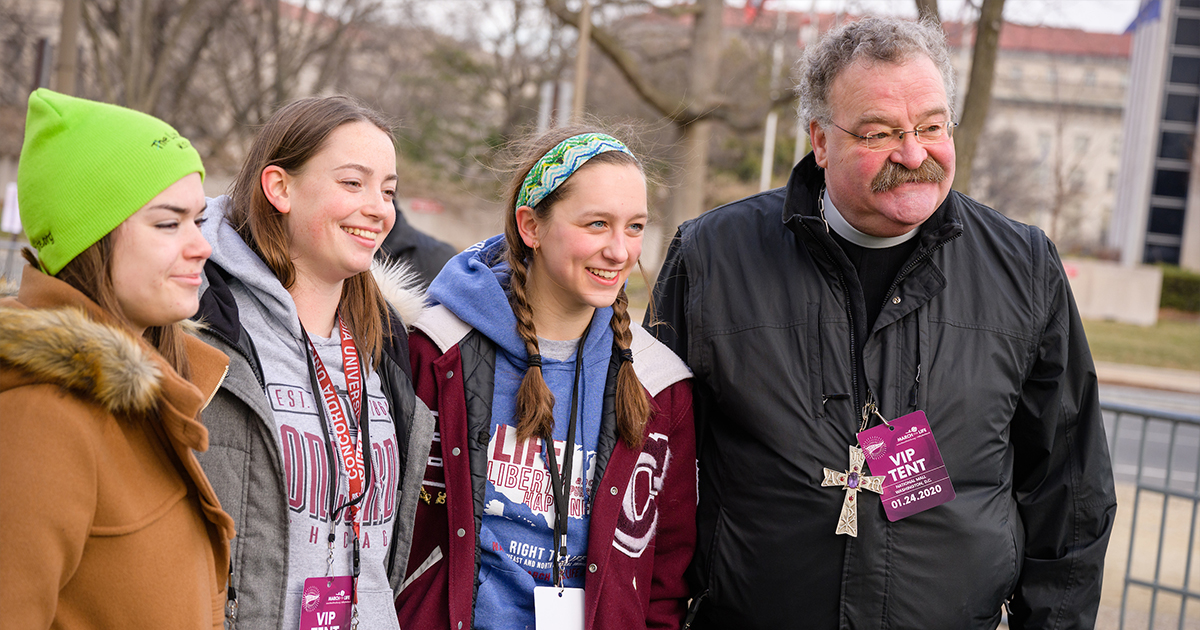 As marchers reached the U.S. Supreme Court and dispersed, Harrison led the LCMS group in Corporate Confession and Absolution, a prayer and a final hymn.
"We have confessed our sins," concluded Harrison. "We have all fallen short of caring for our neighbor, of loving our neighbor in various ways, and [have] also ignored the need of our neighbor. And yet we are forgiven for the sake of Christ.
"Dear friends in Christ, continue forward knowing that our Lord Jesus is in front of us and behind us. The future is in His hands. He is the future of the church."
See more photos from the 2020 March for Life. 
Read more about the National March for Life at marchforlife.org.
Posted Feb. 10, 2020