By Cheryl Magness
Worldwide KFUO, the listener-supported broadcast ministry of the LCMS, offers a variety of sacred music and talk programs on the air at AM 850 in St. Louis and streaming at kfuo.org worldwide. 
But did you know KFUO also offers some podcast-only programs that you can download and listen to any time?
One of those, "The Lutheran Ladies Lounge," was just launched this fall. Described as an opportunity for "inviting conversations, laughter, and fellowship with your Lutheran sisters," the Lounge (as nicknamed by its hosts and fans) was created by women, for women.
Rachel Bomberger, former editor of The Lutheran Witness, and one of the Lounge's hosts, explains.
"The podcast started," Bomberger recalls, "as so many wonderful ideas do, with a coffee date between two friends. Sarah [Gulseth, KFUO producer and digital media specialist] and I got together this past spring to discuss ideas for bringing more female voices to the KFUO lineup. I can't remember exactly what I pitched to her, but I may have said something about 'Lake Wobegon' meets 'The View.'"
Bomberger and Gulseth drew up a proposal, and the leadership of KFUO approved a trial run of the program as a podcast. "Neither of us minded the podcast-only format in the slightest," Bomberger says. "Not only do we like the flexibility inherent in podcasting — episodes can be as short or as long as they need to and can be released whenever they're ready — but we're also huge champions for this popular and growing medium. We both listen to podcasts regularly (moreso than broadcast radio, to be sure), and we were thrilled at the opportunity to try making one."
Two additional women were invited to join the panel of hosts: Brianne Gerzevske, associate executive director of LCMS Mission Advancement; and Erin Alter, director of the LCMS Short-Term Mission Program. In August, several weeks before the first podcast was released, the hosts created a Facebook group to publicize the program as well as seek insight from the target audience about what they would like in a talk show for Lutheran women. The group is closing in on the 5,000-member mark — something the hosts didn't expect but about which they are thrilled.
"It became obvious almost immediately that the Facebook group was providing a much-needed space for Lutheran ladies to gather online," Gerzevske says. "The four of us co-hosts are quite different aside from … being Lutheran. Our families, our personal experiences, our careers all shape each of our perspectives, opinions and thoughts — but at the end of the day, we cling to the confidence that we are saved by grace through faith. We let that shared belief inform how we live together, and we hope to be an example of the relationships that are possible between Lutherans who might be drastically different from each other."
Alter concurs, saying that one of her goals, with both the Facebook group and the podcast, is "to make it clear that 'Lutheran' looks a lot of different ways. We've had women reach out to us who are interested in the group and the podcast, but they say that they worry they aren't Lutheran enough, or not the right kind of Lutheran. I think that is a reflection on a lot of the larger challenges that we are wrestling with right now, in our culture and in our church. But there is nothing like chatting and eating and laughing together to make it easier to put the best construction on all of your future interactions with someone."
While the podcast is intended for Lutheran women, its wide range of topics, charming banter and "come one, come all" spirit will appeal to just about anyone looking for a lighthearted, fun take on Lutheranism. The Facebook group is for women only, but a corresponding "Friends of 'The Lutheran Ladies' Lounge'" fan page is open to everyone.
Podcasts range in length from two-minute "shorts" to almost an hour, but the majority of episodes are between 20 and 30 minutes. The hosts take turns leading the discussions, which include both single-topic programs and recurring themes such as "Rachel's Trivia Challenge," "Erin's Recipe Card," "How to Lutheran with Bri" and "Hymn Sing with Sarah." The podcast also recently introduced a book club that invites listeners to join the hosts in reading and discussing a featured book.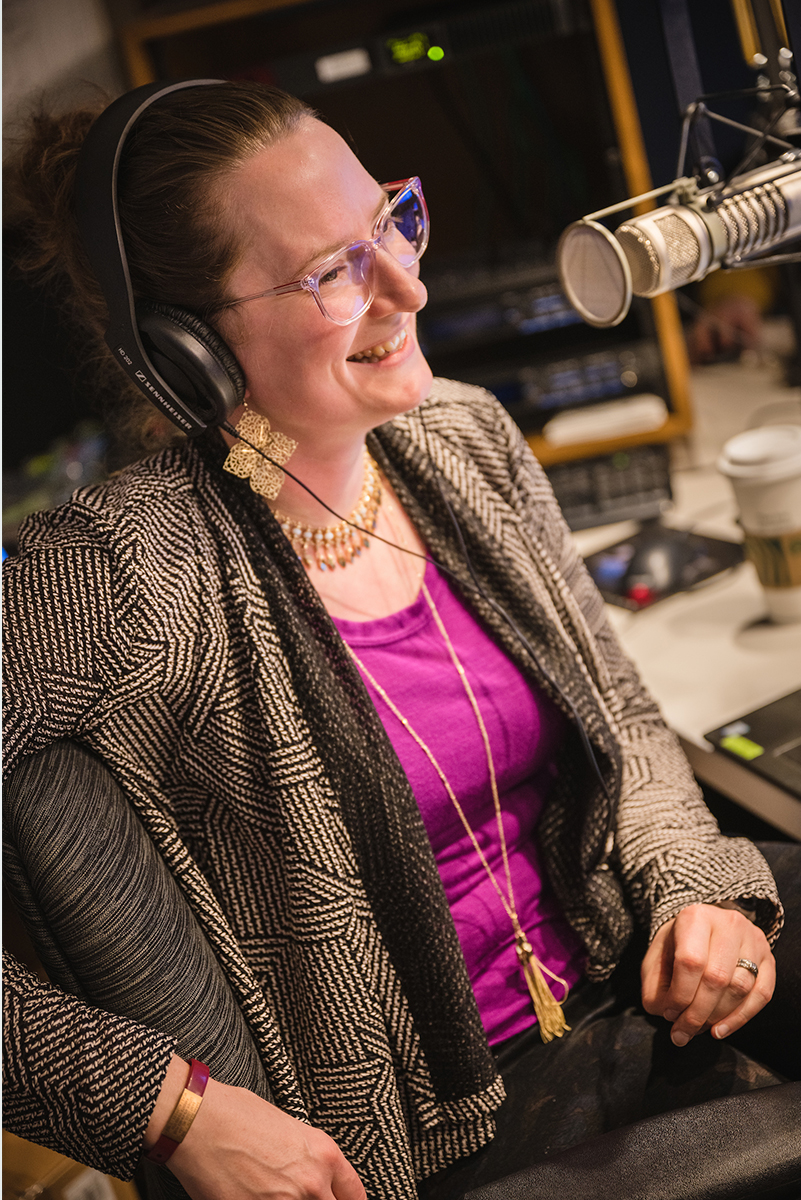 Gulseth, who produces and edits the podcast, also designed the logo: "The first image that came to my head was of my women's lounge at my childhood church, complete with textured wallpaper, a container of potpourri, a huge mirror and two velour couches. … The couch needed to be the centerpiece of the image, and the mauve color fit perfectly. … We were going for a '50s–'60s feel … so I looked for floral and pinstriped wallpaper … [and] added … flower vases, plants, a cross (of course), a gigantic mirror and a little wall sign of 'The Lutheran Ladies' Lounge' image."
About once a month, the hosts spend an afternoon recording four episodes of the podcast back to back. Gulseth, Alter and Gerzevske are present in the studio, while Bomberger, who lives in Virginia, records remotely.
"I start the recording as soon as we're in the studio," Gulseth says, "to make sure I catch all the outtake moments. … Then, each week, I take the audio for that week's episode and edit it. … It can be a long process, depending on the subject matter and how much we ramble. But I love going through the [outtakes], picking out the pieces to tack on to the beginning and end of the recording to make [listeners] laugh. …
"Sometimes I find places in the recording where we've maxed out the mics because we're laughing too much, and that always makes me smile. We enjoy this process so much!"
I recently had the chance to be a "fly on the wall" of KFUO during a Lounge recording session. Suffice it to say that the ladies in this lounge are having as much fun as it sounds.
Listen to or download episodes of "The Lutheran Ladies' Lounge" at kfuo.org/lutheran-ladies-lounge.
Join the "Lutheran Ladies' Lounge" Facebook group at facebook.com/groups/LutheranLadiesLounge.
Posted Feb. 14, 2020