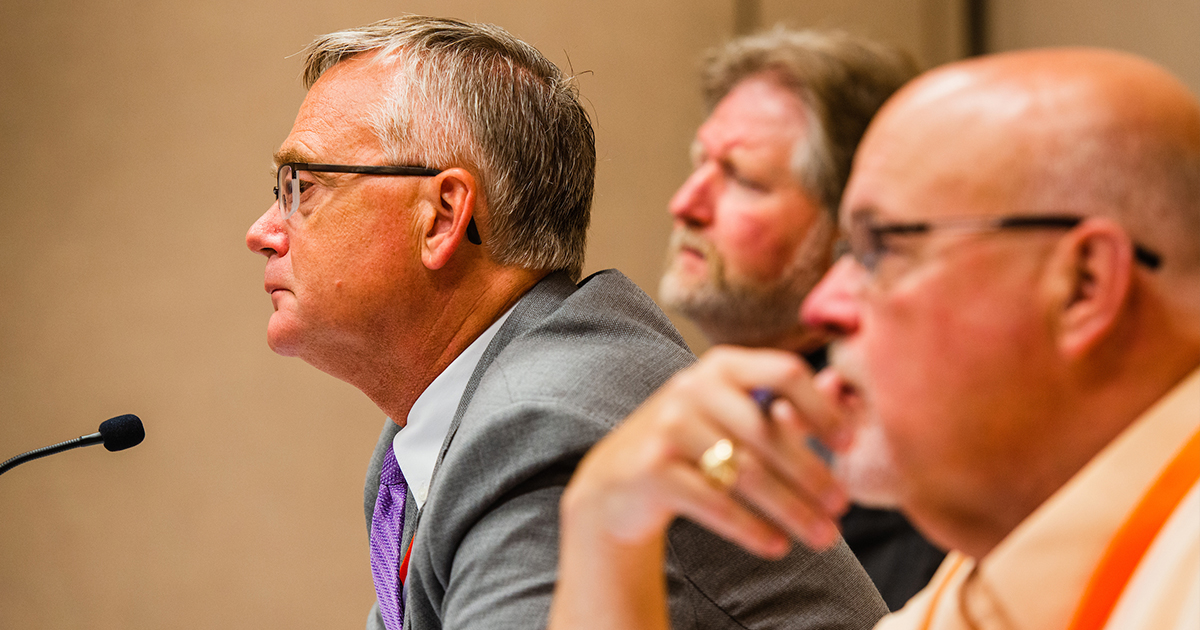 In 2019, the Synod in convention passed Resolution 4-04A calling for the LCMS Board for National Mission (BNM) and Board for International Mission (BIM) to work together in encouraging congregations and districts to more fully participate in establishing the Synod's triennial emphasis. 
In early November, a new resource to assist with that process was provided to the LCMS (Lutheran Church—Missouri Synod) Council of Presidents and all LCMS pastors and circuit visitors. The resource, LCMS Triennial Mission and Ministry Emphases and Priorities: Ideas and Guidance for Walking Together, is available for free download at lcms.org/convention. 
The resource was developed by a committee of two members each from the BNM and BIM. According to the new 2019 LCMS Bylaws 3.8.2.2 and 3.8.3.2 amended by Resolution 4-04A, the two mission boards were charged with providing a "joint report in advance of the Synod's district conventions, offering ideas and guidance for proposing triennial mission and ministry emphases to the national convention."
The resource includes:
A Bible study and guide to aid in discussing the Synod's current triennial mission and ministry emphasis, Making Disciples for Life, and the Synod's seven mission priorities that accompany the emphasis.
Guidelines for how to go about proposing or amending the  Synod's triennial mission and ministry emphasis and/or priorities through the process set forth in Bylaw 4.2.1(d).
In a Nov. 6 email to the Synod's pastors, BNM Chairman Rev. Steven C. Briel and BIM Chairman Rev. Bernhard M. Seter wrote that their respective boards offered the report "in a humble spirit of mutual support and encouragement for you, your flock and your circuit, as you prepare for the pending cycle of district conventions. Please read and consider the report as but one step in our work together, all in service to our Lord Jesus Christ."
In an interview on KFUO's "The Coffee Hour" broadcast on Nov. 12, LCMS Chief Mission Officer Rev. Kevin Robson emphasized that the release of the triennial mission and ministry resource reflects that "even in these extraordinary times, created by the pandemic and by the uncertainties over the economy, politics, even the social unrest going on in our country right now, the church's work continues at a high pace."
"The Gospel is more critically needed than ever," Robson said, "and both the Offices of National and International Mission, working under the guidance and policies of these two mission boards, have redoubled their commitments and efforts … to serve the needs of our districts and congregations as they carry out the mission that God has given us to do.
"[That mission is] to advance the Gospel of Jesus Christ, crucified for our sins, resurrected for our justification, and the assurance that we're going to spend an eternity in paradise with our good and gracious Lord."
Posted Nov. 16, 2020