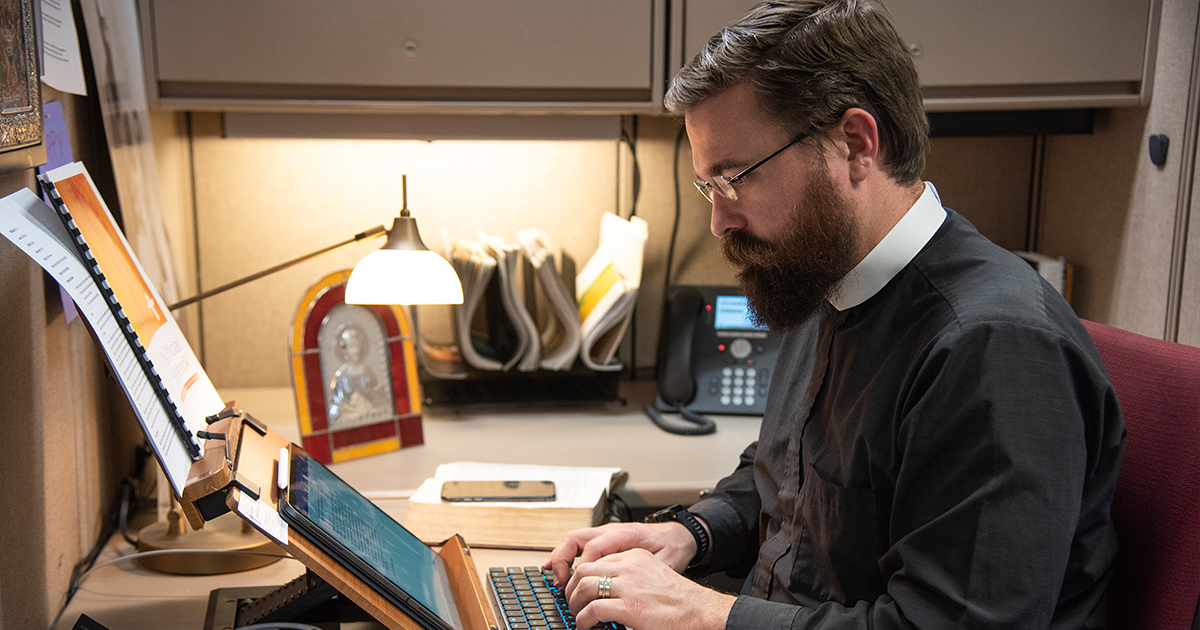 By Stacey Egger
In January, The Lutheran Church–Missouri Synod (LCMS) welcomed the Rev. Roy S. Askins as managing editor of The Lutheran Witness (LW). Askins replaces interim managing editor Dr. Kevin Armbrust and former managing editor Rachel Bomberger, who departed the position in June 2019. 
"It's a great honor to work in the tradition of those, like Walther and Der Lutheraner, who held up Lutheran doctrine, the Scriptures and the Confessions, and who encouraged our people to read, learn and understand more about what they believe and why they believe it," said Askins. 
"I look forward to continuing to offer articles that will help our pastors care for their people, help them understand the Lutheran faith and the Scriptures more deeply and, ultimately, point all to Christ and Him crucified for their confidence and hope."
Along with his theological background, Askins brings experience in writing and editing. He received a bachelor's degree in pastoral ministry from Concordia University Wisconsin, Mequon, Wis., and a Master of Divinity from Concordia Theological Seminary, Fort Wayne. He holds a certificate in editing from the University of Chicago's Graham School of Continuing Liberal and Professional Studies. 
Farewell to Chiayi 
Askins served as pastor of Trinity Lutheran Church, Livingston, Texas, from 2010 to 2015, and as communications manager for the LCMS Asia Region from 2015 until accepting the LW editorship. "It is hard to leave Asia behind," he said. "It was a great privilege to serve and to support our team and church bodies there. … My family really connected with Taiwanese culture and our congregation, Salvation Lutheran in Chiayi."
He and his wife, Eliza, and their seven children were recognized for their years of missionary service during a Service of Farewell at the LCMS International Center in St. Louis on Jan. 28.  
The Rev. Charles Ferry, LCMS Asia regional director, preached for the service, noting that each time the church has asked the Askins to move, "that's what they did, because that's what the church asked them to do. … In all these duties, [the Askins] have brought the Word of God to many." 
A new role 
Askins was installed as LW managing editor on Feb. 3. The Rev. Kevin Robson, LCMS chief mission officer, preached on Acts 21:37–22:16 during the service of installation at the IC.
"Brother Roy," Robson said, "your solemn but exceedingly joyful task will be closely to follow the apostle [Paul], to disrupt the world by firmly insisting on the church's place in it. No doubt there will be times in the coming months when you will … suffer for the sake of the Gospel. … 
"Know … that along the way we stand firmly with you … [in] awe of this Mighty One who sits upon the throne and works all good things for those who love Him."  
David Strand, executive director of LCMS Communications, said both Communications and the Synod are "blessed to have a man of Pastor Askins' gifts at the day-to-day helm of The Lutheran Witness. Roy's experience as a pastor, theological editor and overseas missionary and communicator makes him ideally suited for this role.  
"He's been here barely a month," Strand continued, "and already he's made his presence felt. … Roy has a passion for the Witness — an intense desire to proclaim Christ through a biblical lens to the laypeople of our Synod."  
Posted March 3, 2020