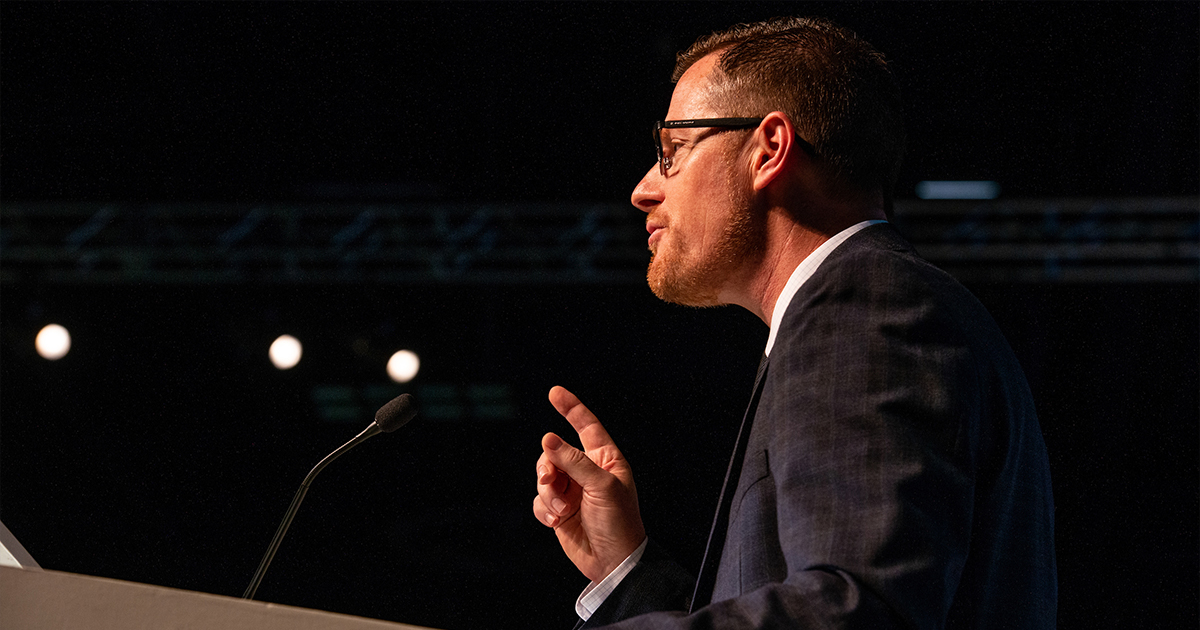 The Rev. Dr. Thomas J. Egger, Gustav and Sophie Butterbach Professor of Exegetical Theology and chairman of the Department of Exegetical Theology at Concordia Seminary, St. Louis (CSL), has been called to serve as the 11th president in CSL's 182-year history.
The call was extended Saturday, Feb. 6, after a unanimous vote on the first ballot by the electors and following interviews with the final slate of two candidates. If he accepts the call, Egger will assume the presidency later this spring, succeeding President Emeritus Rev. Dr. Dale A. Meyer, who retired in 2020 after 15 years as president. The Rev. Dr. Daniel Preus has been serving as interim president since July 1.
CSL Board of Regents Chairman Rev. Todd A. Peperkorn announced Egger's election as president during a livestreamed ceremony in the Chapel of St. Timothy and St. Titus. "Dr. Egger comes to us as one of our own," Peperkorn said. "He has been a respected member of our faculty for many years, and his service has been exemplary. We pray God's blessings upon him and look forward to working with him in the years to come."
"It is a great honor to be asked to serve and to lead this seminary that I love," Egger said. "Concordia is an institution with a rich past and a strong present, and a future that will unfold under our Lord's provision and grace."
Egger, an associate professor of Exegetical Theology and the academic advisor for first-year students at the seminary, has been a CSL faculty member since 2005. He earned a Master of Divinity at CSL in 1997 and a Bachelor of Arts in English and German at Central College, Pella, Iowa, in 1993. He completed his Doctor of Philosophy at CSL in 2019. His areas of expertise include biblical Hebrew, the Book  of Exodus, Old Testament Christ-typology, and narrative and rhetorical analysis. He has also made contributions in the area of American Lutheran history, especially the history of the LCMS and its first president, C.F.W. Walther. 
Before being called to CSL, Egger served as pastor of Zion Lutheran Church in Storm Lake, Iowa (2000–05). In 2019, he presented an essay on the topic, "Joy:fully Lutheran: Rejoice" on the second day of The Lutheran Church—Missouri Synod (LCMS) convention in Tampa, Fla.
In addition to his seminary duties, Egger currently serves on the Board of Regents for Concordia University Chicago, River Forest, Ill., where he was elected by his fellow board members as a member of the executive committee, and on the Concordia Historical Institute Awards Committee. He served three terms on the LCMS Commission on Theology and Church Relations and was part of the seven-member LCMS Catechism Revision Committee, which prepared the 2017 revision of the Synod's explanation of Luther's Small Catechism. He has a strong interest in classical education, having served for 10 years on the Board of Directors of Providence Classical Christian Academy, a K–12 school in St. Louis.
Egger is a native of Muscatine, Iowa. He and his wife, Victoria, have been blessed with six children: Andrew (Grace), Stacey, Abram, Bonnie, Ellen and Mary.
Egger has 15 days from the date of his election to consider the call to CSL. For more information about the seminary's presidential search, visit csl.edu/president-search.
Posted on Feb. 9, 2021