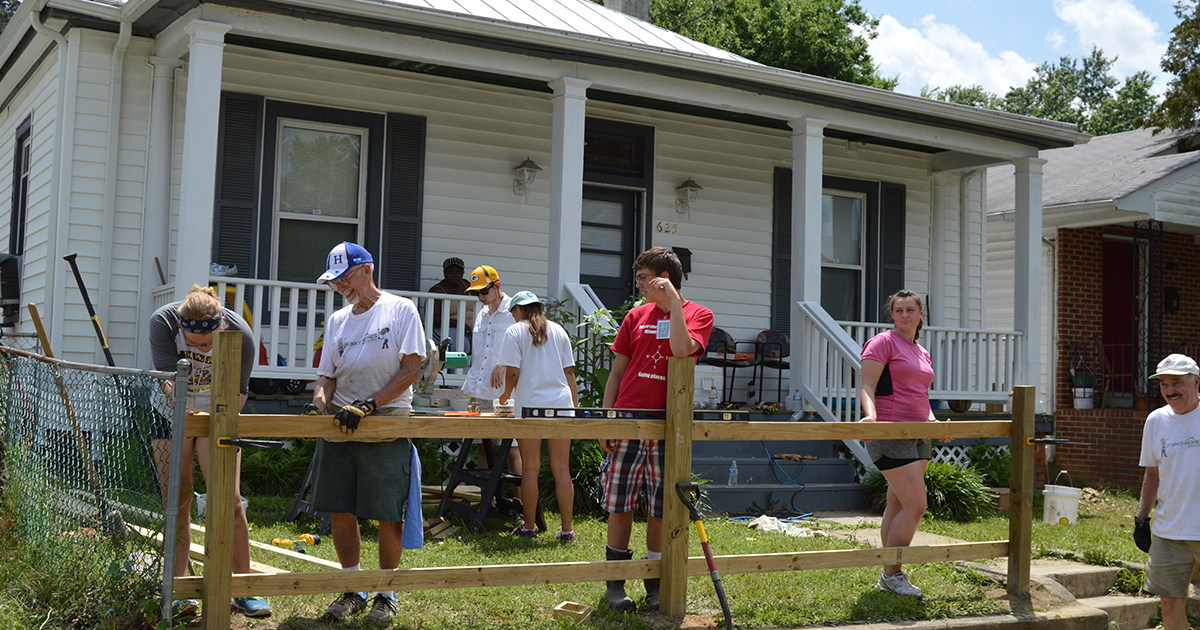 By Stacey Egger
After a summer interrupted by COVID-19 cancellations, LCMS Servant Event hosts are optimistically planning their events again for Summer 2021. 
LCMS Servant Events bring Lutheran youth from across the country to serve their neighbor in a variety of ways and places — from light construction and renovation on homes to working with youth with special needs at a Lutheran summer camp. 
Congregations and other LCMS organizations have been hosting Servant Events for Lutheran youth for over 30 years. Although COVID-19 impacted many of the events planned for this past summer, over 20 hosts are ready and preparing for opportunities for service in 2021. 
"We're moving forward with excitement, yet we know things could quickly change," said DCE Jim Lohman, director of LCMS Servant Events. 
Here are just a few of the events scheduled for this summer: 
Trail building and other maintenance work at a Lutheran retreat center in Woodland Park, Colo.

 

Light construction and maintenance work and wheelchair ramp construction to help families keep their homes in and around Chillicothe, Ohio.

 

Construction and repair work at a Lutheran summer camp,

as well as visiting local senior citizens, in New Haven, Mo.

 
Registration for these events and more is open now at servantevents.lcms.org, and more events will be added as details are finalized. 
Strengthening youth, congregations and communities
"Giving young people an opportunity to serve and lead is crucial in the church," said Lohman, referring to LCMS Youth Ministry's "7 Practices of Healthy Youth Ministry." "You serve in the name of Christ with LCMS Servant Events, and there's something different about this — coming together with a leader from your church, meeting with other youth, gathering around God's Word — that makes a strong impact on young Christians." 
In addition to service work, LCMS Servant Events include elements of fellowship, such as daily devotions and Bible studies. 
Randy Ronning, who has led the event "Riches in Richmond" — based out of Trinity Evangelical Lutheran Church in Richmond, Va. — since 2002, has seen this impact on youth in his congregation for almost two decades. 
"It helps these youth realize, 'I was put into the world for something and I actually can do it. My skills make a difference in the kingdom of God,'" said Ronning. "It all comes together in an inspiring week of relationships with one another, relationship to God and self-discovery."  
In addition to the impact on the youth participants, Servant Events also have a huge impact on the congregations that
host them, and on the community members they serve, said Ronning. 
Of Trinity's 300 worshipers, around 200 have ended up involved with the Servant Event each year, whether through large leadership roles or something as simple as bringing over a snack for the participants.
"To be able to work together on something like that has been incredible for our congregation," he said. 
And for those that the youth serve in the Richmond community, the experience can be "life-changing." 
"These are people who have difficult circumstances," said Ronning, "And to see the hope that comes from young people who are willing to take their summers off and volunteer their precious vacations to help somebody out — it's just so encouraging to them that somebody cares. We hear it again and again — 'I was hopeless before you guys came, and I found that hope in your being there and the love that you showed.'"
Resources for serving at home

 
Over the past summer, when most of the scheduled Servant Events were cancelled due to the COVID-19 pandemic, Lohman encouraged local congregations and youth groups to find ways to serve locally instead. 
To this end, he compiled a list of service resources that offer guidance and suggestions for youth groups that were interested in doing local service work, as well as the Bible studies and devotions designed for the summer's Servant Events. All of these resources can be found at youthesource.com/service. 
In the coming months, Lohman is continuing to encourage local service for congregations and youth groups that are not able to attend or host LCMS Servant Events — and even for those that are. This summer's Servant Event resources (Bible studies, devotions, etc.) — under the theme "Are You Ready?" — will be available on the site soon. 
To view the list of Servant Events and to register, visit servantevents.lcms.org. 
To learn more about hosting a Servant Event at your LCMS congregation or organization, contact Jim Lohman at james.lohman@lcms.org. 
To view youth service resources and other Servant Event resources from this year and past years, visit youthesource.com/service. 
Posted Jan. 6, 2021