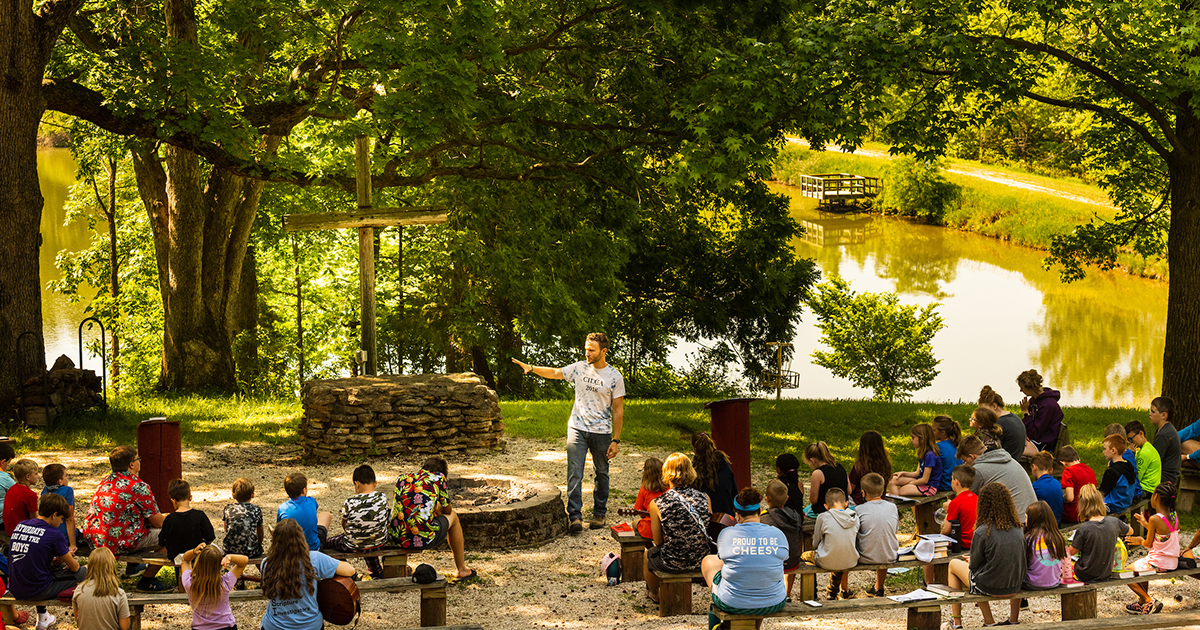 By David Cox
The COVID-19 pandemic changed the way Lutheran camps operated in 2020, but it did not prevent them from carrying out their mission, albeit in new ways. In 2021, Lutheran camps are enjoying a more "normal" summer camp experience as they seek to continue sharing God's Word.
Adapting creatively
Most of the two dozen camps affiliated with The Lutheran Church—Missouri Synod (LCMS) suspended traditional overnight sessions of summer camp in 2020.
"We dropped all overnight camps and had only three-day camps," said the Rev. Joshua Theilen, director of Camp CILCA in Central Illinois.
It was the same story at Lakeview Ministries, one of the largest Lutheran camps and an LCMS Recognized Service Organization (RSO). Normal summer programs at the Seymour, Ind., camp were replaced with a limited day camp program.
In the absence of traditional overnight camp sessions, Lutheran camps came up with creative ways to carry out their missions. Many of the changes, particularly health protocols, have carried over into 2021. Some changes may become permanent.
"For summer 2020, we did not do any of our normal youth programming," said Beth Lutz, director of programs at Camp Luther Wisconsin. "Instead, we pivoted to offering family-focused retreats throughout the summer."
The shift from youth camps to family ministry occurred in many Lutheran camps for the 2020 summer camp season. Youth cabins became individual family cabins. Instead of one counselor working with a cabin group, each was assigned a family. The trend toward more family ministry is likely to continue post-COVID.
Camp Luther, like other Lutheran camps, is planning to restore most of its normal youth programs in 2021. Lutz said she doesn't anticipate any long-term negative impact from COVID, but in the short term it has cut into both camper numbers and staff recruitment. "We typically rely heavily on returners in both categories, so the disruption caused by COVID-19 to those pipelines will be seen over the next couple of years."
Another RSO, Camp Concordia in Michigan, conducted regular sessions in 2020 but with half as many campers as the year before. In spite of Michigan's being the state hit hardest by COVID-19 this spring, Camp Concordia's numbers have more than rebounded, with a record number of campers registered for the 2021 summer camp season. Director Craig Oldenburg said Michigan has a large number of camps and a great support system among the camps.
Trinity Lutheran Camp in Big Fork, Mont., saw little change in 2020. The Rev. Kevin Bueltmann, executive director, said, "We were blessed in Montana to be one of the few camps across the country to be able to operate with regular camp programs since we were less impacted than other areas." The camp did follow health protocols, some of which Bueltmann expects to not only repeat in 2021 but continue after the pandemic is history. "[The pandemic] helped us change and practice better procedures to follow in any year."
Camp Lutherhoma in Tahlequah, Okla., also maintained a regular schedule of sessions in 2020. Executive Director John Busch said, "We asked ourselves, 'By adapting what we do and applying new policies and procedures, could we reduce the risk enough to make it safe to hold camps?'" They concluded that they could and, with a green light from the governor, chose to move forward with summer camp.
Busch said staying open was important, but not for financial reasons. "We really worried and wondered about what impact it would have on people if they couldn't go to camp." He said the challenge was similar to what churches faced, but that camps have an advantage — most activities take place outside where COVID is less likely to be transmitted. He said that Lutherhoma provided face-to-face ministry when many churches were still closed to in-person worship.
But camps still faced some of the same obstacles as churches. The pandemic significantly reduced year-round activities at most Lutheran camps. Hundreds of regular groups canceled retreats at camps across the country.
Ongoing recovery
The challenge remains. "We have already seen the difficulty of getting groups to commit to programs or retreats in advance," said Casey Sprotte, director of Camp Luther's Keweenaw Base Camp in Atlantic Mine, Mich. Last year's changes have also affected the ability of Camp Luther to find staff. "We have younger, less-experienced staff and are still searching to fill positions that would typically be filled in February," she said.
Lakeview Ministries Program Director Ellie Lutz said, "At least for the next few years we will be recovering from basically taking a year off, not so much in terms of our programming but in terms of the gap in continuity for our returning campers, summer staff members and guest groups."
With reduced income from user fees, camps tightened their belts, in some cases laying off or furloughing year-round employees. But most camps have also seen an increase in donations from people who want to ensure outdoor ministry continues. Many donors' own lives were enriched by their experiences at camp, and they want to make it possible for others to enjoy camp, too.
In August 2020, the National Lutheran Outdoors Ministry Association (NLOMA) set up a program, "Weathering the Storm," to raise funds for camps, especially those without sufficient donor support to make up for lost income. NLOMA President Steve Johnson, who also directs the Colorado RSO Lutheran Valley Retreat, said the pandemic affected every Lutheran camp and posed an existential threat to some. The fund raised thousands of dollars for camps, but in the end it was supporters donating directly to individual camps that kept struggling ministries from going under. Every LCMS-affiliated camp has indeed weathered the storm.
Lutheran outdoor ministry is not just about canoes, campfires and games. Camps work alongside congregations and other ministries to carry out the Great Commission: making disciples of Jesus Christ.
"Though the pandemic minimized the volume of our mission, it didn't minimize the necessity for it," said Daniel Sanchez, director of Camp Io-Dis-E-Ca in Iowa. He said church ministries have an obligation "to seek ways to ensure God's Word is proclaimed, especially in difficult times. If we're not here to do that, then why are we here at all?"
Johnson said it is important to continue operations in the midst of the pandemic for the same reason Lutheran camps exist in the first place: "to show people the hope they have in Jesus Christ."
David Cox (director@lutherancamp.org) is director of Camp Trinity, the Lutheran Camp on Petit Jean Mountain, in Morrilton, Ark.
Posted June 18, 2021