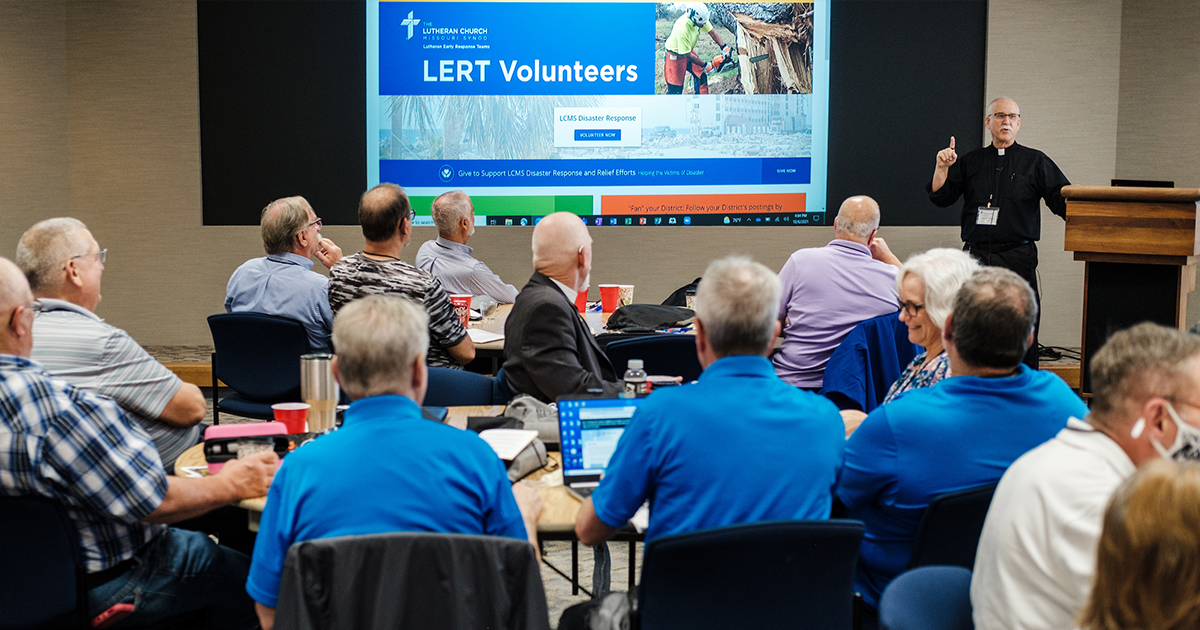 By Stacey Egger
The 2021 LCMS Disaster Response Conference was held Oct. 6–8 at the The Lutheran Church—Missouri Synod (LCMS) International Center in St. Louis. The conference, which is scheduled annually but was postponed last year due to the COVID-19 pandemic, drew 78 attendees from 20 districts. 
After a year's hiatus, there was much to discuss: significant updates to LCMS Disaster Response and the Lutheran Early Response Team (LERT) network and training process, and recaps of responses to a number of disasters over the past year. 
The conference included two and a half days of presentations from a variety of disaster response professionals and others. 
Presentations included updates on: 
LCMS Disaster Response and its network, including a new LERT Chainsaw Training Manual and an upcoming LERT Quick Response Guide for more standardized and efficient disaster response training; 
Upcoming changes to LERT training to make it more accessible to congregations; 
The opening of LERT training and some LERT volunteer opportunities for youth ages 14 and up; 
The inclusion of background checks for LERT volunteers in certain circumstances; and
The operation of a new volunteer management site at lcms-lert.org.
The conference also offered:
Recaps of the disaster response efforts of Lutherans from across the country in the wake of the Iowa derecho last summer and several Gulf Coast hurricanes over the past two years;
Roundtable discussions with the various district disaster response coordinators (DDRCs) in attendance, and with LERT and disaster response site coordinators; and 
A variety of other presentations on disaster training, the Lutheran understanding of suffering and human care, spiritual care in disaster zones and basecamps, and other topics related to disaster response in the LCMS. 
"Our doctrinal understanding of what the Bible says about evil in the world … enables us to react with a kind of compassion that the rest of the world can't, because we recognize that God's hand is at work in this to bring the world to repentance and to warn us of what's coming," said the Rev. Dr. David Petersen, senior pastor of Redeemer Lutheran Church in Fort Wayne, Ind., who gave a presentation on "Suffering and Human Care." 
"We are actually coming with an understanding that there is a problem," Petersen continued, "that sin has created this terrible situation, and the solution to that is the death and resurrection of Jesus Christ, the new heavens and the new earth. So, our doctrinal basis … gives us the ability to speak to people in pain with real nuance and depth, instead of just platitudes."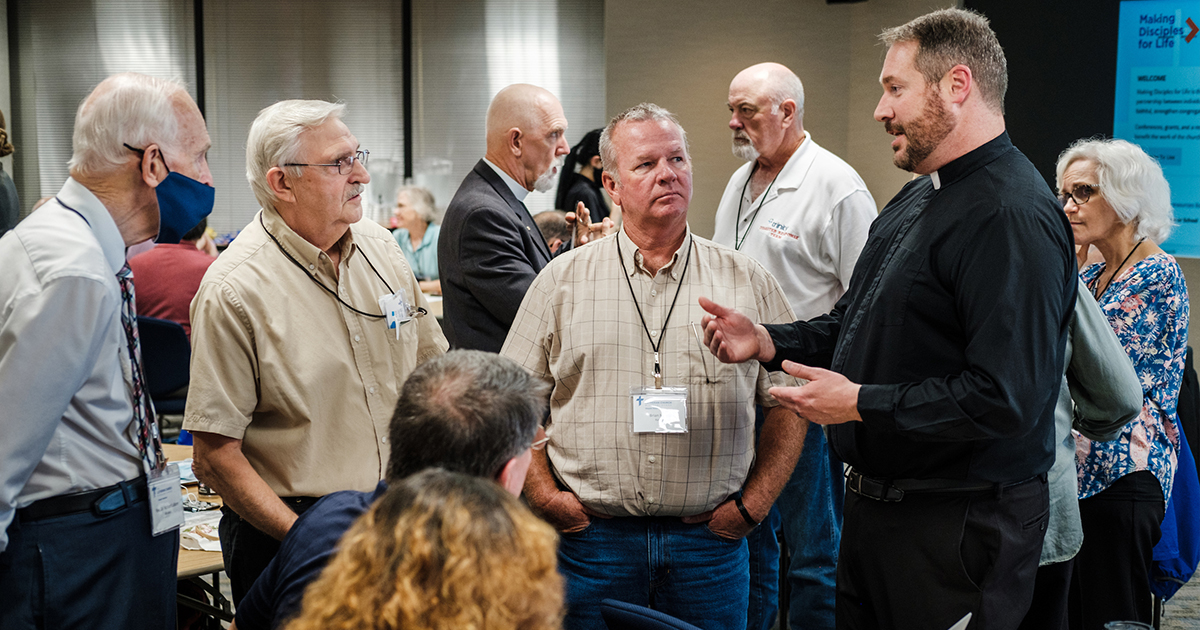 Conference attendees included DDRCs, LERT trainers and volunteers, and others involved in disaster response efforts.
Steve Carbno, a recent retiree who has worked in disaster response for the past 34 years, is looking to spend time in his retirement encouraging more LERT participation in the LCMS North Dakota District, where he is a member of Our Savior Lutheran Church in Minot, N.D.
"For me, it's ministry with your sleeves rolled up," said Carbno. "You can share Jesus with people with a hammer in your hand."
Carbno first became involved with LCMS Disaster Response nine years ago when he was running Hope Village, a program that connected volunteers from Our Savior with families affected by the 2011 flood in the area. He said that conferences like this are very helpful for disaster responders.  
"No disaster is alike. You can go in and do two days' worth of work and be done, or [it can be] like Hurricane Katrina, that went for years. The flood in Minot went for years. You can share those experiences and … how people made it work or … didn't make it work, and [you can] learn from that. In disaster preparedness, you are never done learning." 
In addition to presentations, fellowship and daily chapel, attendees participated in a service project, packing up dozens of disaster survival kits containing emergency food rations, water, first-aid supplies, thermal blankets, matches, candles and more. 
Learn more or support the Synod's disaster work.
Posted Nov. 18, 2021