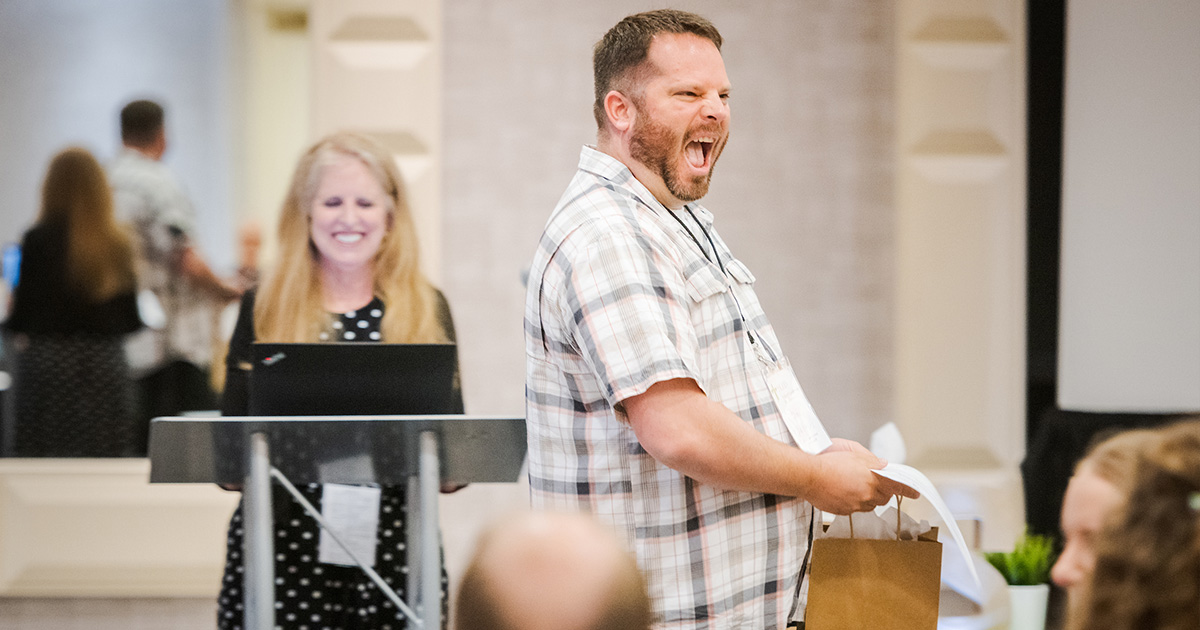 By Cheryl Magness
The School Leadership Development Project (SLED) was created two decades ago to identify, encourage and prepare leaders to serve in the Synod's early childhood, elementary and secondary schools. In June, almost three dozen educators from around the country traveled to St. Louis to participate in one of two SLED training sessions, held June 14–16 and June 17–19 at the Hilton St. Louis Airport Hotel.
Dr. Rebecca Schmidt, director of LCMS School Ministry, said that the purpose of SLED is to "recruit, affirm and equip future leaders of LCMS schools. Thriving schools are led by strong leaders. With SLED we strengthen school leaders who, in turn, strengthen their schools."
In 2021, 15 LCMS educators completed their SLED training and received SLED endorsement, and 20 educators began the SLED program. Suzan Winkelman, who serves as math teacher, director of curriculum and assistant principal at Zion Lutheran School in Walburg, Texas, was one of those who began the training this year. Even though Winkelman is already serving her school in an administrative capacity, she said that the first session "opened my eyes" about what it means to be a leader. "It was very exciting to learn from these master teachers and principals," she said. "My mentor, Jacob Pennekamp, is very honest with our group, which has not frightened me off yet!"
Kayla Marty also attended SLED for the first time this year. She serves as director of the Ignite program at Concordia Lutheran Schools, Omaha, Neb. Ignite focuses on personalized learning through a non-traditional approach and a purposefully mixed-age classroom. Marty described her first SLED experience as "inspiring. It not only helped give overviews of the types of challenges and opportunities that Lutheran school leaders face, but it emphasized the importance of keeping God's Word at the center of all of our efforts."
Michael Oldenburg, executive director at Journeys Lutheran School in Hales Corners, Wis., just completed his third time serving as a SLED mentor. He said he hopes his experience as an administrator can help prepare future administrators but added that he, too, is "blessed by the relationships that are developed with other mentors, the administrative team and especially my mentees. … The moment you stop learning, you stop being a leader."
Dawn Walker, principal at First Immanuel Lutheran School in Cedarburg, Wis., has also served three times as a SLED mentor. Walker said she mentors others because "I have been blessed by many strong mentors in my life who have helped me grow as a leader. I love sharing what I know with those who wish to become school leaders. I see serving as a mentor as a way to give back to the LCMS."
Both Kelly Prisby and Andy Spieler completed their SLED training in 2021. Prisby, assistant principal at Immanuel Lutheran Church and School in Macomb, Mich., said her main takeaway from the program was "people over paper. It is vital to establish and continually cultivate relationships with people. …  SLED has equipped me with the awareness, knowledge and skills to put relationships first. My sincere thanks to the LCMS Michigan District and the SLED team for this experience!"
Spieler began the SLED program in 2019. At the time, he was teaching elementary P.E. and religion. By the time he completed the program in 2021 (it was interrupted by the pandemic in 2020), he had become principal at Immanuel Lutheran School in Perryville, Mo. He said SLED made him "more confident … and prepared to serve my new school and congregation. … I am very honored to have been a part of SLED."
Schmidt said that SLED's mentors are paid a small honorarium but that their primary motivation is their love of school ministry: "Our mentors have a deep desire to invest in future leaders. They love their work, and they want to share that love and joy with their fellow educators."
Schmidt added that, although SLED's primary purpose is the preparation of school leaders, that is not the only thing the program accomplishes. Participation in SLED can help a good teacher become an even better teacher or assist any educator in understanding his or her own interests, gifts and passions. "One of our SLED graduates came out of the program feeling the call to pastoral ministry," Schmidt said. "He attended seminary, became a pastor, and now shepherds a church and school in Nebraska."
Asked why SLED is important to the church, Schmidt responded, "Lutheran schools help to ensure that the next generation of children hear the Gospel message while being prepared for a life of service to their neighbor. Today the shrinking pool of qualified, competent and Christian leaders has created a crisis for many schools. SLED helps to address this critical issue by raising up leaders for tomorrow. 
"It is essential that the recruitment and training of current and future leaders remains a priority. SLED helps provide those essentials while creating and sustaining meaningful relationships that will carry far beyond SLED and equip educators for learning and service long after they complete the program." 
Posted Aug. 2, 2021