By Cheryl Magness
The seventh LCMS Hispanic National Convention (HNC) was held in Orlando Aug. 2–5 under the theme "For We Are All One in Jesus Christ." The event, organized by the Hispanic Missionary League (HML), seeks to gather the Latino congregations, institutions, missions and ministries of the LCMS for the promotion, strengthening and support of the Lutheran Hispanic community. 
Welcoming attendees at the 2022 convention, the Rev. Robert Zagore, executive director of the LCMS Office of National Mission, said, "We are God's people. We are the people of the Gospel. God has sent you on a heroic mission. The entire world needs to be saved. … 
"We need all the help we can get. The Holy Spirit has given us that help. … We thank God that you are here and … engaged in that mission."
Zagore held up a copy of  Himnario Luterano, published in 2021 after a 14-year process. The hymnal, recently debuted in the LCMS Latin America and the Caribbean (LAC) region, was a joint project of the LAC region, the Southern Cone (Chile, Argentina and Paraguay), the Confessional Lutheran Education Foundation and Lutheran Heritage Foundation. The convention was its U.S. debut. 
"We are in every way joined together," said Zagore. "We are one in Christ. … Part of that unity is to be able to pray together. … That's why I am so very excited about this hymnal being in our hands. … We want everybody to be able to have one of these."
All attendees at the convention were given a free copy of the hymnal, with additional copies offered for $10 each. (The normal $32 cost was subsidized for convention attendees.)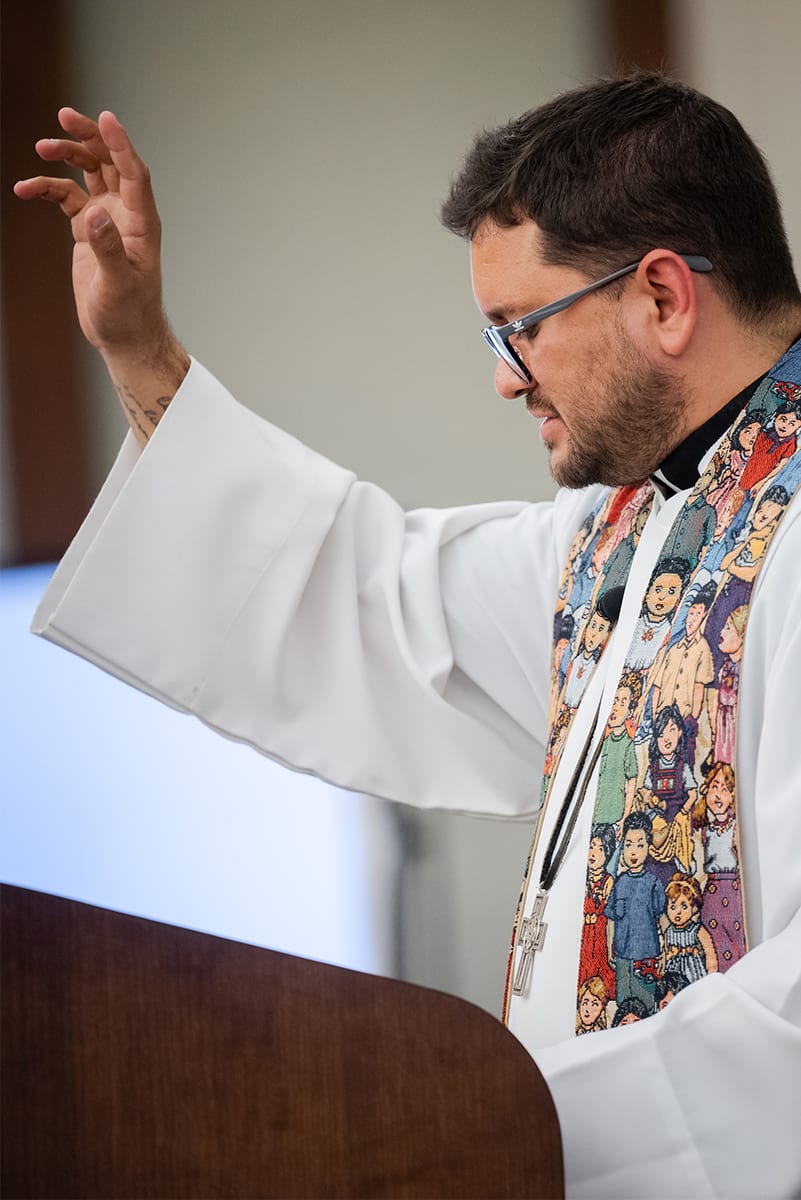 An 'extraordinary resource'
Outgoing HNC President Rev. Germán Novelli-Oliveros said, "The Himnario Luterano is already a blessing for churches in Latin America, and surely shall be an extraordinary resource for Hispanic congregations in the U.S. It will strengthen our worship lives in our congregations and homes and will support our pastors as they prepare and plan their Divine Services. 
"We thank Lutheran Heritage Foundation and [LCMS] President Rev. Dr. Matthew C. Harrison for providing a copy to each participant of the convention, and we will unify efforts to bring this resource to our Latino congregations and ministries nationwide."
On the evening of Aug. 2, the convention featured three guest speakers: the Rev. Dr. Leopoldo A. Sánchez M., professor of Systematic Theology and director of the Center for Hispanic Studies at Concordia Seminary, St. Louis (CSL); the Rev. Michael Newman, president of the LCMS Texas District; and the Rev. Micah Glenn, director of recruitment at CSL.
Sánchez addressed the catholicity of the church. "Catholicity is not an add-on to the church," he said. "It's part of the very being of the church. … The whole narrative of salvation is oriented toward catholicity. God … saved Israel from among the nations so that the nations might be saved through Israel. [This is] catholicity." 
Newman led the assembly through a study of Psalm 98. "Sing to the Lord a new song. … God's people have been given a narrative that transcends the narrative of the world," he said. "We need to think theologically, submit to the Word of God. … The starting point [for] unity is being together, receiving the gifts under our Lord, functioning as the church. … 
"This means not 60 minutes of a quick sermon and content download on Sunday [but] the mutuality of all God's people who bear one another's burdens … speak into each other's lives … forgive one another, pray for one another."
Glenn shared an update on recruitment efforts at CSL, particularly regarding the recruitment of minority students. In 2021, the seminary's Vocatio event for high school students considering church work had 19 participants. In 2022, that number rose to 31. In 2023, Glenn said he hopes to see to see it rise to 70. 
Calling on a young Hispanic man who had attended the 2022 Vocatio and is planning on returning in 2023, Glenn asked, "Did you feel like you belonged [on the seminary campus], José … that the seminary belongs to you like everyone else?" José answered that he did, and Glenn said, "That's the goal."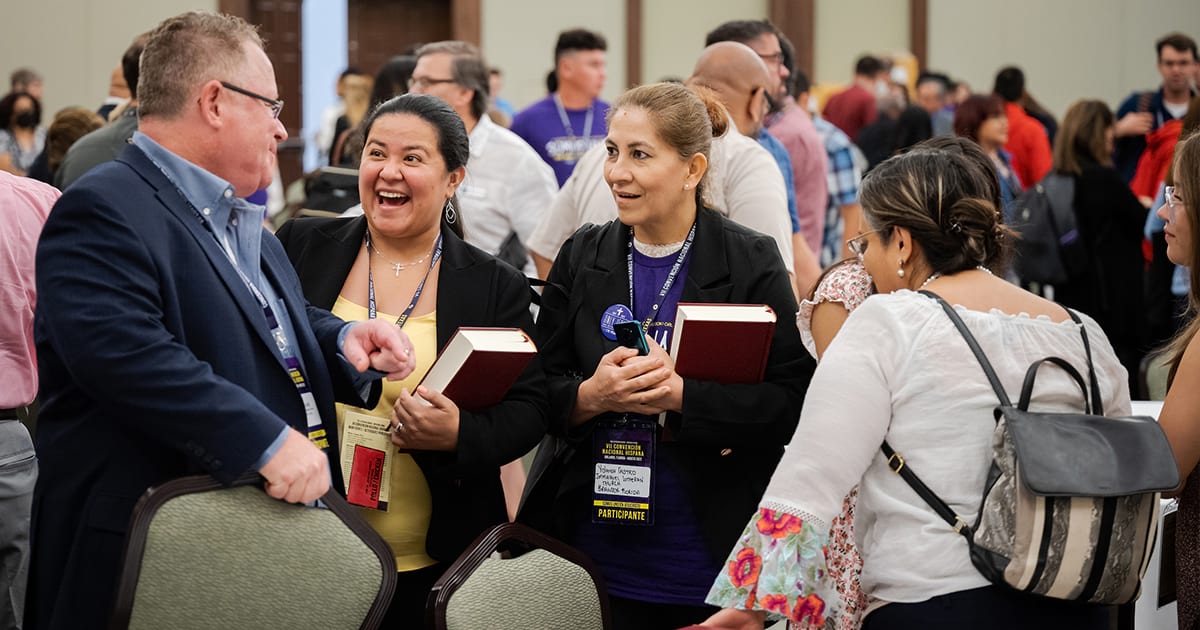 In other business, the HNC approved new bylaws aimed at strengthening its national work and approved beginning the process to become an LCMS Recognized Service Organization. It also elected a new board of directors who will be in charge of organizing the 2025 convention: Rev. Juan Zamora, president; Rev. Stephen Heimer, vice-president; Deaconess Erica Dona-Jofre, secretary; and Deaconess Perla Rodriguez and Rev. Rodrigo Fernandez, members at-large. 
Asked what he wished to highlight about this convention, Novelli-Oliveros noted that it was a bilingual event: "We wanted to include our brothers and sisters who, although they don't speak Spanish, wanted to spend time with us and learn about Hispanic ministry. We had a special agenda, in English, for them." 
Novelli-Oliveros said that seminary recruitment remains a primary focus.
"We need and want more Hispanic men and women preparing to serve in the church full time. … We have an initiative named Primer Paso ("first step") that has been promoting this effort among our LCMS Hispanic congregations."
Novelli-Oliveros said the convention was a picture of both the church's diversity and its unity, which come "by grace and through the power of Baptism. In a culture that wants us divided and dispersed, we tried to emphasize the importance of embracing our Christian unity in the Lord and walking together."
Posted Aug. 24, 2022