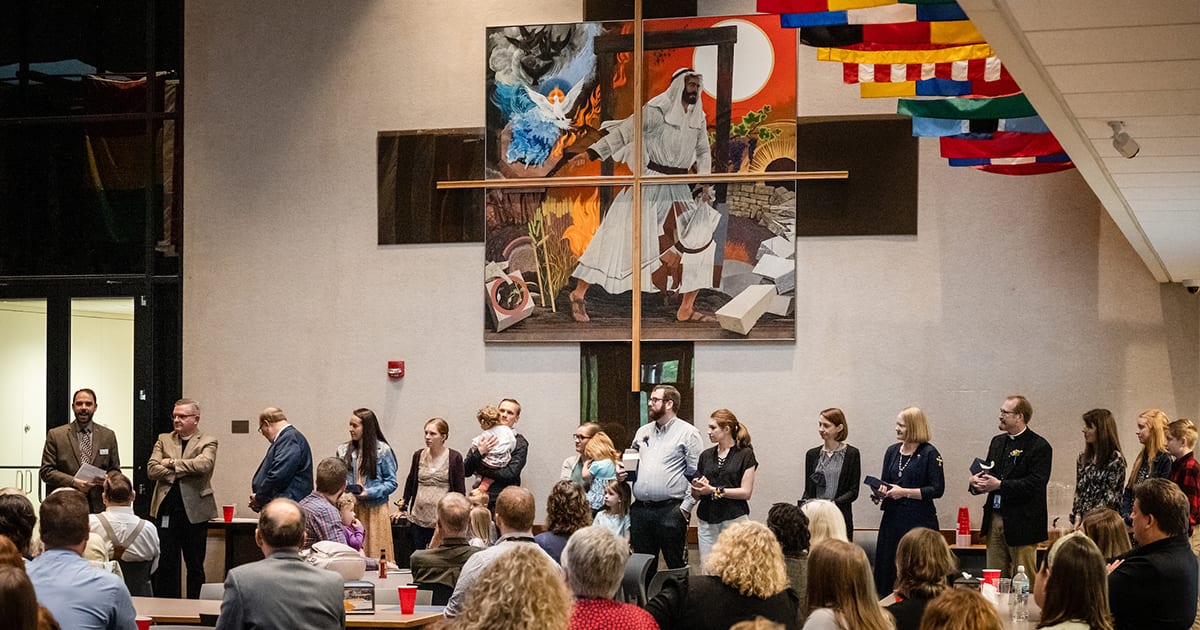 By Stacey Egger
On May 6 at the LCMS International Center (IC) chapel in St. Louis, the LCMS Office of International Mission (OIM) hosted a Service of Thanksgiving and a subsequent ceremony to recognize five new missionary families and honor seven missionary families who have recently ended their service. 
"The missionaries who have been called by The Lutheran Church—Missouri Synod, sacrificially to serve in places both here and around the globe, near and far — these men and women are no strangers to trials … and tribulations most severe," said the Rev. Kevin D. Robson, LCMS chief mission officer, in a sermon on 2 Corinthians 1:3–14. 
"The more that we suffer with Christ — and we will — the more we will come to know and understand how much nearer we are to this Jesus who suffered everything for all," said Robson. 
At a ceremony after the service, seven missionaries and their families were recognized and presented with awards for their years of service abroad: 
Kayla Hoem, 2017–2020, Spain;
Rachel Meyer, 2017–2021, Uganda;
Deaconess Kate Phillips, 2019–2021, the Dominican Republic;
The Rev. Dr. Mark and Stefanie Rabe and their children Noah, Gabriella, Julianna and Matthias, 2015–2021, Ethiopia;
The Rev. Andrew and Kelsey Schlund and their children Charlotte and Margaret, 2015–2021, Mexico;
Benjamin and Grace Vanderhyde and their children Larson, Hollen and Adelaide, 2018–2020, Sri Lanka; and
Courtney Zalmanoff, 2019–2021, the Dominican Republic.
Also recognized at the ceremony were five missionaries/families who received certificates marking their completion of missionary orientation: 
Jerry Mays will serve in the Africa region as an English teacher at St. Peter Theological Seminary in Himo, Tanzania, helping increase seminarians' English proficiency to give them access to a multitude of biblical resources not currently available in Swahili. "God's hand has guided our path thus far," said Mays. "As we go out into the field … we show love in sharing the Gospel of the Lord with our neighbors in Tanzania." 
Gary and Sue Kessler will serve in the Latin America and Caribbean region in the Valley of Peace refugee village in Belize. Gary will be a construction project manager and coordinator of short-term mission teams, and Sue will teach English and Bible stories at the village preschool. The Kesslers have previously spent six months as volunteer missionaries in Belize. "God is forming a new Lutheran church in Belize," said Gary Kessler. "And we see His provision every day." 
Rachel Krause will return to the Eurasia region to serve Persian-speaking refugees in and around Leipzig, Germany. She served in this role as a Globally Engaged in Outreach (GEO) missionary (a two-year commitment) but is now returning as a career missionary. "Above the door of St. Lukaskirche [in Leipzig] is this picture of Jesus with His arms outstretched. … Above it are the words: 'Come to me all ye who are weary and heavy-laden, and I will give you rest.' And that's what we get to do for these people … in Leipzig and in Chemnitz. We get to show them who will give them ultimate peace and rest, who will fill their lives with meaning and with joy," said Krause.
Mark Winterstein will join the Eurasia region, also working with Persian-speaking refugees in and around Leipzig. He has worked as a Farsi translator for the Navy for the past 10 years. "The beauty of refugees coming to Germany is that they are able to more openly hear the Good News … without being persecuted," said Winterstein. 
The Rev. Dr. Quintin Cundiff, along with wife Lindsay and son Carter, will join the Eurasia region, where he will serve as a theological educator at the Luther Academy in Riga, Latvia. "The reach of this program is massive," said Cundiff. "[It] is being made available to men who might not have been able to go to the seminary otherwise. God is preparing and shaping men to serve His people who otherwise may not have been able to."
The newly sent missionaries began their eight-week orientation in March with a week of onboarding, followed by a network-building workshop at the IC March 21–25, which prepared them for the first stage in their missionary journey: sharing their work with potential and current supporters by crafting and delivering presentations and using social media effectively. 
In subsequent weeks, the missionaries traveled to build their network of supporters while continuing to participate in educational sessions online. For their final week of orientation May 2–6, they returned to the IC to prepare for their transition to the field. They also received training on International SOS, a global safety firm that the OIM uses to provide all international missionaries with real-time, localized safety and security information and emergency assistance.
Both weeks in the IC also provided the missionaries opportunities to meet the OIM team and other Synod leaders.
Gary Kessler said he appreciates "the amount of resources that the Synod provides through OIM for what we're doing. And the level and the degree of professionalism that we've encountered here is really impressive. … You don't have any idea how much more confidence Sue and I have about going back over there knowing we have this amazing team behind us … [that is] doing everything they can to make us successful."  
These missionaries will conclude their network building and other preparations in the coming months before taking their places in the field. 
Posted May 27, 2022