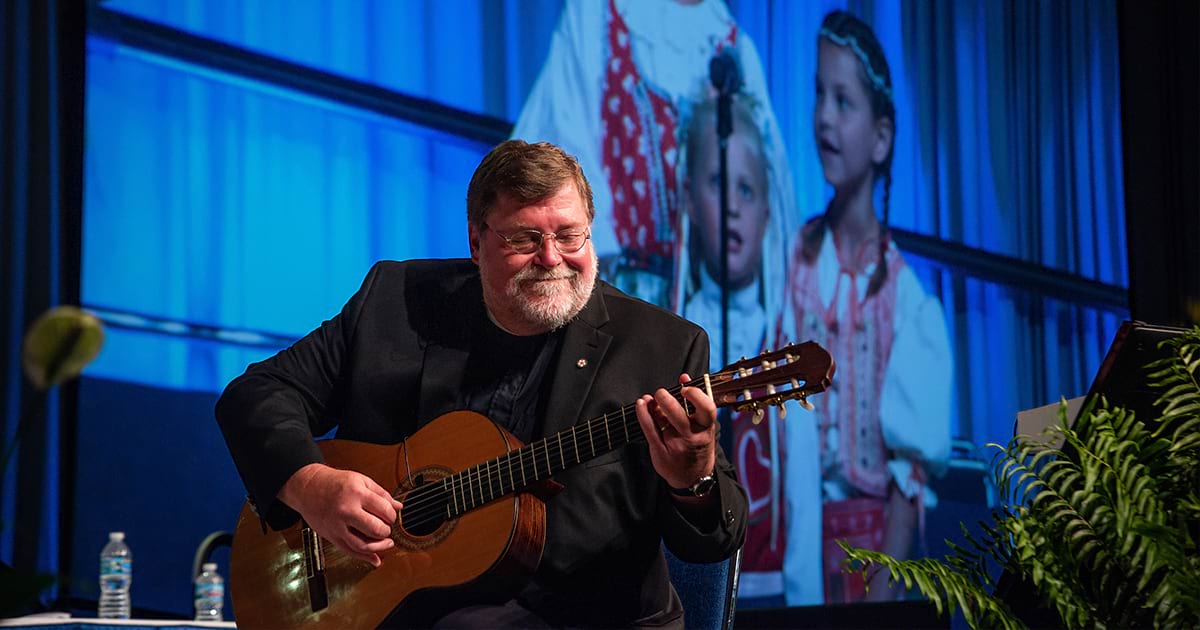 On Feb. 17, during daily chapel at the LCMS International Center in St. Louis, the Rev. James Krikava was installed as associate executive director of the LCMS Office of International Mission (OIM). He previously served as the regional director for the Synod's work in Eurasia, and carried out other executive duties in Asia and Eurasia.
Preaching for the service on Luke 8, the Parable of the Sower, LCMS President Rev. Dr. Matthew C. Harrison said, "Luther has this fantastic paradigm for world mission. It's all about sending. 'The Father has sent Me; therefore, I send you. Whosoever's sins you forgive, they are forgiven unto them.'" 
"That's the Father's own mission mandate," Harrison continued. "He sends His Son. Then His Son sends His apostles. Then, says Luther, His apostles send bishops and pastors with the same message. … 'You are forgiven. You are Christ's good ground … being made ever more, in the struggles of your life, into better ground … well fertilized [for] the Word of God … [to] take root, take over and make of you a beautiful piece of ground with flowering trees producing the most marvelous fruit all around."  
Turning to Krikava, Harrison said, "That, Jim knows better than anyone else. I've seen him live it and do it. … The Lord has blessed you, Jim, and He will continue to bless you."
In comments after the service, Krikava joked that he was more accustomed, when standing next to Harrison, to hold a guitar while Harrison holds a banjo. He added, "It's been a wonderful run with OIM and the Missouri Synod. … Stepping into this new position will have its own set of circumstances, I'm sure. … I look forward to it. We have a wonderful staff … a great group of people that work together so well."
Krikava has a bachelor's degree in music from the University of Minnesota and a Master of Divinity from Bethany Lutheran Theological Seminary in Mankato, Minn. He has taught music at all levels; performed as a professional musician in the United States and Europe; directed instrumental ensembles; conducted the choir at Bethany Lutheran College while attending seminary; and, after graduation, taught religion and music on the faculty. He served for 14 years as a parish pastor in the U.S. and — after the fall of communism — for 16 years as a missionary pastor in the Czech Republic. Most recently, he served in Prague as the regional director for LCMS Eurasia and performed additional duties as the OIM associate executive director for regional operations in Eurasia and Asia.
Krikava and his wife, Peggy, have been married 46 years. They have three children and 10 grandchildren.
Posted March 28, 2023