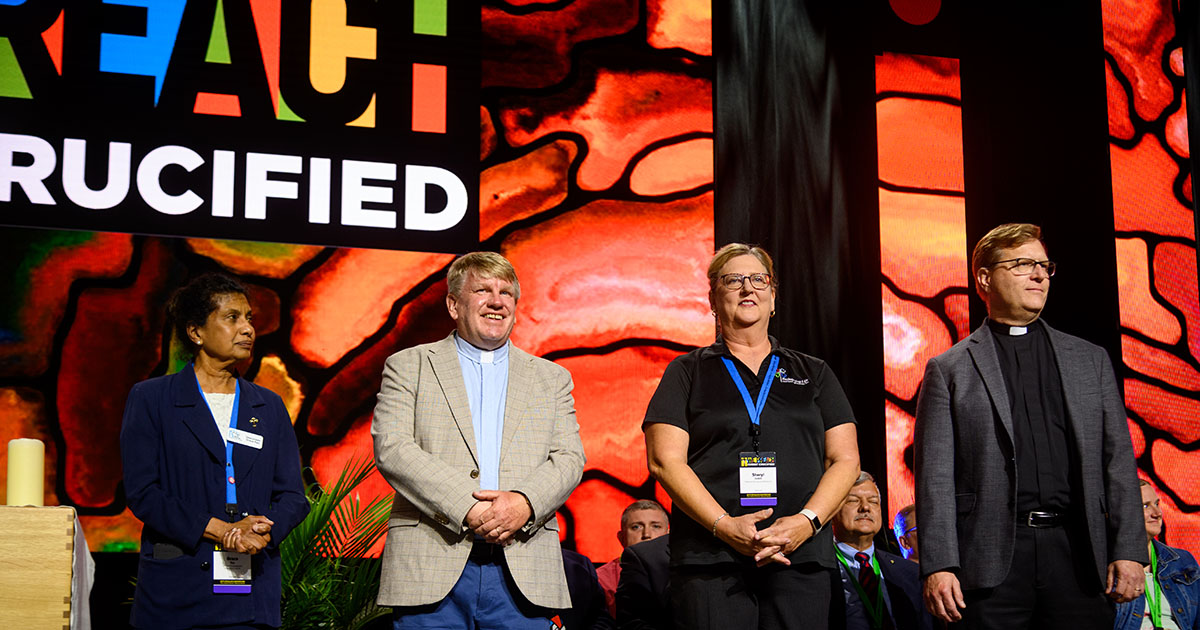 ---
By Sarah Reinsel
MILWAUKEE — On Sunday, July 30, during the 68th Regular Convention of The Lutheran Church—Missouri Synod (LCMS), Floor Committee (FC) 3 on Mercy passed Resolution 3-01, which encourages and supports efforts to build a culture of life. The expansion of the Million Dollar Life Match over the course of 2023–2026 was also announced, and two grant recipients were recognized.
Res. 3-01, "To Encourage and Support More Fervent Teaching, Proclamation, and Efforts to Promote Culture of Life among God's People," commends the Million Dollar Life Match and encourages LCMS Life Ministry to continue its work to provide support and training materials for congregations, districts and Recognized Service Organizations (RSOs).
The resolution also encourages these entities to write grants; engage in advocacy efforts; provide care for those suffering from the effects of abortion; and provide alternatives to abortion, such as adoption, pre- and post-natal care, and housing support.
The resolution was amended to add a resolve: "Resolved, that the Synod in convention give thanks to God for His unending mercies, especially in overturning Roe v. Wade, thus preserving the lives of many unborn children."
Established by the LCMS in 2022, the Million Dollar Life Match has helped LCMS congregations and RSOs "provide spiritual, emotional and physical care for their neighbors across the United States," said FC 3 Chairman Rev. Brady Finnern, president of the LCMS Minnesota North District.
"That means direct, local care for families experiencing challenges at the beginning of life, supporting foster care and adoption in collaboration with local agencies, and partnerships with local pregnancy resource centers," continued Finnern.
Deaconess Dr. Tiffany Manor, managing director of Human Care and Ministerial Support for the LCMS Office of National Mission, was invited forward to recognize two congregations and their partner RSOs that are receiving Stage 4 Life Match grants.
Representatives present onstage included the Rev. Don Hougard, pastor of Benediction Lutheran Church, Milwaukee; Deaconess Grace Rao, executive director of A Place of Refuge, an LCMS RSO; the Rev. Joe Glombicki, pastor of Immanuel Lutheran Church, East Dundee, Ill.; and Sheryl Dewitt, executive director of Redeeming Life Outreach Ministries, also an RSO.
More Stage 4 Life Match grants will be announced in September.
At A Place of Refuge, renovations of the upstairs level of this maternity home are underway and will be completed with the help of the grant. The funds will also support A Place of Refuge's outreach to the community, as well as the mothers' transition to living independently.
"Our focus is on Christ," said Rao. "And we're going to show the light of Christ to these women and their babies. [In Christ] there is forgiveness, light and salvation. With moms and babies [we] rejoice in the Church Triumphant."
With the funds from the Life Match grant, Redeeming Life will open a second maternity home in East Dundee, Ill. (Redeeming Life's original maternity home is located in Sanford, Fla.) Dewitt says they are already dreaming of opening a third maternity home.
"Our biggest dream — and we pray that God continues to bless this dream — is that we would have a maternity home in every one of our LCMS districts," said Dewitt.
During the presentation, Manor said: "Through the work of LCMS congregations, families are growing. Mothers are keeping their children. Adoptive families are welcoming children into their homes and lives.
"Churches are growing as these children are brought into God's house. The kingdom of heaven is growing, as mothers and children alike are given the gift of faith in Christ and are saved through the waters of Holy Baptism."
Posted July 31, 2023
---
2023 LCMS Convention
Under the theme "We Preach Christ Crucified," the 68th Regular Convention of The Lutheran Church—Missouri Synod met July 28–Aug. 3, 2023, at the Baird Center in Milwaukee.
There are several ways to get convention news, including:
Web
• lcms.org/convention/national
Video
• lcms.org/convention/national/livestream
Social media
Audio
• kfuo.org
Email