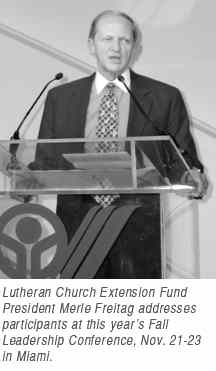 By David L. Mahsman
MIAMI, Fla.— Merle Freitag, president of the Lutheran Church Extension Fund, urged participants at this year's LCEF Fall Leadership Conference to get behind the "one mission, one message, one people" vision laid out by Synod President Gerald Kieschnick.
"Let us proceed to make that vision our reality through our actions as individuals and organizations," Freitag said in his "LCEF State of the Mission" address Nov. 22.
In fact, "Building the Church … One Mission, One Message, One People" was the theme of this year's conference here, Nov. 21-23. And , as usual, a variety of groups — the Synod's Board of Directors, Council of Presidents, district business managers and others — held meetings here, too, in the days before the conference began.
Freitag touched on Ablaze!, the Missouri Synod's mission initiative.
"Let us reach out to the lost. Let us set hearts ablaze," Freitag said. "Let us reach 100 million people by the year 2017 as a celebration of the 500 years that have passed since the Reformation.
"Let us use our many gifts to reach out to thousands — no, millions — of souls so they may be brought to Christ …."
Freitag also brought participants up to date on LCEF, which is celebrating its 25th anniversary this year. He reported that LCEF's total assets continue to grow, standing at $1.359 billion as of June 30. The loan portfolio grew to just over $1 billion.
LCEF began 25 years ago with $78 million.
"In addition to growth in the loan portfolio, the other good news is that the loan interest rate has been remarkably low for the past year," with rates to congregations as low as 5.125 percent. Even as interest rates start to climb, he said, LCEF cost of funds will be slower than the market.
Loan approvals continued at a record rate in 2003 for the third year in a row and are projected to continue at that level for 2004, he said. But investors "continue to be very supportive and loyal to the LCEF and the work of the church, and their invested funds will meet the projected loan demand for the next 18 to 24 months," Freitag added.
Among "highlights" during the past year, Freitag cited:
Laborers For Christ joining LCEF, transferring from the Board for Mission Services. He asked participants to help identify construction projects for the Laborers.
the addition of religion data to the LCEF's demographic database to help congregations reach out to their communities.
subsidized loans to urban and ethnic new-mission starts.
dedication of a new building for Concordia International School Shanghai, China, made possible by an LCEF loan.
In his address to the assembly, President Kieschnick quoted from a TIME magazine article about this year's California wildfires — it noted that "a spark is all it takes to start a conflagration" — to draw analogies to the importance of mission outreach.
"Well, I am here to tell you that the spark has been ignited and we are ready for a wildfire of the Gospel to consume the lost and dying souls of our land," Kieschnick said. "I can see it happening across our church in so many ways and so many places." He cited:
LCEF continuing to approve loans for new churches and schools.
LCMS World Mission setting the goal of reaching 100 million people with the Gospel by 2017.
the Mission 21st Century Task Force "continuing its work to reverse the decades of decline" in the Synod.
the "Igniting Congregations" gatherings, initiated by his office, which he said "are producing tremendous results and information that will greatly enable the mission of LCMS congregations."
Kieschnick said that it is "vital, critical" for individual Christians to witness intentionally, boldly and daily to those with whom they associate.
"There is one critical event that must take place multiples of times for us to effectively reach into our culture," Kieschnick said. "This critical event is when one Lutheran Christian gives witness about Jesus of the hope that is within him or her to another person so that person may encounter Christ Jesus."
He said that if church people mix with unchurched people and multiply the "critical event," the church will become "the devil's worst nightmare." To that end, he encouraged the leaders to focus on the same mission, regardless of their individual spheres of ministry.
"The alignment of resources to fulfill the critical event and the Great Commission is imperative for our church to move forward in a mighty way," he said.
He said that it is his prayer that the spark produced by the Holy Spirit "will be fanned into flame through the Gospel proclamation and stimulation that exists among us — by God's power.
"To that end, I continue to lift up a God-guided vision for our LCMS," Kieschnick said. May God find us faithful by moving forward in one mission, … by communicating one message, and uniting in purpose as one people."
December 2003