Barbara A. Below began work March 1 as LCMS World Relief and Human Care's (WR/HC) director of social ministry organizations (SMOs). That position has been vacant since Rev. Carl Toelke retired from it in October 2002.
A licensed clinical social worker, Below previously was a therapist at Kairos Counselin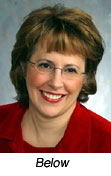 g Center in Elm Grove, Wis., where she was project manager for a program known as "Healthy Connections with Clergy Spouses."
As director of SMOs, Below serves as a resource to the 120 social-ministry organizations recognized by the Synod. She also is the Synod's liaison to Lutheran Services in America, the inter-Lutheran alliance of nearly 300 agencies that is among the largest nonprofits in the country.

Rev. Matthew Harrision, executive director of WR/HC, said that Below "has years of experience on the front lines of providing case management and clinical services, [is] familiar with the day-in and day-out work in the trenches of social ministry…. Above all she is a committed LCMS Lutheran with a passion for those in need.
"Our institutions are doing tremendous work under the most challenging circumstances," said Harrison, "and Mrs. Below's hiring is a first step in increasing our capacity to serve them."

One of her "top goals," Below said, is "to raise awareness of the wonderful opportunities through our social-ministry organizations to fulfill the full package of our Christian lives — to proclaim the Gospel and to serve those in need."

She said that other priorities include to "listen to the stories of successes and challenges from people in social-ministry organizations, communities and congregations as they serve or seek help" and to help SMOs deal with issues such as funding.

"People's problems are far more complex than they were 40 or 50 years ago," Below said. "To respond, we must be intelligent and aggressive. We must network and partner."

Below is a 1982 graduate of Concordia College, Milwaukee (now Concordia University Wisconsin) and received a Master of Social Work degree in 1998 from the University of Utah, Salt Lake City.

To contact Below, call (800) 248-1930, Ext. 1376.
Posted March 12, 2004