Dr. Robert W. (Bob) Hirsch, a former president of the International Lutheran Laymen's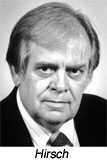 League (Int'l LLL) and former member of the Synod's Board of Directors, died of complications from an infection Feb. 24 at a Yankton, S.D., nursing home.
A memorial service for Hirsch, 78, was held March 1 at St. John's Lutheran Church, Yankton. His family was planning a military burial at sea of his cremated remains.
Hirsch was Int'l LLL president from 1964 to 1968. He was on the Synod Board of Directors at two separate times, 1969-81 and 1989-95. He also served as South Dakota LLL district president (1956-61) and was legal counsel for LCMS South Dakota District for 40 years.
He earned a bachelor's degree from the University of South Carolina in 1945 and was a 1949 graduate of the University of South Dakota School of Law. He received an honorary doctorate from Concordia Theological Seminary, Springfield, Ill., in 1967 and the Christus Vivit Award from Concordia Seminary, St. Louis, in 1976.
During World War II, Hirsch was an officer in the U.S. Navy.
He first practiced law in Tripp, S.D., his boyhood hometown, and then in Yankton until his retirement in 1999. He served in the South Dakota Senate from 1956 to 1969, where he was majority leader from 1967 until 1969. In 1972, he was the South Dakota Republican Party's candidate for the U.S. Senate.
Survivors include his wife, Lyla, of Yankton, four children — Col. (Ret.) John (Cheryl) Hirsch, Yankton; James Hirsch, Arlington, Texas; Jane (Randy) List, Greencastle, Ind; and Sarah (Alan) Wittmuss, Vermillion, S.D. — six grandchildren and two sisters. Hirsch's first wife, Doris, died in 1963.

The family suggests that memorials be directed to a charity of the donor's choice.
Posted March 12, 2004