Dr. Gus Melde, a one-time president of the International Lutheran Laymen's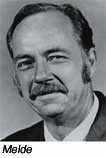 League (Int'l LLL) and member of the Synod Board of Directors, died April 4 at a Dallas hospital, from heart failure and an acute infection resulting from diabetes.

A memorial service for Melde, 85, was held April 8 at Our Redeemer Lutheran Church, Dallas — a congregation he helped found in 1941. The committal was held earlier that day at a Dallas cemetery.

Melde was president of the Int'l LLL from 1972 to 1976, after serving as Texas District LLL president, and was on the Synod Board from 1971 to 1983.

A residential and commercial contractor, Melde served on the executive committee of the Home Builders Association of America and was chairman of the Dallas Parade of Homes.

He received an honorary doctorate from Concordia College (now University), St. Paul, in 1983, and served on the board of regents of Concordia University at Austin.
Survivors include three children: Shari Melde of Dallas; Craig (Rebecca) Melde, Dallas; and Dennis (Elizabeth) Melde, Atlanta; five grandchildren and a brother, Albert Melde of Texarkana, Texas. His wife, Bernice, died in 1996.

The family requests that memorials be sent to Lutheran Hour Ministries, 660 Mason Ridge Center Drive, St. Louis, MO 63141; or call (800) 944-3450, Ext. 4130.
Posted April 7, 2004