ST. LOUIS — Delegates to the 62nd Convention of The Lutheran Church—Missouri Synod elected the remainder of the praesidium (second through fifth vice presidents) in balloting this afternoon (July 11).
On the second ballot, Dr. Paul L. Maier was elected second vice president with 759 votes; Dr. Dean L. Nadasdy was elected third vice president with 623 votes. On the third ballot, Dr. Robert L. King was elected fourth vice president with 627 votes. Rev. David D. Buegler, 622 votes, will serve as fifth vice president.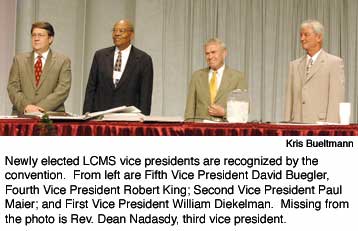 Maier, 74, of Kalamazoo, Mich., currently the Synod's fourth vice president, is professor of ancient history at Western Michigan University, Kalamazoo. The author of 16 books on Christian themes and 210 articles, Maier also has served on the LCMS Commission on Church Literature and the Board for Higher Education/Concordia University System.
Third Vice President-elect Nadasdy, 57, of Woodbury, Minn., is first vice president of the Minnesota South District and pastor of Woodbury Lutheran Church, Woodbury, Minn. Previously, he served on the faculty of Concordia Seminary, St. Louis (1997-2000), on the Student Life Commission (1968-69), on the Task Force for the Reorganization of Synod (1993-95) and the Board for Communication Services (2001-03).
Dr. Robert L. King, 82, of Jefferson City, Mo., is third vice president of the Synod, a position he also served from 1986-89. He also has served as second vice president of the Synod (1989-2001) and as first vice president during 2001. King has also served as chairman of the Missouri Commission on Black Ministry (1982-86) and as a member of the International Lutheran Laymen's League Board of Governors (1995-2001) and the International Lutheran Women's Missionary League Board of Directors (1995-present).
Dr. David D. Buegler, 57, of Avon, Ohio, currently is executive director of the Cleveland Lutheran High School Association (2003-present) and a member of the Lutheran Church Extension Fund Board of Directors ((1998-present). Formerly, he served as Ohio District President (1988-96), as a member of the board of regents for Concordia Theological Seminary, Fort Wayne, Ind. (1989-96) and as a member of the board of directors of Lutheran Family Association (1990-2001).
Posted July 11, 2004