Along with providing resources for the Jan. 23 "Life Sunday" observance in the United States, LCMS Life Ministries Director Maggie Karner is laying the groundwork for what she hopes will be the Missouri Synod's first Life Ministries/Human Care project abroad.

Karner is mentoring Gloria Vladimirova, a Russian Lutheran social worker who recently enrolled in the deaco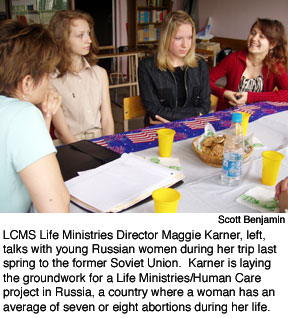 ness program at Concordia Theological Seminary, Fort Wayne, and is preparing to continue her efforts for the fledgling pro-life movement in her native Siberia.

The two women met last spring when Karner visited the former Soviet Union to explore partnership opportunities with pastors and lay leaders of the Evangelical Lutheran Church of Ingria in Russia, in St. Petersburg, and the Siberian Evangelical Lutheran Church in Novosibirsk.

"The best available statistics say the average Russian woman has seven or eight abortions during her life," said Karner. "The time is ripe for our church to touch lives [there] spiritually and physically."

One project for which Karner is working to raise financial support is a crisis-pregnancy and post-abortion counseling center in conjunction with St. Andrew Lutheran Church in Novosibirsk. Vladimirova helped the congregation develop this center.

Another Life Ministries part-nership project is the Hope Counseling Center, a Lutheran-run crisis-pregnancy program outside St. Petersburg.

"God is providing amazing opportunities for Missouri Synod Lutherans to get involved," Karner said.

For U.S. congregations, Karner has compiled online resources for Life Sunday. They include sermons, a psalm and response, suggestions for prayers and hymns, and a link to additional resources and bulletin inserts from Lutherans For Life.

To access the Life Sunday resources, visit http://worldrelief.lcms.org. For information about Life Ministries outreach in Russia, contact Karner at (800) 248-1930, Ext. 1380, or mskarner@juno.com.

Life Ministries is a program of LCMS World Relief/Human Care.
Posted Dec. 23, 2004