The temperature was warmer than usual and the mood upbeat, according to an organizer for 40 Missouri Synod Lutherans who joined 100,000-plus pro-life supporters for the Jan. 22 "March for Life" in Washington, D.C.
This ye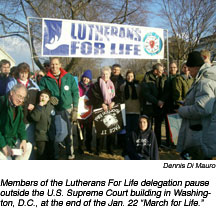 ar's march observed the 31st anniversary of the Supreme Court's Roe v. Wade decision that legalized abortion.
Dennis Di Mauro, president of the Northern Virginia chapter of Lutherans For Life (LFL), said that temperatures were in the mid-40s — compared with the 20s last year — and the mood of marchers "very upbeat" because of the partial-birth abortion ban that President George W. Bush signed into law Nov. 5.
"Whenever a political change happens for the better, it always energizes the march," Di Mauro told Reporter.
"I want you to know that our administration is vigorously defending this law against those who would seek to overturn it in the courts," Bush told the marchers in a telephone address often interrupted with applause. "I also want you to know without your hard work and dedication to the cause of life, these achievements would not have been possible.
"But we all know there is still more to do," Bush said, adding that earlier in the week, he had proposed doubling federal funding for abstinence-education programs.
"We will continue to support crisis-pregnancy centers, adoption, parental-notification laws and the vital work of faith-based groups," said Bush, who was in Roswell, N.M., at the time of the call.
Di Mauro said that participants in the LFL delegation came from nine states and that eight marchers had free lodging made available to anyone in the delegation.
That morning, most of the LFL marchers attended a worship service at St. Paul Lutheran Church, Falls Church, Va., then took the Metro into Washington for the march, after which they gathered for pizza.
"We really want to encourage more people to come next year," Di Mauro said.
Dr. James I. Lamb, LFL's executive director, told Reporter that the march "says to our elected officials that we're still here, we're not going away and we're not alone in this."
He said that marchers carried placards with "a variety of messages. Among the most meaningful to me were those that drew attention to the plight of women who have had abortions. This is a message that needs to be heard.
"But Lutherans For Life's mission," Lamb continued, "is to witness to the sanctity of life based on the Word of God. We gather around that Word and encourage each other to be witnesses to life. It's God's Word that will change hearts and lives."
Lamb, who marched with the LFL delegation for the seventh year, delivered the message for the worship service.
He said that the theme of his message, "More than You Can Imagine," based on Eph. 3:20, "talks about what God is able to do — more than we can ask or imagine."
"That power is at work within us," Lamb said. "We can turn to it when we face the difficult decisions of life and death."
For information about being part of the LFL delegation in next year's March for Life in Washington, contact Di Mauro at (703) 600-5150 or dennisdimauro@lycos.com.
Posted Jan. 30, 2004