By Paula Schlueter Ross
The case of Audrey Seiler, the University of Wisconsin sophomore who faked her own abduction in late March, is just one example of the deep emotional pain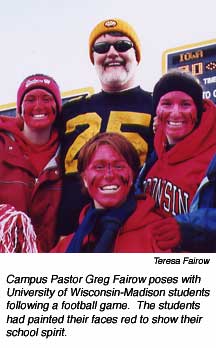 a number of students are experiencing on today's college campuses, according to an LCMS campus pastor who ministered to Seiler's family during the four-day ordeal.

And, he adds, most adults would be surprised to learn just how many college students are hurting.
Rev. Greg Fairow, who serves the University of Wisconsin at Madison, said he was "stunned" to hear a recent statistic from a professor at another university who estimated that 20 to 30 percent of all college students are on medication for some sort of emotional problem.
He acknowledged that "there are far, far more hurting college students than most people know, that is without a doubt."
Beginning March 28 and continuing until Seiler was found March 31, Fairow led prayers among more than 100 of the student's family and friends, who had gathered in a Madison hotel to join the search and rally support. Audrey and her immediate family are members of an Evangelical Lutheran Church in America congregation in Rockford, Minn.
The last time Fairow talked with Audrey's dad, Keith Seiler, was April 2, when it was learned that the abduction was a hoax.
Fairow said he told the distraught father to "keep in mind that the most important thing is still the fact that your daughter is alive. He confirmed that fact, and said the family is rallying around to get Audrey all the help that she needs."
Seiler told the pastor that Audrey was hospitalized, and Fairow asked him to call if there was anything he could do for the family. He offered Keith Seiler and his wife, Stephanie, the guest room of his home in Madison.
While he does not know Audrey, nor the details of her situation, Fairow said he views her behavior as "a desperate cry for help."
"I say that not as a licensed counselor, but as a college pastor who has worked with many students who desperately needed help," he said.
Many college students, Fairow said, "don't feel that they have permission to share their true feelings," and "the pressure that they have is too great, and they don't know where to turn."
Typical pressures, he says, are related to broken homes, parental expectations, and decision-making challenges regarding alcohol and drug use, and casual sex — dangers that can have serious consequences.
A national magazine rated the University of Wisconsin at Madison as "number one" in the availability of alcohol, and as the number-two "party school" in the country, noted Fairow. A tavern just a block from Fairow's university chapel is billed as the ideal place to "hook up" with someone for the night.
"We have a lot of hurting people here and a lot of paths of destruction that are too easy to walk down," said Fairow, and he urged Synod parents and congregations to forward to campus pastors contact information for their children and members attending college. That way, campus pastors like Fairow can personally contact the students when they arrive in the fall, introduce them to the ministry and offer them a helping hand.
"If parents and churches would connect us with their children, a lot of heartache could be avoided," he said. Talk to your pastor or ask the university for the name and phone number of a campus pastor, and share your student's contact information with him, advised Fairow.
Of course, not all students will want to become involved with the on-campus ministry, he said. "But what's a shame is when they don't even know we exist."
Posted April 7, 2004