"Safari Adventure: Discover Jesus the King," a new vacation Bible school program for 2005, is available now from Concordia Publishing House.

In the new program, students go on a "safari" and make discoveries about Jesus the King. Along the way, they make some animal friends who reinforce Bible t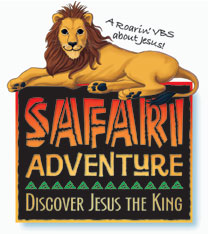 eachings like these:
"Stretch" the giraffe looks up to find food, just as the Wise Men looked up to the star to find Jesus.
Elephants, like "Ellie," follow each other, like the disciples followed Jesus.
"Stripe" the zebra is special because of his stripes; we are special because Jesus died and rose for us
The program is available in two kits:
The "starter kit" ($64.99, item no. 32-0530) is designed for same-age classes.
The "site-rotation kit" ($64.99, item no. 32-0543) is a starter kit for VBS formats that allow same-age or mixed-age students to move from activity to activity.
Each kit includes a director guide; director resource pack with promotional and certificate samples; a "Roarin' Rhythms" two-CD set of music; a preview video; souvenir, game, and craft samples; teacher guides; student books; a mission leader guide; and other "tools" for VBS classes.

For more information or to order, contact CPH at (800) 325-3040 or online at www.cph.org. Shipping charges are extra.
Posted Jan. 28, 2005