Students and teachers at the Sekolah Pelita Harapan (SPH) Christian high schools in Jakarta, Indonesia, were 1,000 miles away from the violence in the Central Sulawesi province — violence that took the lives of three teenage girls who were attacked and beheaded Oct. 29 while walking to their Christian school — so they were not directly threatened by the frightening assault.
But they talked about the attack and prayed for the victims and their families, "as well as the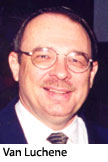 perpetrators, that they might change their ways and have compassion," said Headmaster Darrell Van Luchene, an LCMS missionary who has served the Christian school system in Indonesia since 1995 along with his wife, Sue, a teacher and administrator.
Contacted by Reporter via e-mail, Darrell Van Luchene said the attack "has given us opportunity to witness, especially to the non-Christian students in our schools."
The schoolgirls who were killed were attacked by masked men armed with machetes, according to news reports. The victims ranged in age from 16 to 19.
Indonesia is reportedly the world's most populous Muslim nation, and Central Sulawesi — with roughly equal numbers of Christians and Muslims — has seen previous violence. Fighting in 2001-02 killed some 1,000 people, and a bomb blast last May took 22 lives.
Van Luchene characterized the Oct. 29 attack as "regional" and part of an "ongoing conflict between communities" in that part of the country. He said he feels safer in Indonesia than he does in most large cities in the United States. He and his students pray regularly, he said, "for Indonesia and people throughout the world."
Indonesia's SPH Christian-education system is owned by a non-profit foundation and includes eight schools with preschool through Grade 12; 16 village schools with elementary-, middle-, and high-school curricula; and one university. Enrollment exceeds 14,000 students at all campuses combined.
More schools are scheduled to open, with a goal of eventually establishing 1,110 Christian schools in Indonesia, according to Van Luchene.
Seven LCMS teachers, including the Van Luchenes, serve the Indonesian schools on the island of Java. Darrell Van Luchene asked stateside Lutherans to keep Indonesia's teachers and students in their prayers.
The expanding school system is seeking more teachers, according to Van Luchene, who plans a recruiting trip to the United States in February to fill openings in preschool through Grade 12. For more information, contact him via e-mail at dvan@cbn.net.id or dvan@indo.net.id.
Posted Dec. 1, 2005