By Karin L. Semler
HONG KONG — Leaders from LCMS partner churches in Asia described how they are embracing the vision of Ablaze! during the first-ever Asia Ablaze! Summit, held here Nov. 25-27.
More than 280 Lutheran workers — including expatriate missionaries and national leaders — from 14 Asian countries, as well as the United States and Germany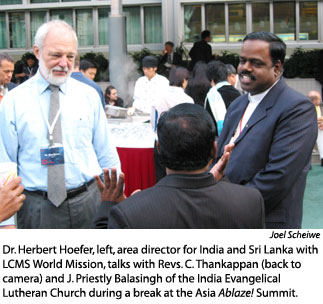 , took part in the history-making gathering. The event was initiated by the LCMS World Mission Asia Management Team in collaboration with The Lutheran Church–Hong Kong Synod and the Asia International Lutheran Council to motivate, embolden, and better equip Lutherans working in Asia.
"LCMS World Mission has never hosted something quite as significant as this before," said Executive Director Robert Roegner. "This Summit attempted to get everybody who is connected to the mission of Asia around the Lutheran church and Lutheran confessions — church leaders, lay leaders, church-planting missionaries, leadership-training missionaries, international educators, volunteer missionaries, teachers of English-as-a-second-language — together under the banner of Ablaze! to focus this region on the purpose statement of reaching 100 million unreached or uncommitted people by 2017."
"We are very much involved in Ablaze!" said Bishop David Piso of the Gutnius Lutheran Church in Papua New Guinea. "We feel Ablaze! is ours. We are thankful for this opportunity and we are certain that we can reach a lot of people in our country and outside as well, as the Lord permits us to do."
Piso said his church body plans to share the Good News of Jesus with 300,000 people, baptizing 50,000. "But the way things are going now," he said, "we might go well beyond those figures. That's how God works. He has His own way. We are thankful to the Lord for the great things He is doing in our midst."
Rev. James Cerdenola, president of The Lutheran Church in the Philippines, described the Ablaze! movement as "a great thing," an "awakening to every Lutheran church, especially The Lutheran Church in the Philippines."
"Some congregations slept for maybe a decade," Cerdenola said. "But now the awakening is coming." Cerdenola said he hopes to conduct a similar Ablaze! gathering in the Philippines next year.
Ablaze! fits the outreach vision of the Lutheran Church of Korea because "Korean Christians are enthusiastic to evangelize and do outreach," according to President Hyun Sub Um. "In my term [as president] I would like to build two local congregations per year. By our 100th anniversary [in 2057] I expect that reunification will have happened and we will then have 500 congregations. So church planting will happen in North Korea where there are now no Christian churches."
S. Gunashekar, a layman from Peace Lutheran Church in Bangalore, India, expressed his enthusiasm for involving laypeople in the international Ablaze! gathering.
"I am delighted to participate in this mission Asia Ablaze! Summit," Gunashekar said. "I want to meet with other laymen and discuss [outreach] with them — I'll take care of all the details to make sure this happens in India!"
Kenji Nagai worships at Takenotsuka Lutheran Church in northern Tokyo and attended the summit with his pastor, Rev. Chuzo Kitazawa. "Right after I return to Tokyo with Pastor Kitazawa, we will start Ablaze! in every respect in our church," Nagai said. "Not only in our church, but worldwide … step by step."
Pastor Richard "Karding" Salila, president of the Tagakaulo Lutheran Church of Christ in the Philippines, said the highlight of the summit for him was "to meet people from all the different churches and all the different places and to be able to become friends with people from all over Asia so that I can learn different ways to serve and I can also use it in my church. Whatever I don't have, whatever I don't understand, then I can learn from these people — I can take it back and use it in my church."
While some of the world's strongest economies are found in Asia — such as Japan, Taiwan, South Korea, and Hong Kong — many Asian nations have developing economies and impoverished citizens. Several workshops, as well as the keynote address, "Word and Deed Ablaze!" by Roegner and Dr. John Nunes, senior research associate in urban ministries for Wheat Ridge Ministries, focused on human-care issues.
"I recently saw a crucifix in a Lutheran cathedral in Finland," Nunes told the group. "It was strange because Jesus' body was on the cross, but it had no arms. I wondered, 'Where are the arms of Jesus?' They are here, in this room. You are the arms of Jesus — to touch the life of someone, to hug someone, to open the Word."
Other speakers included Richard Mueller, head of school at Hong Kong International School, site of the summit; U.S. Attorney Fred Voigtmann; and Paula Voigtmann, executive director of Christian Salvation Services in Taipei, Taiwan.
Summit participants attended an opening worship service at the Church of All Nations, Hong Kong, and more than 1,000 Lutherans attended the closing bilingual service there. Rev. Ken Klaus, speaker of "The Lutheran Hour," gave the sermon.
Roegner described the Summit as "a rousing success."
Seeing people "from all parts of Asia, in more than a dozen different countries, you realize that hundreds of people all over Asia are working in the same direction [and] it gives a significant sense of purpose," he said.
"The Summit was about lighting up — and also linking up — Asian Lutherans, connecting us in mission as never before," said Dr. Allan Yung, president of The Lutheran Church–Hong Kong Synod. "Our strength is in our unity. A new mission era has begun."
Karin L. Semler, a writer for LCMS World Mission, lives in Indonesia.
Posted Dec. 5, 2005