A former preschool student at an Evansville, Ind.-area Synod congregation's school died and at least one family who are members of another nearby congregation lost their home when a Nov. 6 tornado cut a 40-mile swath of destruction across southwestern Indiana and western Kentucky.
Isaiah Blaylock, 4, was killed along with his father, Brandon Blaylock, and his grandparents, Beverly and Warren Blaylock, as a result of the tornado that hit around 2 a.m. that Sunday morning.
The twister — packing winds reported at up to 200 mph — tore apart the grandparents' home and about 100 others at the Eastbrook Mobile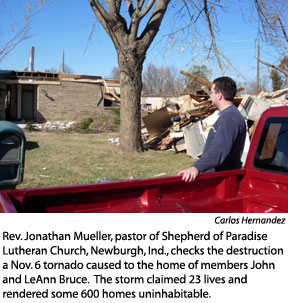 Home Park south of Evansville but spared the life of Brandon's uncle, who was at the opposite end of the mobile home when it hit. Of of the 23 people who died from the storm, 18 were in that mobile-home park.
Media outlets said the tornado was the most deadly to hit Indiana in the past 31 years.
Brandon Blaylock was a preschool student last year at Trinity Lutheran School, Darmstadt, Ind., north of Evansville. His maternal grandmother, Donna Swallow, teaches part time at the school. Her daughter, Jessica Hendricks, is Brandon's mother.
"The love and concern of so many people from Trinity church and school have been overwhelming — so sustaining," Swallow told Reporter about two weeks after the storm. "It's wonderful how the body of Christ works at a time like this. We are grateful for the support and prayers."
John and LeAnn Bruce, members of Shepherd of Paradise Lutheran Church, Newburgh, Ind., lost their home there to the storm. Neither of them was severely injured as their house collapsed around them, according to their pastor, Rev. Jonathan Mueller.
Several blocks from the Bruces, the category F3 twister toppled trees onto the home of Rev. Edwin and Rita Carey, while it destroyed neighboring homes. As a result, the Careys' roof will be replaced. Rev. Carey, now retired, is a former pastor of Shepherd of Paradise.
"It's really amazing that, for all the destruction in Newburgh, no lives were lost here," Mueller told Reporter.
Mueller said the Bruces and the Careys have expressed their "thanks to God that they and everyone else in town are OK. They are very fortunate, indeed, for what they went through."
He said that the Bruces lived with relatives in the area immediately following the tornado, and would be in an apartment while their home is rebuilt.
Mueller indicated that damages to the Bruces' and Careys' homes were expected to be "substantially covered" by insurance.
In all, the twister rendered some 600 homes uninhabitable.
Sara Oxley, deaconess intern at St. Paul's Lutheran Church, Evansville, said that several members of that congregation also experienced "heavy damage" to their homes.
"This devastation has affected everyone in the Evansville area in some way," said Oxley. "Literally, it was like a thief in the night — taking lives and possessions."
To help meet the short- and long-term needs of those affected by the tornado, St. Paul's is working with the Tri-State Food Bank, which operates a food pantry feeding almost 500 people a month.
Other less damaging torandoes hit within 50 miles of Evansville on Nov. 15.
By Nov. 8, Rev. Carlos Hernandez, director, Districts and Congregations with LCMS World Relief/Human Care, was in the Evansville area for on-site assessments and to meet with Oxley, Mueller, and others.
In addition to the physical needs of those affected, Hernandez told Reporter, he "discovered an acute need for spiritual and emotional counseling as well.
"People are suffering as much from the trauma of going through such a fierce tornado as from the loss of homes or other material possessions," Hernandez said.
Before his tour with Oxley of the affected area — including the Eastbrook Mobile Home Park — Hernandez spoke at the end of a morning chapel service at Trinity Lutheran School, Darmstadt, meeting children who knew Isaiah Blaylock.
Describing them as "personally and emotionally affected," Hernandez said those children "wanted to know why God didn't tell the tornado to go away. It was one of the toughest 'sermons' I have ever had to preach."
But Hernandez said he also saw signs that "generosity abounds after a disaster. Evansville residents and businesses are no exception. Everyone seemed to be going beyond the call of duty to lend a hand — churches opening their sanctuaries to house and feed victims and offer spiritual and emotional support, neighbors helping each other with the mammoth job of cleaning up, and businesses providing complimentary meals."
LCMS World Relief/Human Care has provided an initial grant of $5,000 to help those affected by the Indiana-Kentucky tornadoes and is considering additional grants to help them, Hernandez said.
To assist survivors of these tornadoes, call the LCMS Credit Card Gift Line at (888) 930-4438 or send your gift to LCMS World Relief, 1333 S. Kirkwood Road, St. Louis, MO 63122-7295. Make checks or money orders payable to LCMS World Relief and designate "Tornado Relief" in the memo line.
For more information about LCMS World Relief/Human Care, see its Web site.
Posted Dec. 7, 2005