Statistics for the 2004-05 academic year show that schools operated by LCMS congregations "continue to be effective in Christian outreach," says William Cochran, director of School Ministry with the Synod's Board for District and Congregational Services.

Cochran made that observation in comments during the March 7 chapel service at the Synod's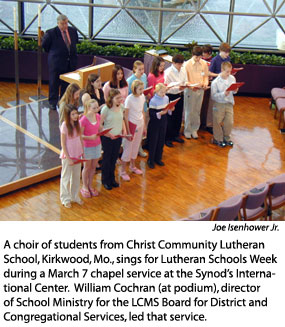 International Center, which marked the March 6-11 International Lutheran Schools Week 2005 observance.

The school-ministry office that week mailed its report on 2004-05 statistics to Lutheran schools and others.
Cochran said he based his observation on the reported numbers of Lutheran school children and their parents who were added to sponsoring congregations' membership rolls.
In the year since September 2003, according to the 2004-05 statistics, schools reported that 3,737 students were baptized, 2,485 of their parents or guardians were baptized or confirmed, and 3,803 transferred their membership to sponsoring congregations.

Although those figures are down from the statistics reported for the previous year, Cochran said he believes the current statistics are more accurate, since for the first time they were collected first by education executives in the districts before being compiled by the LCMS Office of Rosters and Statistics.

"I'm confident that a fair year-to-year comparison of these statistics can only be made next year this time, after we have the 2005-2006 school year's numbers," he said.

The current statistics show that for this school year there are a total of 2,526 schools operated by Lutheran congregations and 183 operated by associations of congregations. Of those schools, 1,397 are early-childhood centers, 1,028 elementary schools, and 101 high schools.
A total of 3,527 LCMS congregations (or 59 percent of all LCMS congregations) operate schools or early-childhood centers.
Of the 288,314 students reported to be enrolled this year, 17,322 are at full-day child-care centers, 108,032 are pre-kindergarten students, 143,322 are in kindergarten through grade eight, and 19,638 are in grades nine-12. Additionally, enrollment in before- or after-school care programs comes to 48,790.
The average Lutheran elementary school, according to the 2004-05 statistics, has nine full-time teachers and 140 students, for a ratio of 16 students per teacher; the average high school has 15 full-time teachers and 214 students.
For church affiliation, 40 percent of all students are from LCMS congregations that operate their schools, 5 percent from other LCMS congregations, 4 percent are from other Lutheran churches, 35 percent non-Lutheran churches, and 16 percent (or 46,130) are unchurched.
On average, early-childhood centers reported that for 2004-05, 13 percent of their funding is from congregations' budgets, 80 percent from tuition and fees, and 7 percent from other sources. For elementary schools, 42 percent of funding is from congregations' budgets, 48 percent from tuition and fees, and 10 percent from other sources. For high schools, 7 percent of funding is from congregations' budgets, 68 percent from tuition and fees, and 25 percent from other sources.
The average annual required fees of elementary schools (grades one-eight) for 2004-05 is $1,702 for members of operating congregations and $2,808 for non-members. For high schools, those average fees are $5,083 for members and $5,908 for non-members.
The report indicates that there are a total of 18,000 teachers and administrators in all Lutheran schools and early-childhood centers for the 2004-05 school year.
The average starting salary for new teachers at Lutheran schools this year is given at $23,742.

This year's statistics also list 48 Lutheran early-childhood centers with enrollments of 190 or higher, 52 elementary schools with at least 400 students, and 21 high schools with 300 or more students.
Rockford Lutheran High School, Rockford, Ill., is the high school listed as having the largest enrollment (1,212 students), and St. John Lutheran School, Orange, Calif., has 809 students — the highest among Lutheran elementary schools.
The latest Lutheran-school statistics also are available via the Web. To download the statistical report, go to http://www.lcms.org, click on "Ministry Areas," "District and Congregational Services," then on "School Ministry," "School Ministry Information," and finally on "Statistics for the 2004-2005 School Year."
Posted March 28, 2005