Dr. Dale Meyer will be installed as the 10th president of Concordia Seminary,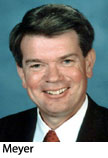 St. Louis, during a special worship service set for 3 p.m. Sunday, Sept. 4, at the seminary's Chapel of St. Timothy and St. Titus.

The service will mark the beginning of the seminary's 167th academic year. The public is invited to attend.

Three new faculty members also will be installed during the service: Dr. Gerhard H. Bode, instructor in historical theology; Rev. Thomas J. Egger, assistant professor of exegetical theology; and Dr. Erik H. Herrmann, instructor in historical theology.

New professional staff members to be installed at the service include Rev. Anthony A. Cook, director of educational technology, and Rev. Joel P. Fritsche, admissions counselor.

During the preceding week, new students will complete an orientation process and register for course work. The orientation also provides opportunities for new students and their families to become better acquainted, including a "field day" consisting of men's and women's sports activities, games for children, and a community-wide barbecue.

Approximately 120 new students are expected to enroll at Concordia Seminary this fall. For more information, call the seminary at (314) 505-7374.
Posted Aug. 25, 2005