By Kim Krull
Monique Miller, the wife of Rev. Philip Miller of Chalmette, La., was due to deliver the couple's third child on Monday (Aug. 29), the day Hurricane Katrina delivered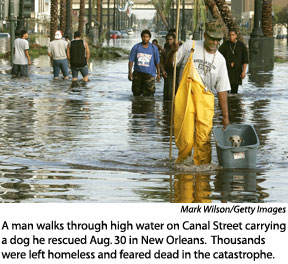 to the Gulf Coast near New Orleans what many are calling one of the most devastating storms in U.S. history.
Like thousands of their fellow Louisianans, the Millers evacuated just before Katrina hit and are wondering what will remain of their home once they are allowed to return.
"It has been stressful, but we know God is watching over us," said Rev. Miller, pastor of Christ Lutheran Church in Chalmette, a community of about 50,000 just southeast of New Orleans.
The Millers followed evacuation orders and fled to the Houston, Texas, area with their two young children and two elderly parishioners who would have been stranded in Chalmette. Monique Miller experienced contractions during the 13-hour trip.
All are staying with the pastor and a member of Living Word Lutheran Church in The Woodlands and hearing reports that lead them to believe their homes and their church in Chalmette are probably flooded.
"We live on the same street as the courthouse, and we understand it has water up to the second floor," Rev. Miller said. "I'm concerned the levee has given way, which means many in our congregation may have damage."
"It's one thing to say we may have lost everything and then to realize that we probably have," he said.
That's just one example of the horrific blow dealt by Katrina to families in the Gulf Coast, including to many LCMS members and their churches. The Category 4 storm caused the evacuation of thousands of people and is responsible for at least 100 deaths and $25 billion in damages, according to early estimates.
"Even those of us who are in this business day in and day out are shocked by the magnitude of Katrina," said Rev. Matthew Harrison, executive director of LCMS World Relief/Human Care. "The reports that are trickling out of the devastation are more shocking, one after the other."
Harrison and Rev. Carlos Hernandez, director of Districts and Congregations with LCMS World Relief/Human Care, are preparing to leave for the Gulf Coast on Friday (Sept. 2) to begin damage assessments and coordinate response efforts.
Requests for emergency assistance and stories of Katrina's destruction are pouring into the St. Louis offices of World Relief/Human Care, the arm of the LCMS devoted to disaster response, development, and care for those in need.
At least half of the 140 congregations in the LCMS Southern District have been impacted by the hurricane and the Southern District office in New Orleans is a total loss, according to Harrison, who spoke with Southern District President Rev. Kurtis Schultz on Tuesday.
"Priority one is doing everything possible to address the needs of our district leaders, particularly President Schulz, whose home has been devastated. Then we look to our pastors, church workers and congregations," Harrison said. "As their needs are met, they will become better able to turn toward their neighbors in love in word and deed."
LCMS President Gerald B. Kieschnick is in Berlin, Germany, attending the International Lutheran Council Conference, but also is in contact with Southern District President Schultz and calls the devastation caused by Hurricane Katrina "of unprecedented proportions."
"I trust that the response of love and care by the people of congregations of The Lutheran Church—Missouri Synod, which has already begun, will also be unprecedented in its magnitude," said President Kieschnick, who plans to return to the United States on Saturday. "The people of the LCMS are encouraged to give generously in financial support and also, as appropriate, of their time and talent to assist those in need, showing the compassion of Christ. We trust that even in the midst of this tragedy, the words of St. Paul in Romans, Chapter 8, are true, that 'in all things God works for the good of those who love Him . . .'"
Here's a sampling of a few of the stories reported to LCMS World Relief/Human Care:
In response to the large number of people unable to evacuate New Orleans, Rev. David Goodine and his family scrapped their plan to leave the city and kept open the doors of St. Paul Lutheran Church near the French Quarter. Sixty people, mainly from the parish, are staying at the church, which is without electricity and running water and is operating as a mini relief station, according to former Lutheran Hour Ministries Executive Director Don Bennett, whose daughter, Elizabeth, is Pastor Goodine's wife.
Thirteen people in New Orleans for an LCMS National Youth Gathering planning meeting are being "rescued" by LCMS Department of Youth Ministry staff. Executive Director Rev. Terry Dittmer and coworkers left St. Louis Tuesday in two vans to pick up the stranded group at Trinity Lutheran Church, Baton Rouge.
Forty-five young residents plus staff members of Bethlehem Children's Center in New Orleans also were evacuated to Trinity, Baton Rouge, where they are staying in the school gym.
Atonement Lutheran Church and School in Metairie, La., filled with as much as four feet of water. "One of our members stayed in the upper floor of the gym during the storm. Many homes are flooded, some to the top of the first floor, others to the rooftops. People are being rescued from their attics and rooftops," Atonement's pastor, Rev. Don Little, said via e-mail.
LCMS World Relief/Human Care is working on plans to establish a network for volunteers to assist with hurricane recovery, working with Rev. Stephen Linck, pastor of Grace Lutheran Church, Pensacola, Fla. Linck has coordinated volunteers since last year's Hurricane Ivan. Volunteer bases are expected to be set up in Pensacola and Houma, La., when it is safe to enter hard-hit areas. Call World Relief/Human Care at (800) 248-1930, Ext. 1380 or 1381, for more information.
Lutheran Disaster Response (LDR) Volunteer Coordinator Hal Shope also is collecting names of volunteers ready to assist communities and congregations as needed and when deemed safe to enter into affected areas, according to an e-mail correspondence from Heather Feltman, LDR director and director of the Evangelical Lutheran Church in America's Domestic Response office. For more information, call (800) 638-3522, Ext. 2719.
LCMS World Relief/Human Care also is in contact with partners such as Orphan Grain Train to coordinate relief efforts.
"In the coming days, LCMS World Relief/Human Care will be joining together with our strong partners to