Rev. Greg Fairow of Iowa City, Iowa, and Rev. Scott A. Snow of Rockford, Ill., have joined the staff of LCMS World Mission.

Fairow, 46, began serving Aug. 29 as deployed "campus mission catalyst." His responsibilities include working with the Lutheran Campus Mission Association, an LCMS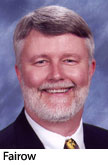 mission agency, Synod districts, and other partners to plan LCMS World Mission activities in the area of campus ministry; link districts and congregations to campus missions, training opportunities, and resources; establish priorities and develop financial resources to support campus-mission starts and revitalizations; introduce effective strategies for campus missions; and assist in recruiting and training campus missionaries.

Fairow served as campus pastor at Calvary Lutheran Chapel, Madison, Wis., from 2002 to 2005, and at University Lutheran Chapel, Milwaukee, from 1999 to 2002. He also has served as pastor of St. Paul Lutheran Church, Wheeler, Ill., and St. John Lutheran Church, Dieterich, Ill. He is a 1996 graduate of Concordia Seminary, St. Louis, and prior to entering the seminary was the first general manager of KNGN, an LCMS radio ministry in McCook, Neb. Fairow also holds a degree in broadcast communications from the University of Iowa, Iowa City.

"With the Lord's guidance, I will serve as His instrument to be a catalyst for LCMS campus missions," said Fairow. He said he plans to work with "congregations near colleges and universities to help them start or rejuvenate outreach to the campuses near them."

Snow, 48, began serving Aug. 8 as director of outreach. That position was formerly with the Synod's Board for District and Congregational Services; it was moved to the mission board as a result of action at last year's LCMS convention. The vacant post had been filled on an interim basis by Rev. Larry Reinhardt, director of stewardship ministry.
In his new position, Snow will develop a national program for outreach in the Synod, which includes leading the Ablaze! movement in North America — an initiative to share the Gospel with 50 million people by 2017.

Snow also will serve as a "major visionary speaker" for outreach at gatherings Synodwide and will support the outreach programs of Synod districts and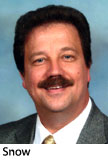 other LCMS World Mission partners in North America.

Since 1998 Snow has served the Synod's Northern Illinois District as a mission and ministry facilitator, assisting congregations with resources, networking, church planting, and long-range planning. He also served as a liaison between the district office and national Synod offices in the areas of missions and stewardship.

Prior to that, he served 15 years as pastor of St. Paul Lutheran Church and School in Rockford, Ill. He is a 1983 graduate of Concordia Seminary, St. Louis, and holds a bachelor's degree in psychology and biblical languages from Concordia College (now University), St. Paul, Minn.

"My prayer is to be used by the Lord in assisting LCMS districts as they help congregations to encourage, equip, and support every member in sharing Jesus with those who don't yet know Him as Lord and Savior," Snow told Reporter. "Within the next dozen years, by God's grace we will strive to share the Gospel with at least 50 million unreached people across the United States."
Posted Sept. 19, 2005