Dr. Richard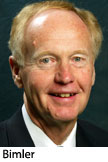 Bimler, president of Wheat Ridge Ministries, Itasca, Ill., has been chosen to receive this year's "Wittenberg Award." The Washington, D.C.-based Luther Institute presents the annual award for outstanding service to church and society. Bimler has served as president of Wheat Ridge since 1991; he will be stepping down from the post at year's end. Also receiving the award, to be presented Nov. 5 in Washington, are Dr. Olav Hodne, Norwegian humanitarian and missionary, and Mary Nelson, president of Bethel New Life, Inc., Chicago.
Nancy Graf Peters of Poughkeepsie, N.Y., is the new e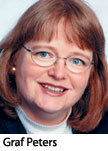 ditor-in-chief of Lutheran Woman's Quarterly, the official publication of the Lutheran Women's Missionary League. Peters, a mission-ministry vision consultant for the LWML, also has served the Synod auxiliary as Nominating Committee member (2003-05), Structure Committee chairman (2001-03), and Atlantic District president (1998-02). She will begin her two-year term with the Spring 2006 issue. Peters succeeds Donna Streufert, who had served in the post since 1997.
John Mundinger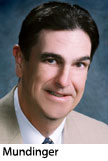 of Memphis, Tenn., joined the staff of Church Development Partners (CDP) in June as its director of strategic facility planning, a new deployed position. CDP, a Synod Recognized Service Organization based in Orange, Calif., provides land- and property-development counsel to LCMS churches, schools, and other ministries. Mundinger was a facilitator for Strategic Ministry Planning, a service of the Lutheran Church Extension Fund, from 2002 until filling his present position. Previously, he was a partner and president of an architectural firm in Memphis.
Posted Sept. 13, 2005