Dr. Gary Arp, president of the LCMS Iowa District East, and Dr. Charles Evanson, a faculty member at Concordia Theological Seminary, Fort Wayne, who teaches in Lithuania, took part in a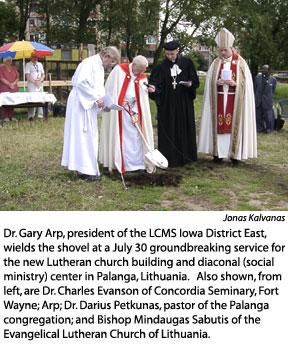 groundbreaking and cornerstone-dedication service July 30 in Palanga, Lithuania.
The ceremony was for a new Lutheran parish church building and diaconal (social ministry) center in Palanga. The Lutheran congregation there has not had its own facilities since 1938, when fire destroyed the church.
For the next 50 years, the communist government outlawed building or furnishing places of worship. The parish has been worshiping in a private home since 1993, when it reopened after Lithuania broke free from the Soviet Union.
The congregation is a member of the Evangelical Lutheran Church of Lithuania, a partner church with The Lutheran Church–Missouri Synod.
The Iowa District East's 2003 convention took on the joint "Palanga Project" with LCMS World Relief, which is matching district funds for the building. At first, Iowa East set a project goal of $100,000. But Arp says the district has collected double that amount, with a final goal of $250,000 by early 2007.
Palanga is a popular resort town beside the Baltic Sea.
Posted Sept. 8, 2005